So it seems the time has come for me to move on to something different.
So first things first. The car has about 143xxx miles on it. I bought the car back in April of 2008 with about 100,000 miles on it and a week after the car spun a bearing. After that I replaced the motor with an engine from a Saabaru that had been wrecked with less than 10,000 miles. I have the receipt and documentation on that. Since then I've tried to tastefully modify it up to a nice daily driver with about 300whp. I've kept many of my oil change records on mysubaru.com
Gonna start the price at 12,000 OBO
I'd also be interested in any trade offer. Looking for something like a C5 Corvette, maybe a Honda S2000, 350Z, Mazdaspeed Miata. Really anything fast. Or if anyone is interested in downgrading from their STI I could put money on top.
Please feel free to call or text 843-384-4420 if you're interested.
THE MODS
Engine
Cobb Intake
APS Hard Turbo Inlet
Blouch 16G-XT (ported hot side)
CSS FMIC
Grimmspeed PnPnC Intake Manifold
Grimmspeed TGV Deletes
Grimmspeed 8mm Phenolic Spacers
PnPnC Exhaust Manifold
Grimmspeed Crosspipe
Grimmspeed 44mm EWG Uppipe/Dump Tube
Tial 44mm EWG
Hallman Pro RX Boost Controller
Megan Racing Downpipe
HKS Carbon TI Catback
WitchHunter 800cc modified stock injectors
Custom Turbo Heatshield
Tial BOV
Suspension

Whiteline 27mm Front Sway Bar
Whiteline 24mm Rear Sway Bar
Kartboy Endlinks
Mach V Springs
Most of turn in concepts bushings (unabombers sexy rear end, all the shifter upgrades)
Brakes

Stoptech street performance pads
Centric Rotors
H6 Rear Upgrade
Turn In Concepts Brake Booster Brace
Interior

STI front and rear seats
Pioneer U310BT GPS Headunit
Kicker Sub and amp
Kartboy Short Shifter
AEM Wideband Gauge
Subie Gal Corner Gauge pod
Prosport Premium Boost, Oil Pressure, and Oil Temp gauges (the wiring for both oil gauges are messed up but should be an easy fix)
3 Gauge Clock pod (uses a modified clock bezel so it matches the dash perfectly
JDM STI 5-speed shift knob
WC Latheworks custom shift knob
Wheels/Tires
Right now i have a set of OZ racing F1s on with falken fk452s on with probably 30% tread left. I painted them with grimmspeed BBS gold paint. I managed to graze a curb going quite quickly a couple months ago so one of the wheels has a small gouge in it but it still balances fine.
I also have a set i was planning on using for autocross but never did which are stock wrx wheels with Yokohama ad08 tires on them.
The Bad
The cars exterior has seen better days but cleans up nicely and really shines
The front driver fender is a little dented up
Front bumpers seen better days, bug marks, scraps, etc.
Hoods got some bug spots
Rear bumber has some small scrapes but overall looks pretty good
The drivers front axle seal has a small leak. It's been that way since the new motor went in and it hasn't caused any problems
Tear in steering rack boot. It has been torn since i bought the car and it hasn't caused any issues.
Passenger side valve cover leaks a small amount. Again it's been like that for quite some time now and hasn't caused any problems. I just make sure to check the oil every fill up.
The Good
Overall the car should be good for many more miles with the way it's setup now it's got everything you'd want to make a good powerful daily driver that can also move some serious groceries.
Transmission goes into first without issue like most subaru 5MTs. Has $100 worth of Motul fluid in it.
Frequently change my oil and always use a quality filter and oil whether it be a bosch or purolator pure 1 or german castrol or rotella.
The Pictures

This picture can be found on the fastwrx.com site to sell their springs.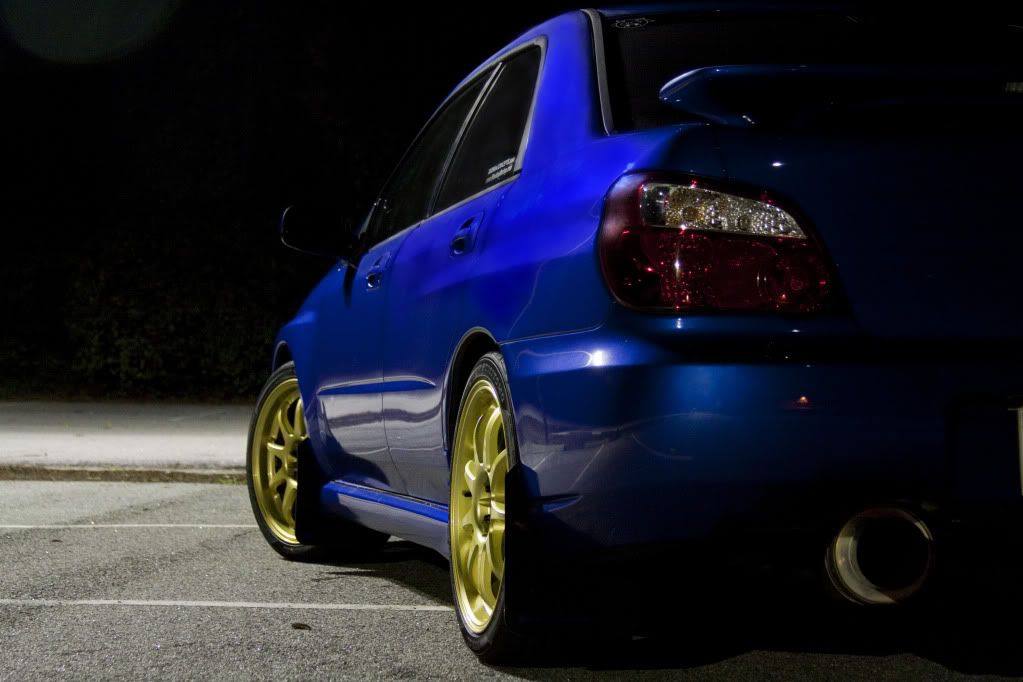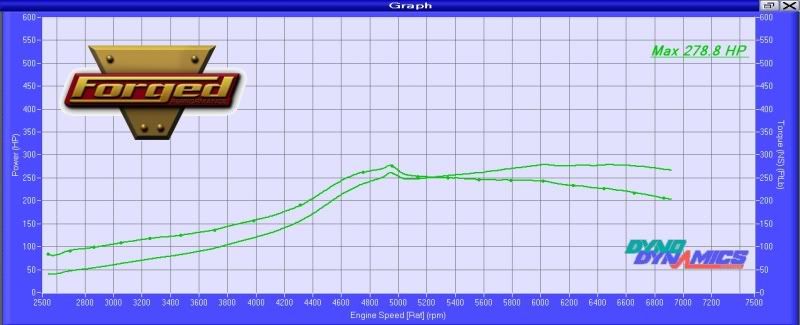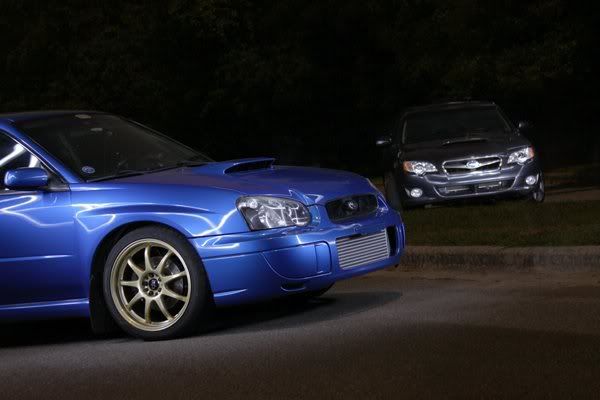 The picture that sold me on the car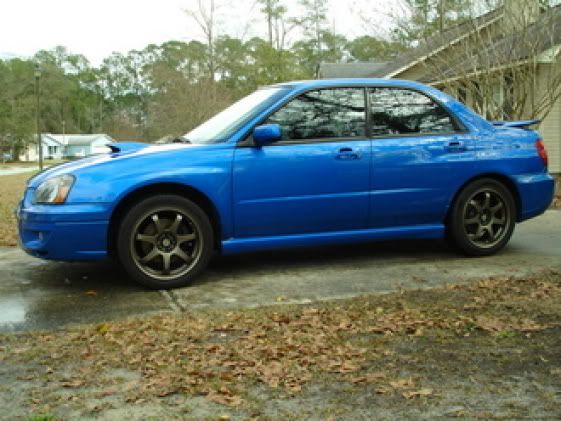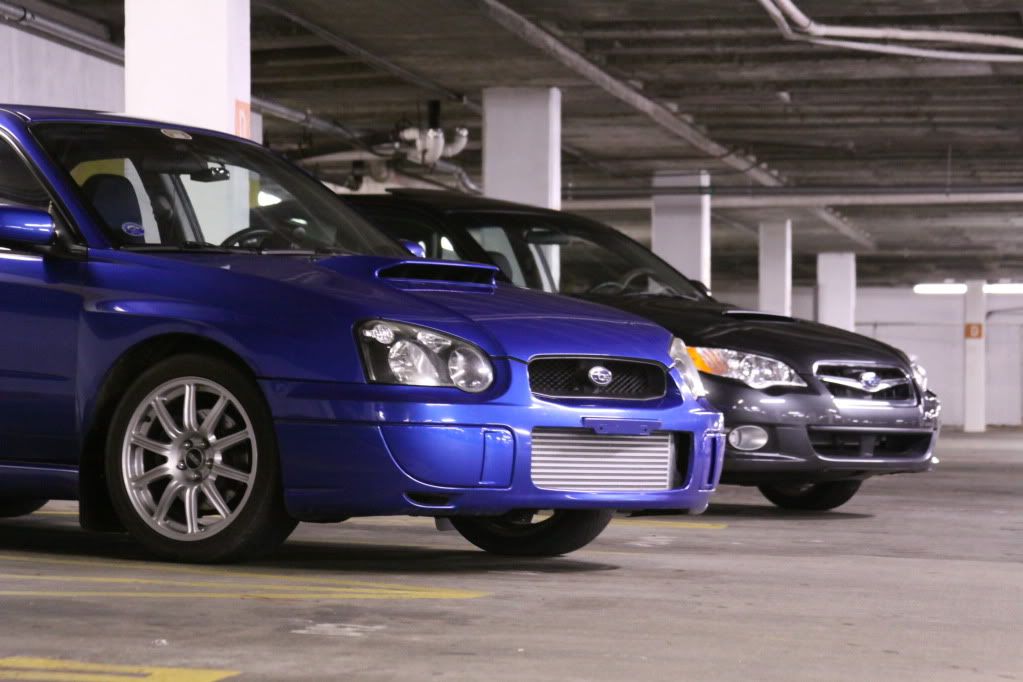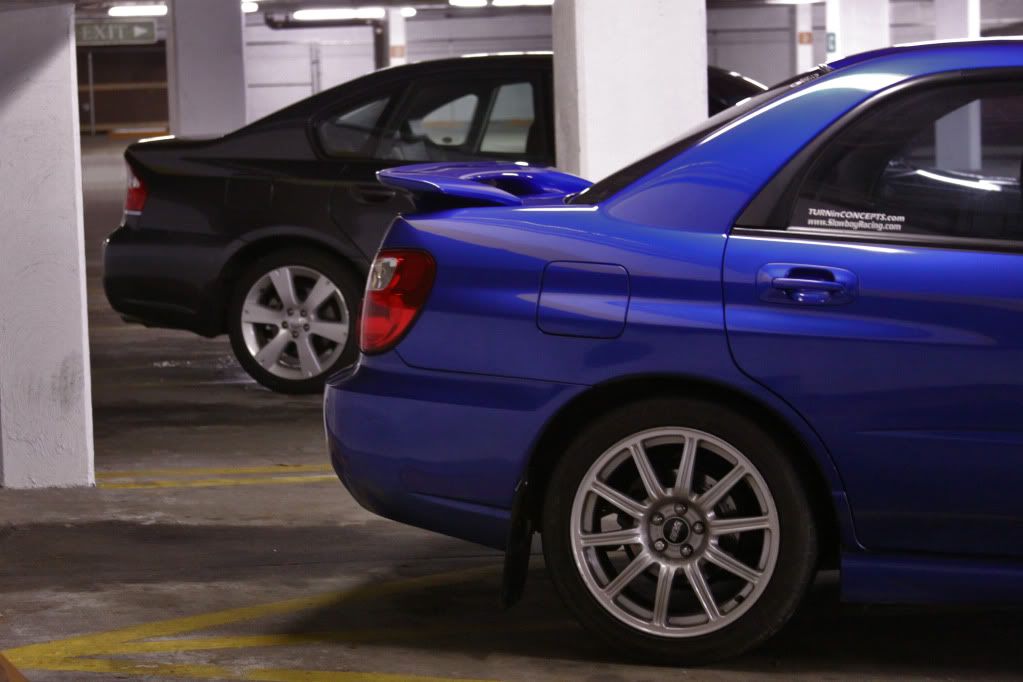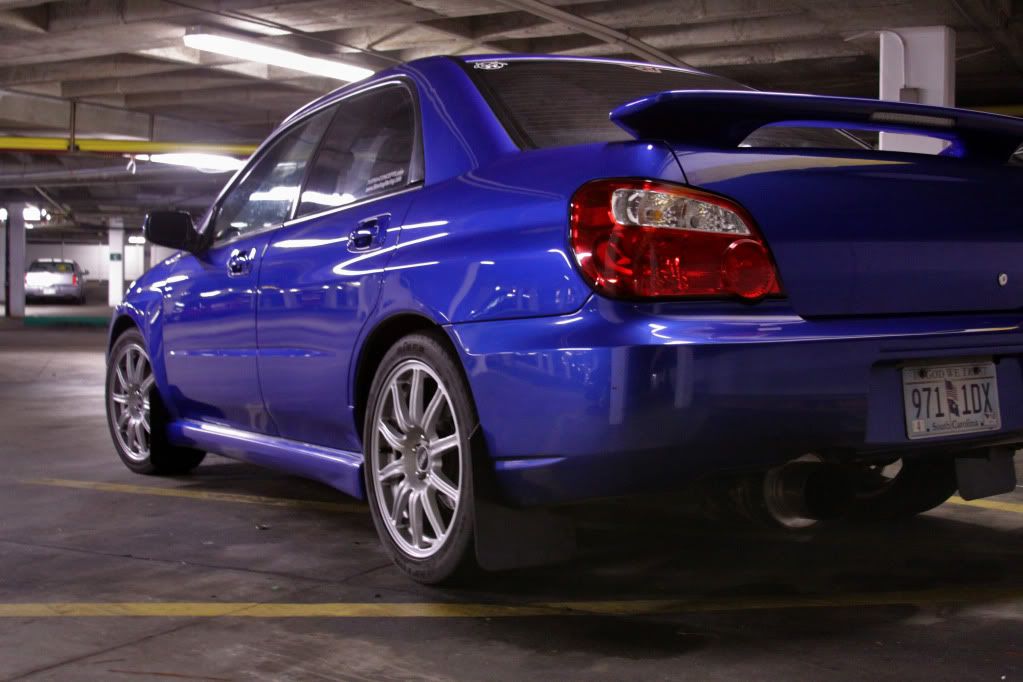 If you look past my bike you can see the fender and the current wheels