Location: Lonely interstate
Ambient Temp/Conditions: 68 deg F, 19% Humidity, Baro 25.2in-Hg
Elevation: 4800ft
Weather: Sunny
Tires: Factory
Car: 2011 STi
Tuner: Elevated Tuning Will
Dyno Info: Virtual dyno
Transmission: Stock 6 Speed
Gear: 4th
Peak HP at RPM: 620 at 6752rpm
Peak Torque at RPM: 510 at 5962rpm
Target Boost: 31 psi
Target AFR: .78
Fuel: E85
Engine/Power Modifications:
ASF Street Sweeper Longblock
Bottom:
Darton Sleeves, 99.5mm JE FSR Pistons, Stock Nitrided Crank (ASF Balanced) Heavy But Beefy Manley I Beam Rods, ACL H Bearings, A1 Technologies H11 Studs, OEM Subaru Gaskets.
Top:
ASF Street Series Ported DAVCS Heads, Supertech STD Size Valves (Inconel Exhaust), ASF Multi Angle Into Radius Valve Job, GSC Beehive Kit, Kelford 220-C Cams.
Induction:
AMS/PTE 6266 Turbo Kit, AMS FMIC, FIC 2150 Injectors, Walbro 416lph, Invidia Exhaust, ASF TGV Delete, JC fabworks 1.5" manifold, Accessport on SD, Cobb EBCS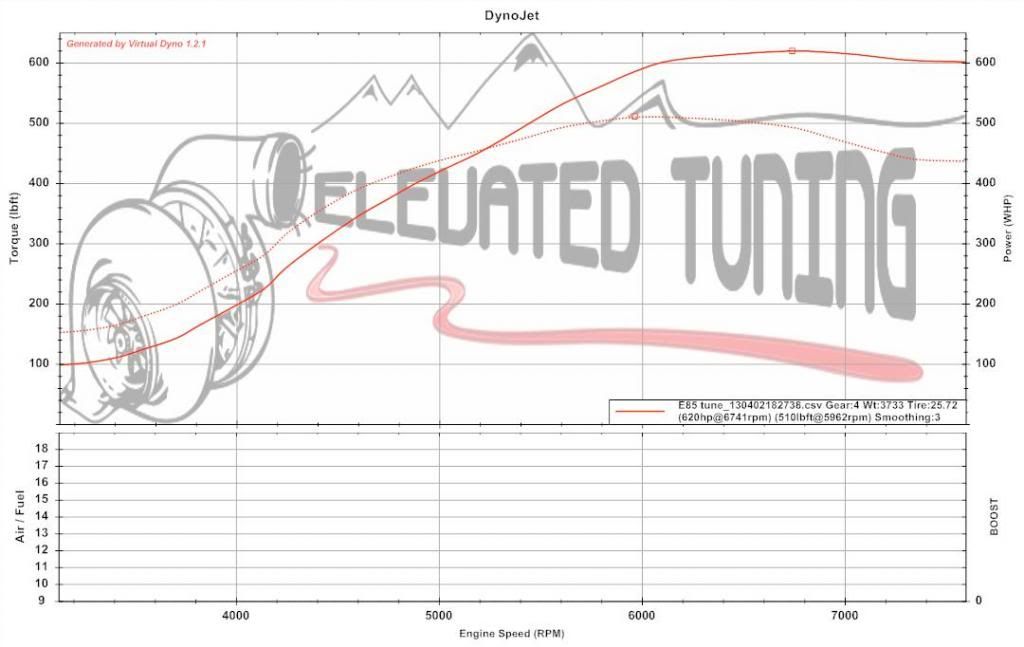 Hope to make it out to the track soon.