I installed the P&L rotated mount GT3076r turbo kit (w/ supporting mods) over the winter along with the P&L reverse manifold FMIC kit. I am not concerned about big numbers. I wanted a tune that was conservative and that focused on maximum boost response. Took the car to P&L and let Jorge work his magic on it.... I highly recommend Jorge as a tuner!!
Results?
407whp on pump fuel
Then backed it down slightly to-- 394whp/356 tq at 22 psi
Turbo spools quickly and the car is a blast to drive. Should be great on the track as well...
Engine setup--
P&L turbo kit- Garrett GT3076r .63 a/r
P&L reverse manifold FMIC kit
P&L track series race exhaust
Custom P&L short ram intake
Deatschwerks 850 cc injectors
Tial 44mm EWG w/atmospheric dump tube
Tial 50mm BOV
Koyo radiator
Samco hoses
Grimmspeed ported/polished/coated intake manifold, exhaust manifold, crosspipe
Grimmspeed TGV deletes
Grimmspeed 3 Port EBCS
Grimmspeed gaskets
JDM STi front mount powersteering cooler
AMS lightweight battery setup
Nightpager oil catch tank/washer resovour
NGK copper plugs
Walbro fuel pump
Cobb Accessport v2
Dyno--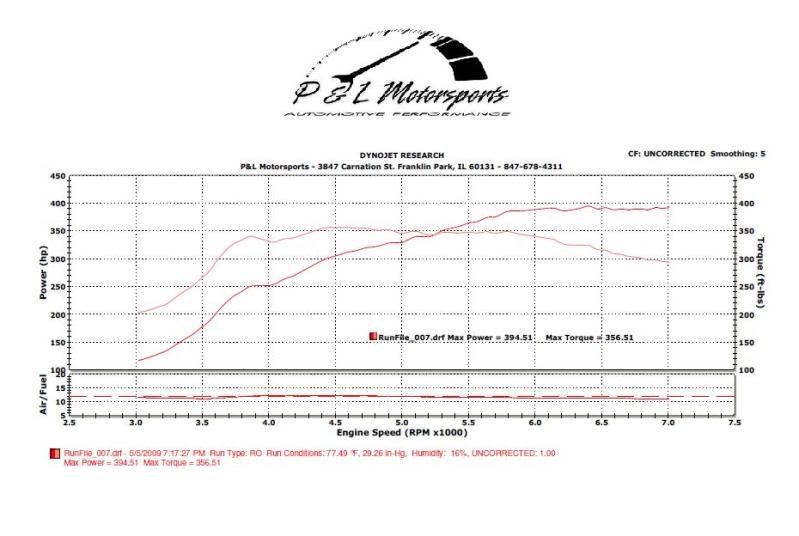 A couple older pics of the car...