So you bought that sweet aftermarket shift knob, or found one you really like, but of course it doesn't have the collar/shift boot retainer for the Subaru factory shift boot. Bummer. Not anymore... for $1.58 and about 30 minutes, you can make a clean looking shift boot retainer for that new knob. I did see a shift boot retainer on ebay for about $17 but I don't think the diameter fits Subaru shift boots. Anyway... here is how it's done:
Buy this rubber grommet from any hardware store (I got mine at Lowe's in the hardware drawers):
http://www.lowes.com/pd_423504-37672...ductId=4565079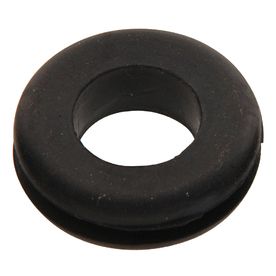 Using a file, I decreased the diameter of one side of the grommet and rounded it off. This took a few tries, but once you get it small enough, the shift boot pops right on very securely. The hole in this grommet was a bit small but with a little encouragement, this fits over the shift lever with no problem. Here are some pictures of the grommet and how it looks installed. I used a piece of red vinyl around the circumference of the grommet which looks great. You can put this directly under the base of the knob to make it flush, or move it down like I did depending on what you like better.