Original post:
http://www.iwsti.com/forums/2-5-lite...ml#post4046716
I just want to say that me championing IAG products is having experienced first-hand the praiseworthy attention detail they put into their work and their relentless drive for perfection. I'm a staunch supporter for great Subaru shops to be recognized because I'm tired of seeing customers' hard earned money wasted due incompetent work compounded by subpar customer service!
Firstly, everyone knows the benefits of an AOS/catch can but here are certain attributes they absolutely need to have:
1. 3 ports (one for each cylinder head and one for top of block). Reasoning being this allows for much efficient relief of crankcase pressure.
2.Coolant heated especially in colder climates or else this happens.
There are certainly products out there have do fulfill the above criteria, but as I will go into, there are features of the IAG AOS that perches it atop the food chain. I mean why else would IAG bother even releasing an AOS with a market already inundated with AOS/catch cans?
The rather unassuming, plebian exterior of the IAG AOS belies the engineered intricacies of its internal guts:
1. Better oil separation than its competitors. This is the main idiosyncrasy of IAG's design. Through painstaking testing and poring over the breathing characteristics of the EJ25, this is what they come up with.
No vacuum source allowing for slower movement of oil vapors through the can for greater separation.
Swirl pot design for slowing internal velocity.
Huge breather port to slow the vapors even more inside the can.
The superior coolant heated design ensures that the entire can is perfused by heat so condensation won't form in the oil you separate...which is important because you want the oil to be as pristine as possible going back into the engine!
2. The large capacity, up to 1L (Crawford holds 750mL), practically negates the possibility of having the AOS be brimming full of oil during hardcore tracking. Size comparison: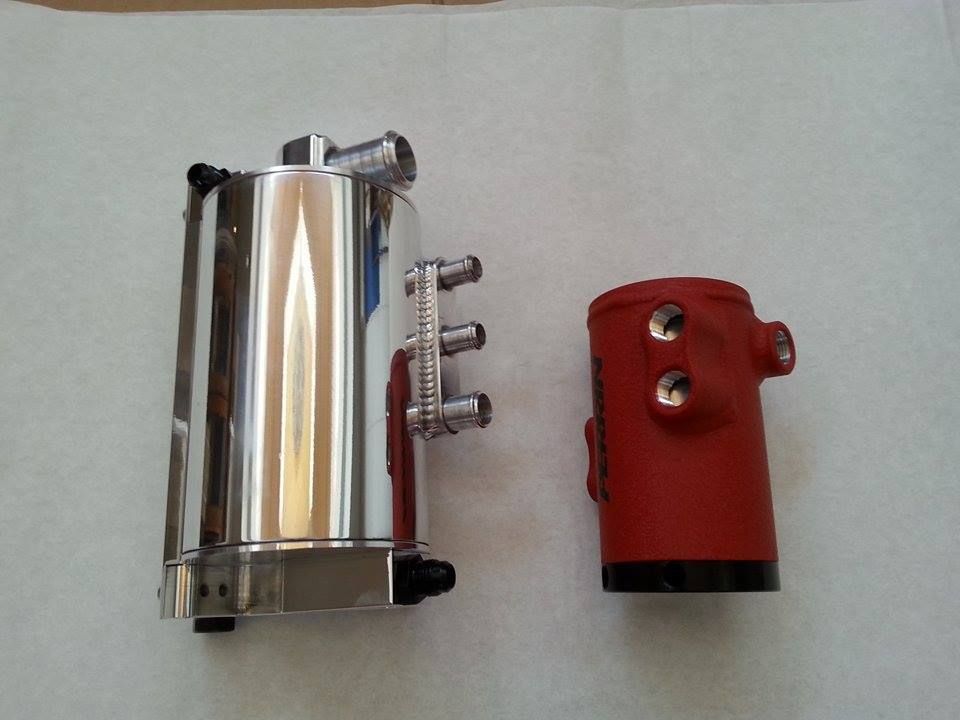 3. Larger drainage port than its competitors so the AOS can empty the separated oil more efficiently back into the crankcase.
4. The ports are machined into the actual AOS, unlike Perrin which relies on Teflon tape for a seal which is known to break down. READ: Oil + hot engine = FIRE not to mention blatant oil loss (
Perrin Air Oil Seperator Install/Review - Page 3 - NASIOC
), more leaks:
Leaking perrin AOS - NASIOC
more leaks:
http://www.iwsti.com/forums/4079430-post38.html
More leaks:
http://www.iwsti.com/forums/4079908-post40.html
more leaks:
http://forums.nasioc.com/forums/show...7&postcount=69
Furthermore Perrin AOS O-rings needs to be inspected (
http://www.rallysportdirect.com/cata..._eng_606rd.pdf
) whereas IAG uses
Viton O-rings
that not only withstand the harsh temperatures of the oil but also the potentially corrosive properties of oil (high chemical resistance).

5. Although maintenance-free, it is easily disassembled like Perrin for cleaning.
6. Just overall a high quality design, your $370 goes a long way!

7. AOS is better than a catch can. I've ran a Peterson catch can for 75,000 miles. Although I was desensitized to the smell, my passengers would comment on the smell of oil. The vapors would come out of the breather filter to condense to an oily film on my surrounding components, aside from looking like sheer filth it could also pose as a fire hazard. There is also the possibility of an oil catch can filling up entirely during hardcore cornering on the track, depriving the motor of all that sequestered oil.
8. IAG AOS will fit even with upgraded TMICs.
9. Why no vacuum source? The main reason is that the engine is under a positive pressure when you are boosting and a vacuum source is not really need while cruising.
It also eliminates ANY possibility of any oil getting back into the intake system.
The PCV system is really for emissions where it is not emission friendly to dump the vented gases into the atmosphere so they are rerouted back into the intake. As people who modified cars, we don't really care about emissions with our catless downpipe, do we
The IAG AOS is built upon the lack of a vacuum source and it does its job extremely well :tup:
The new IAG AOS V2 will feature an optional vacuum source for those who adamantly want it
10. IAG has the best coolant passage design to ensure that the ENTIRE CAN is perfused uniformly by warm coolant. This of course lessens the possiblity of sludge build up and prevents condensation formation. Perrin only has the base heated.
Personally, this is what my throttle body looks like with 30psi of boost and 3000miles with the IAG AOS (dat pink meth). No smell of oil at all :tup: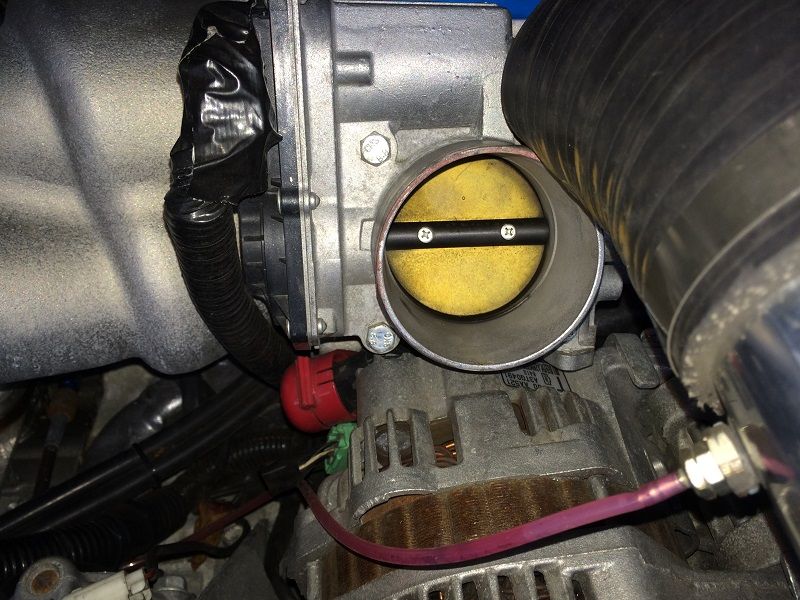 so stealthy that the dealership will think it is the 2015 STi sound tube
Further endorsement from Junior
NASIOC - View Single Post - PTE6466 650+WHP Build E85