This is a review from my full build thread
here
. Figured I would make this a bit easier to access. I'm writing this to the younger, less mechanically inclined, me.
__________________________________________________ _______________
Long Term Review/Disassembly:
BC Racing BR Series Coilovers
Link:
http://www.bcracing-na.com/br-type/
Mileage Total:
~60,000
Mileage On Current Shocks:
~30,000
*Straight off the car, no cleaning. More tear down pics below.
Finally! It is about time I speak my mind about these coilovers. This will be a very unbiased review... I don't have sponsors and not a single person to endorse. This is my honest opinion, experiences over the last 5 years of ownership, and a walk through the honest reality of budget coilovers. Prepare, this is a long post.
First we will talk history. Leading into the first rebuild and converting to Extreme Lows, then with the second rebuild and finally some problems I see in the design. Photos will come late in the post, I didn't take pics years ago when this all happened the first time.
A little history.
These were originally purchased in 2011 for the OBS. Back then, I really had NO idea how to work on a car. I had NO balls to even learn. I was 17 with no family history in cars. Why am I starting like this? Well, I honestly think these are a great product BUT when someone doesn't know what they are doing, goodluck....
Original setup was 8K/8K (kg/mm as I found out). This was default specs for the narrowbody WRX (and OBS). I received the coilovers, and didn't know how they worked. I didn't do any off the car prep (anti-seize, check preload, check height). Looked at the spanners and said to myself "what do these do". Immediately they were installed onto the OBS. I thought I was hot **** with my lowered car, tinted taillights and stock wheels. (Thank god no plasi-dip or fart can lol!) Yes, I face the humbling reality that I was once a ricer. I didn't know any different.
My itch for "dat stance life" hit and I started learning how to adjust the coilovers. First height adjustment came around and the coilovers adjusted but it was tough. Second and third times were almost impossible, and finally they were seized units after the 3nd winter and 35,000 miles. At this time, I was learning to work on the car myself (thank you NASIOC and local Subaru owners), had a grow set of tools, and I was very confident in a rebuild by myself. Here is where things start looking up:
First Rebuild and Extreme Low Covert.
I called BC for the first time, and told them I wanted to convert to a BR Series Extreme Low trim (knowing this meant new shocks and springs anyway). The customer service at BC has ALWAYS been fantastic!
Always.
Not one bad phone call or email. The people would answer my stupid questions without missing a beat. They talked me through various methods to take them apart, unseize them, how to preload and set my specs. Once a price was worked out, Paypal sent, I received my new shocks and springs within 2 days.
For those that are wondering, the Extreme Low trim just consists of shorter linear springs and shorter shocks. I was bottoming out the coilovers (height adjustment) in the rear, and starting to come too close for comfort to the axle boot in the front (again, height adjustment). I noticed no difference in ride quality between the regular and extremes.
With the new parts, I took the coilovers off the car and began. Using jack handles as extensions on the spanners and a second set of hands, the rears broke free relatively easy. Took them apart, completely; stripped down to an empty shock. Cleaned the coilovers with Simple Green, some brushes and reassembled using anti-seize and setting preload properly.
This tool kit is a gift from the tool Gods. I originally bought it as a cheap, small, second set to carry around under the seat in the Subaru. Later finding out it was an amazing kit, I've used it with motorcycles, brake bleeds, and every coilover rebuild thus far. The pass-thru design makes it easy to take the nut off the top to remove the top hats, and makes it easy to open and close brake bleeders. I'm not sure where you can find this exact kit anymore, but here is a photo of it. If you can find it (with the torx and align bits), you'll use the hell out of it!
http://www.hotbikeweb.com/motorcycle...sed-and-abused
Now, the fronts were a bit*h…. Since I was replacing the original shocks and didn't care to try and resell them, I placed the shock body threads in a vice and used some 3/8" extensions in the lower mount holes to apply as much torque as we could get. My passenger side wouldn't budge. The shock and mount were fused together. Eventually I ordered a new lower mount for the passenger side. This seized setup still sits on my shelf of "deceased car parts" next to a few wreaked motorcycle parts.
Anyway, I might be blabbering at this point. Basically, it is important to see that the coilovers held up
pretty
good even with a clueless teenager as an owner. No anti-seize or care. The shocks still sit around my garage and are in great shape (besides the threads I messed up getting them apart). No rust, they are not blown. Rings, and all the hardware was reused.
Now, with a fresh rebuild on the OBS, I was confident these coilovers would hold up for a very long time.... (foreshadowing)
2014 comes, I buy my dream car. WRX GR SWP Hatch. First mod, was the left over OBS parts. So I install the BC Racing Coilovers. They adjust beautifully and I'm happy. Learning what I did from my rice days, don't cheap out. Do things right the first time, do lots of research, lots of supporting mods, and do things right the first time (did I say that already?). But, after these 2 years with the WRX, the BC Coilovers still remain today… maybe going against my theme of not cheaping out?... IDK.
Second Rebuild.
I few weeks ago, I went to adjust my height after getting a new set of wheels. One of the front coilovers was again problematic! Same passenger front. Keep in mind, the WRX only saw one winter. Otherwise the WRX has become a weekend car, and I drive a different car M-F. So sitting back to game plan, I decided to take the coilovers off the car, assess the damages and decide to either buy new coils completely or do another overhaul.
With the coils off the car, I was able to break 3 of the 4 corners free very easy. No where near the force and effort required years ago. The one problem corner required one the of the locking rings to be cut off. Otherwise the coilovers adjusted nicely. This was accomplished by hand, very slowly and carefully. Since the metal is so soft, the process took about 5 min. Other than that, the coilovers were broken free very easily.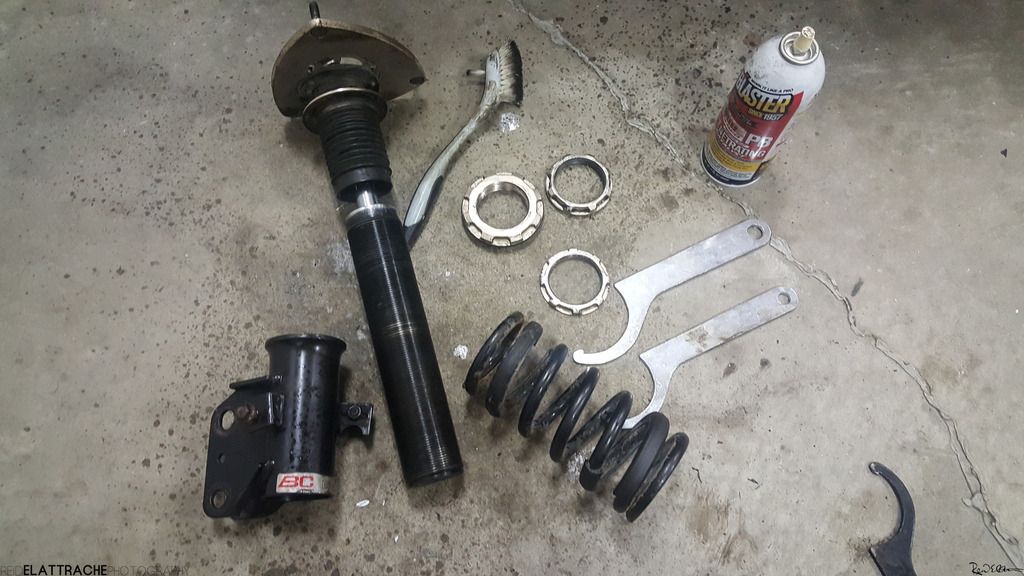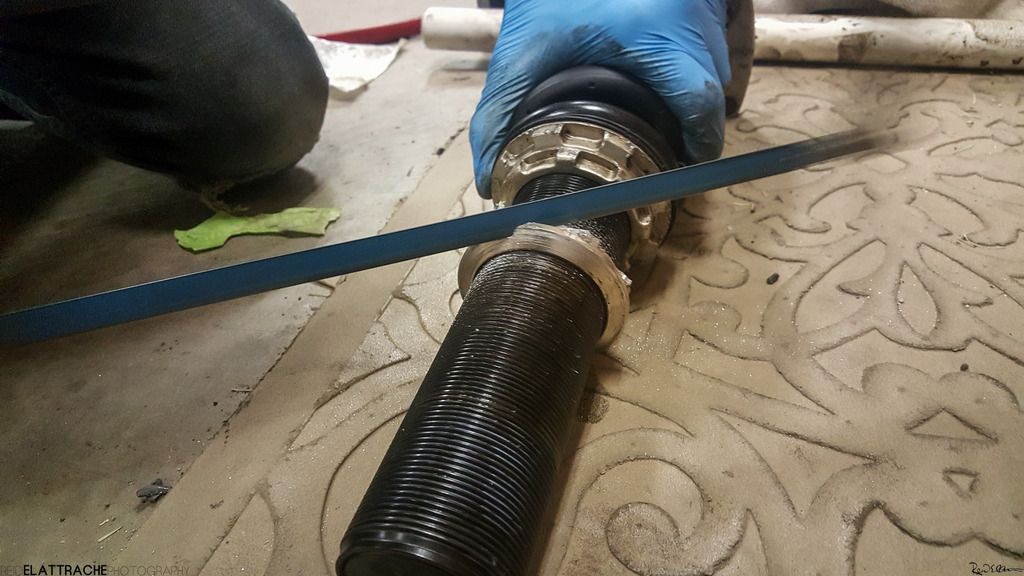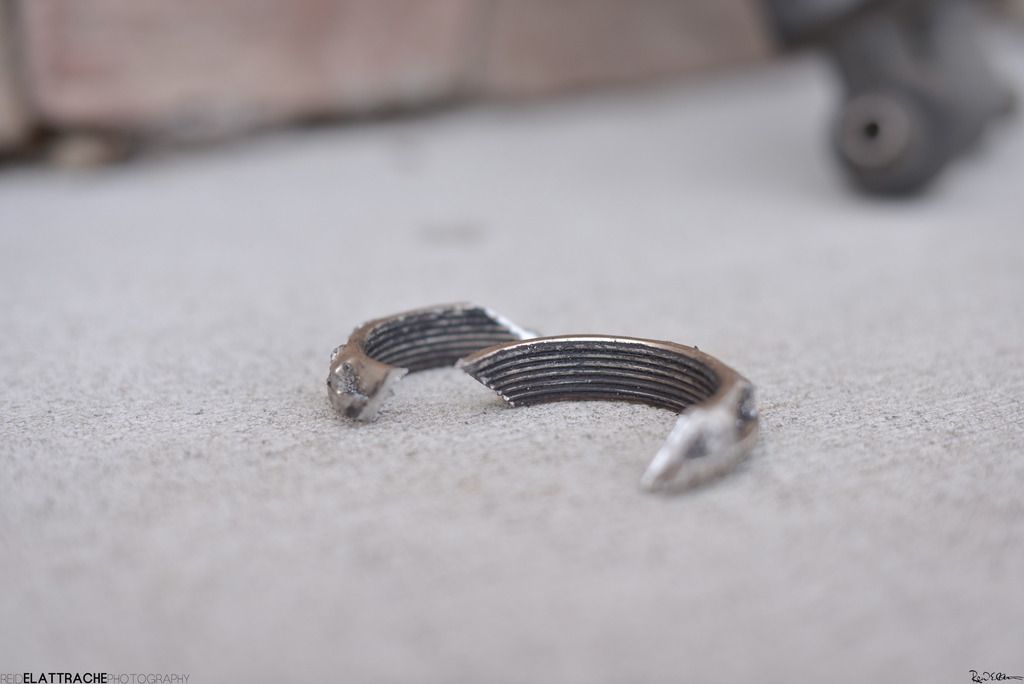 Over the years, the rings have taken a good beating. Like literal beating. Air hammers, normal hammers, and spanners with so much torque I torn the metal. So these were replaced with new rings from BC.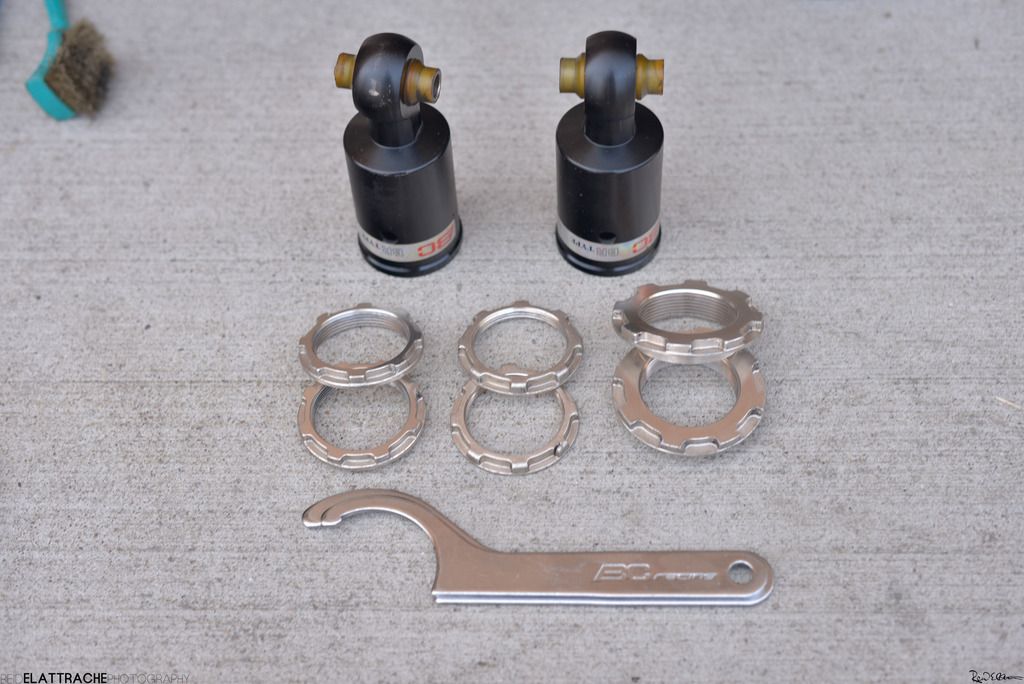 I checked the shocks and they were great, threads still beautiful and functioning properly. So they stayed as is. Springs were also in great shape besides some light surface rust. Nothing concerning. So the front springs stayed, and the rears were replaced only to go up a spring rate to 8/10 to removed some understeer from the car. Apparently when the widebody GRs were released, the default rates changed from 8/8 to 8/10.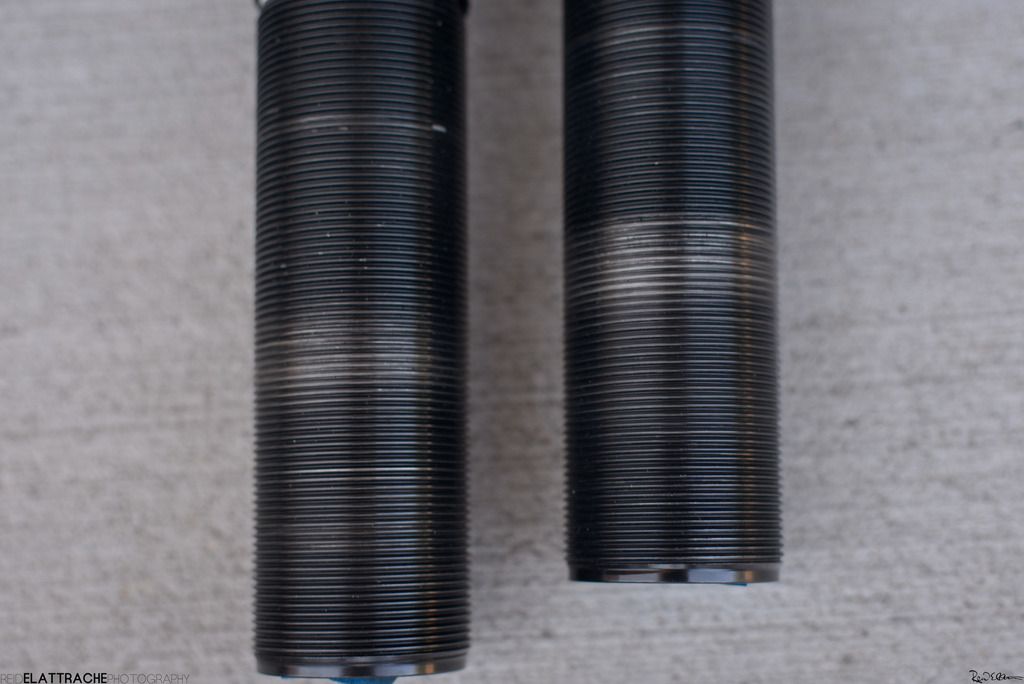 Top hats were in great shape. They stayed.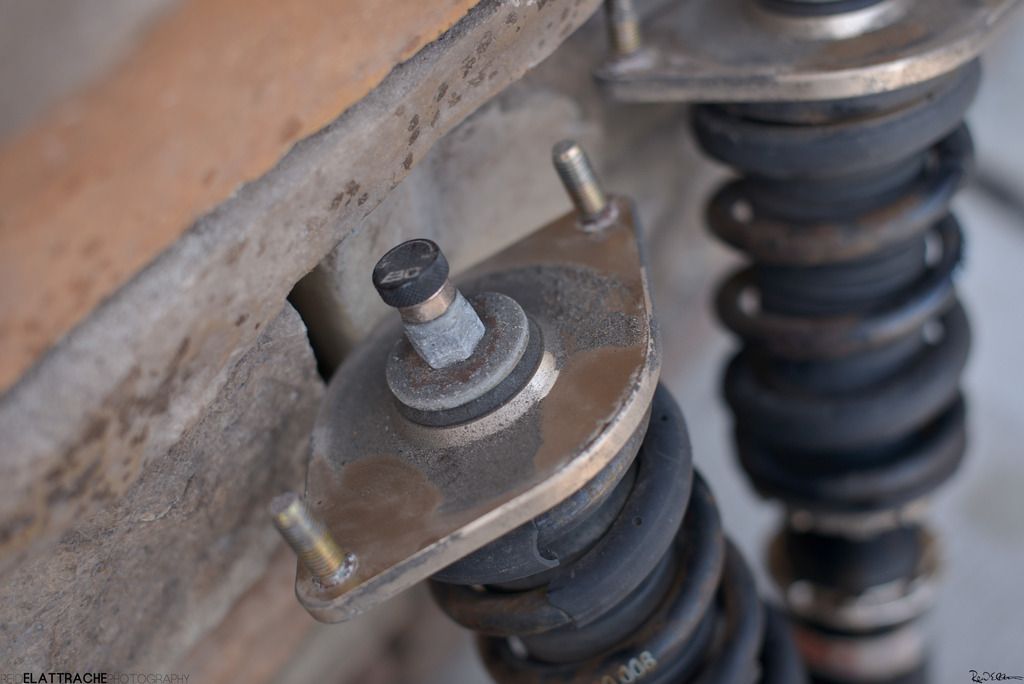 *uncleaned, straight off the car
Found a problem in the design.
Now I believe I found the source of this repetitive seizing issue. The front lower mounts are designed with a valley/female end for the locking ring to sit in. My belief is that water and other contaminates get trapped in there over the months and years. This creates more friction, and makes adjustments almost impossible. This is the only coilover I've experienced with this type or mount. Megan, Stance, FortuneAuto do not have this valley. They are nice and flat. I can't fix this directly, but (as I will talk about in the next post) I decided to use coilover covers to help this issue.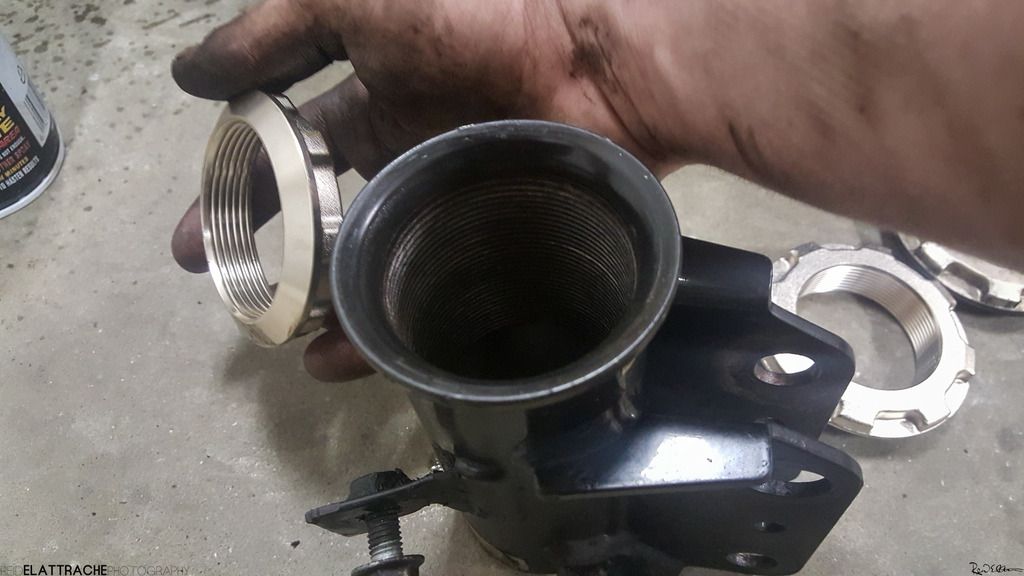 Final Thoughts.
Again, I was very impressed with how they held up through the years. This time, I tried bearing grease instead of antiseize (recommendation from a BC rep). Currently, they adjust like butter! I'M SURE not driving in winter and salt will help keep the coils nicer, longer. Total rebuild this second time around was $50 for rings, $100 for springs and only a few hours of my time. The rings nor the springs NEEDED replaced, but I did just for personal preference. A good cleaning and reapplying anti-seize would have made them completely useable again.
Let me be real with myself and others…
These are budget coilovers and there is no way around that. The shocks and springs are made in the same factory as Megan. The budget coilovers are all the same. I've received a lot of heat for running these on my car and I probably deserve it.
Are they better than stock WRX suspension?
I say, a very big yes.
Are they going to make me set track records?
Hell no.
Are there better ways to spend $1000?
Probably.
Should I have saved the money to buy better suspension?
I'm not sure.
I don't regret this learning process. I believe that this time around, they will work as intended for a very long time. Now that I have much more mechanical sense, a mechanical engineering degree, and have done my share of work and personal related automotive projects. I now know how to properly take care of these coiled device thingys….
All I can offer is a suggestion, before you buy budget coilovers, are you willing to put in the work to keep them going on a DD? This can be very easy if you just plan ahead. Prep the parts before they go on the car.
Overall, I'm very happy with where the car sits. I have no plans on replacing the BCs anytime soon, but one day it will come. The 8K/10K setup feels beautiful. I love the way the car handles and rides. I've haven't been in love with the car as much as I am now. Many reasons other than the BCs. I realized, with the money I've dumped into these, I would be closer to a much better coilover. I had plans to upgrade to Swifts, but decided against it for the very reason above; I will run Swifts on a different coilover in the future.