So I have recently got a bone-stock 2002 WRX and have some plans for it. I've been doing a lot of research and think I have a solid goal. It's my daily driver so I don't want too much but I do want a little more power out of it. I'm planning on getting roughly 300hp/300ft-lb to the wheels.
I have a list of things that SHOULD get me there. If not, I'll enjoy building this thing up.
So, why did I call it a slow build? I really don't want to rush anything and make mistakes. That, and I'm not rich so it will take some time to save up to do things right.
I'll start this off with the car when I got it:
Nothing special to see here. Just a stock car.
It had an exhaust leak and a buddy was selling a 3" magnaflow cat-back. Kind of like this:
(not my car, and I'm not sure how long I'll have this on it was just too good of a deal to pass up)
Then I noticed the horns weren't loud so I made them hella loud. I don't like to be flashy so I painted them black but you can still see something lurking in the shadows: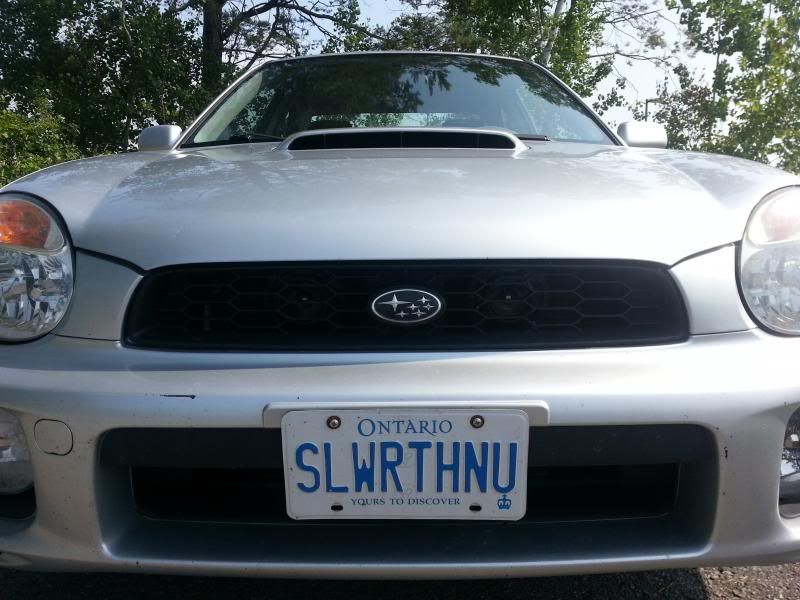 Back to my exhaust leak, it was also leaking from where it was completely separated just after the 3rd cat. I didn't want to fix the existing pipe, so I got this:
I'm going to be installing this tonight (hopefully) if I can get the gasket to the turbo from Subaru. With this, it will be a full catless 3" turbo-back exhaust.
The one thing that I'm cutting corners on will be a tune right now. I don't want to get it tuned now (even though I should) and then get it re-tuned later. I'll just take my chances. With the list of things I want, it will most definitely need a tune. I want to try and buy all the parts over the winter, then install them all at once and get a tune right away.
That is my plan for the power side of my car. It does need some loving on the look aspect of it as well. I also have plans for that. I will update this thread as I go. hopefully any mistakes I make will help others not make them. I have owned a few Subaru's but never really worked on them so it will be a learning experience for sure. I'm excited to see what happens.