Car: 98 USDM 5mt Legacy
Engine swap : jdm 96 ej20g from 5mt wrx sedan
Trans swap : 00 rs 5mt (swapped speed sensor but left rs nuetral safety and reverse switch as they both tested good and plug into stock harness)
I'm putting my car back together after being apart for three months and have one plug I just can't figure where it goes, it looks like an oxygen sensor extension harness but I still have the stock headers with the front sensor plugged in and rear sensor has a two wire plug completely different. I have read over fsm diagrams over and over. Now it's possible it is a factory wire to this car but most you guys in the pre '02 forums would be familiar with this than any other forum I'm guessing. I was able to decipgher the old tag down to part # 24039AA051, which I googled,
subaru part 24039AA052 - Google Search
the only site that shows it is parts planet, which isn't responding my browser says.
So I searched a few subie online parts, ez subaru parts says it's a "sensor harness" and supercedes to part # 24039AA052.
http://www.ezsubaruparts.com/partloc...&siteid=215899
Googled that, same story
subaru part 24039AA052 - Google Search
Engine swap was done three and a half years ago with zero issues, was swapping trans now and pulled engine to do gaskets, spark plugs and '02+ coils. I did plug everything and hook up enough to start up the engine and drive around the block. No cel, just brake and abs light on dash. So I pulled it back in my garage to dig some more.
Coming from firewall bulk harness is four wires : yellow/red strip, white/black stripe, grey/blue stripe and black (black and grey/blue stripe combine about six inches away from firewall in a grey covering going into the firewall). These combine to a four pin white plug. In the pic it is the wire between the turbo and tmic bracket.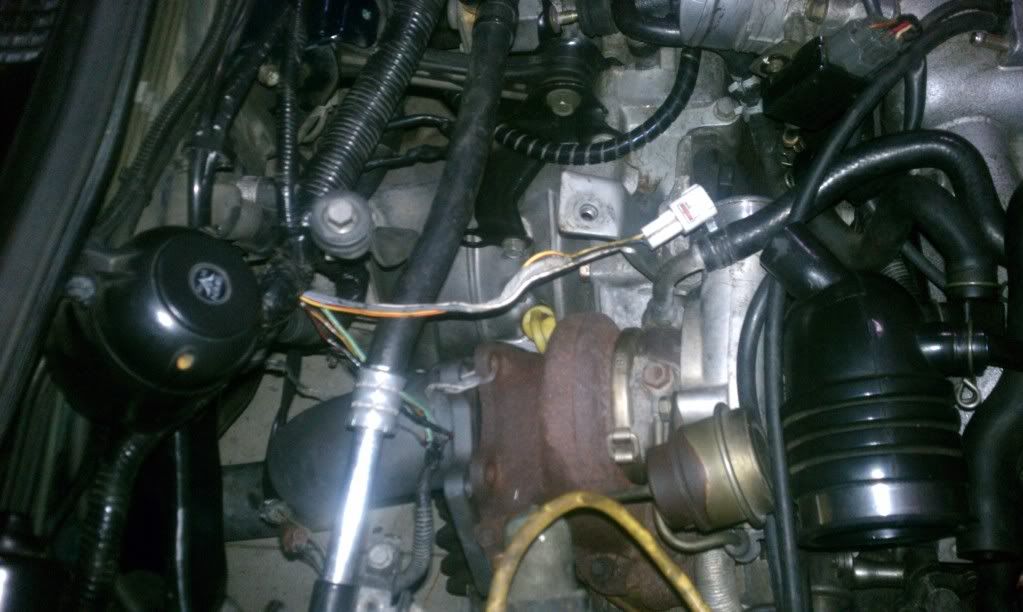 Connecting to that wire is a three foot jumper harness with another four pin white plug. Those colors are : yellow/red stripe, white/black stripe, light blue/ white stripe and blue. Other end of the jumper is again a white plug but now a three pin, the blu/white stripe combines to the blue wire with a grey covering again just like close to the firewall. So where does this other end plug into? Here's what it looks like away from the car.
Now the way the harness is so loosely fitted at the moment it could plug in just about anywhere on the front half of the car, grrrr, I'm stumped.