2/4/15 - Stock is Painful

Part of what we like to do when we get a car in for tune development is to drive it, STOCK. This way we can get an idea as to the nuances of the vehicle dynamics, boost control behavior, and identify any shortcomings that need to be fixed. By stocking up on datalogs with a totally stock car we can get a better idea of what is a byproduct of tuning, vs normal variation of the stock mapping.
However, several gas tanks into this now, things were uncomfortable. Painful actually. The car was bought without a test drive since this isn't going to be a grocery getter. Despite having had the time tuning them, I actually spend relatively little time just cruising around at low speeds. Most of it is full on or on the dyno. So when all of a sudden my 1-2 shifts seemingly induced whiplash, it became apparent something was really quite strange with this car--not just the effect of a light OEM clutch. Turns out it was the dreaded rev hang catching me off guard. RPMs would actually
increase
after letting off the throttle in 1st. This was just odd. Looking at the datalog confirmed that the throttle plate was staying open past the point where I let off the accelerator pedal. Much searching showed this is indeed a problem, and even a deal breaker for some. You know what, I can completely see that. There's no way to do a smooth but quick shift into 2nd. You're either pausing 2+ seconds, or you're doing a fast 0-60 run. Just nothing in between.
Look at the log below. Note how long it takes for the revs to fall in 1st vs 2nd gear. You can actually see that the TPS remains open a few percent after the shift and gradually tapers down. In 2nd and 3rd it immediately drops to a flat low value.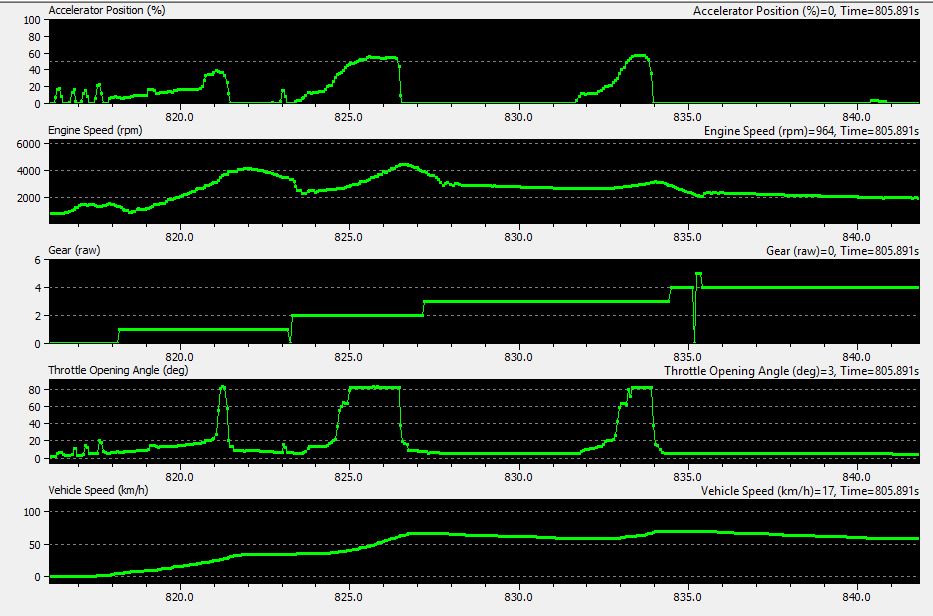 Fortunately at this point we had a good amount of data, and it was time to start altering some of the stock tuning. We already had the performance part of it down from working with the JSC car last year, so dyno numbers were the easy part. Now it was time to work on the added RaceROM features with the EcuTek software, and also iron out some of these bugs.
This brings us to the first order of business, eliminating the rev hang. The folks at Cobb had a demo video on it, so that means we will have no issues using the EcuTek tools achieving the same thing. Though the Cobb platform works well and is cheaper, with EcuTek we can do a whole lot more having the RaceROM featureset. So in this case, mission accomplished:
Next up we wanted to get some street data for the performance difference tuned vs stock on pump gas. We have dozens of dyno runs, but the fact is you just can't replicate the airflow through a TMIC with the dyno. This shows us that the stock intercooler works VERY well at road speeds.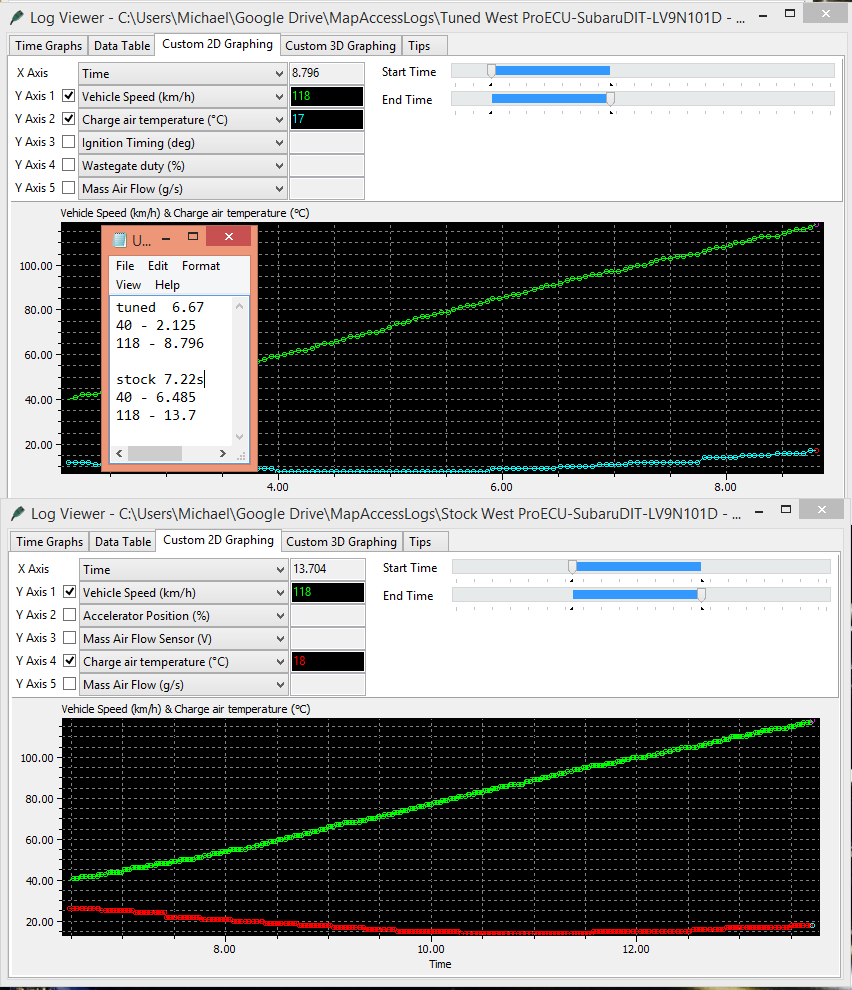 Look closely at the plot. Charge air temp is hardly any different tuned or not, and both runs were within just minutes of each other, same stretch of road. You can also see that we shaved over half a second from the 40-120 (kph) run in 3rd gear! This is at a "mild" 18-19 psi or so. We could get closer to 22+ in the mid-range especially with mods, but right now we're focusing on finding the point where the reliability cost is the lowest relative to performance gained. The tune we're testing this on is actually running no leaner than OEM, so we have plenty of room left still.
So overall I have to say the car a welcome addition. It has heft and you can feel it, but the suspension is tight and the combination of AWD and decent power makes you almost forget it. I'm curious to see what we can do weight wise without increasing the NVH to ridiculous levels.