Im not sure if anyone else has attempted or actually installed one into a GC yet, but I just did this swap a couple weeks ago. My car is swapped 98 RS using a 02 WRX subframe and the install wasnt too bad. But just wanted to address some issues that I ran into to help you guys should you decide to do this swap.
Its far worth the time to put this rack in. I Auto x my car and occasionally do track days in it and the rack is amazing. The steering is quite a bit heavier than the old rack. And with the several 15 STI's that I've driven, its a normal thing. I like that the steering is a bit heavier because it makes it a bit harder to over correct since the ratio is so short.
Some of the parts of this swap will require some heavy modification. And may be somewhat pricey. I got together with a machinist buddy of mine and have made some parts that with make this swap easier. More on that later.
I would recommended changing the power steering lines and ordering up the bushings for this. Instead of writing a huge thread, pretty much everything I did was outlined in this thread (
Install: 2015 STi 13:1 steering rack into a GD - NASIOC
) with a few exceptions...
1: The 2015 is the widest that Subaru has made thus far. So its obvious that the rack is far wider that what our cars can handle fitment wise. Also the stubs on the ITR for a '15 are a M20, our cars are a M14. So swappinig ITR's are a no go. But we have come up with an elegant solution for this. We have machined adapters that allow you to use your stock inner tie rods from the GC
These thread onto your factory ITR and then thread into the '15 rack. You also need to purchase new '15 lock washers and make sure to bend the flats over to prevent the ITR from backing out.
I've had these inserts on the car for several hundred miles and beat on them quite a bit and have had zero issues. And have plenty of threads for toe alignments.
2: The steering coupler from the RS to the newer rack have different splines. RS has course splines, while the new rack has fine splines. Now this would be the difficult part for some people. I took my coupler and one from a 05 STI and cut and welded them together to make one coupler. Its kind of a pain because the RS one is so short, and you want to keep the over length the same as the RS one.
So I took a bunch of measurements, cut them, and got a sleeve to weld them together. I would recommend just taking both couplers to a competent welder and have him butt them together.
For reference, the RS:
and the 05 STi:
So here's the rack bolted into place as I was buttoning everything else up. Fits perfectly and aligned with zero toe without any issues.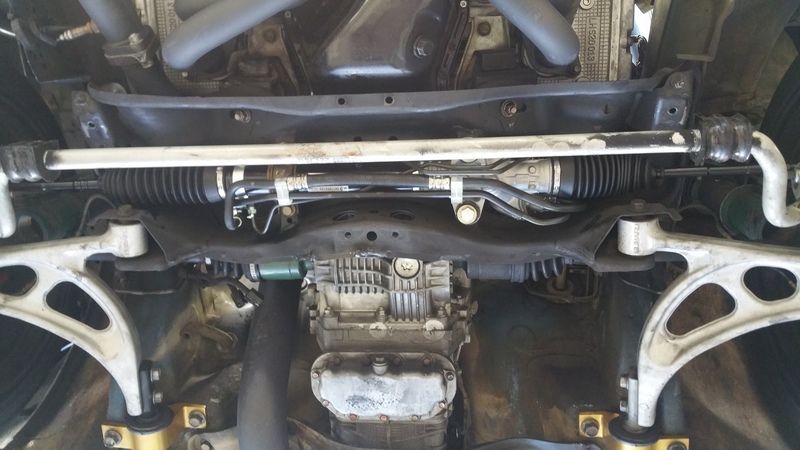 Cheers and good luck!
EDIT: Disclaimer about the inserts: These are made for the use of the GC and 02-07 WRX ITR (M14 stub). The STi uses a M16 stub. The difference in length between a GC and WRX ITR is about 1/4in. I'm making these strictly to aid the community in doing this swap and also assume no responsibility or liable for any work you do. The inserts are made with high grade steel and I have tested these a lot before making this post on my personal car, that being said, Install these at your own risk.