Downpipe.
Edit: Cut stock heatshield and count figure out why it would not attach. I had the bracket on backwards. Will have to undue the 2 top bolts and flip it around.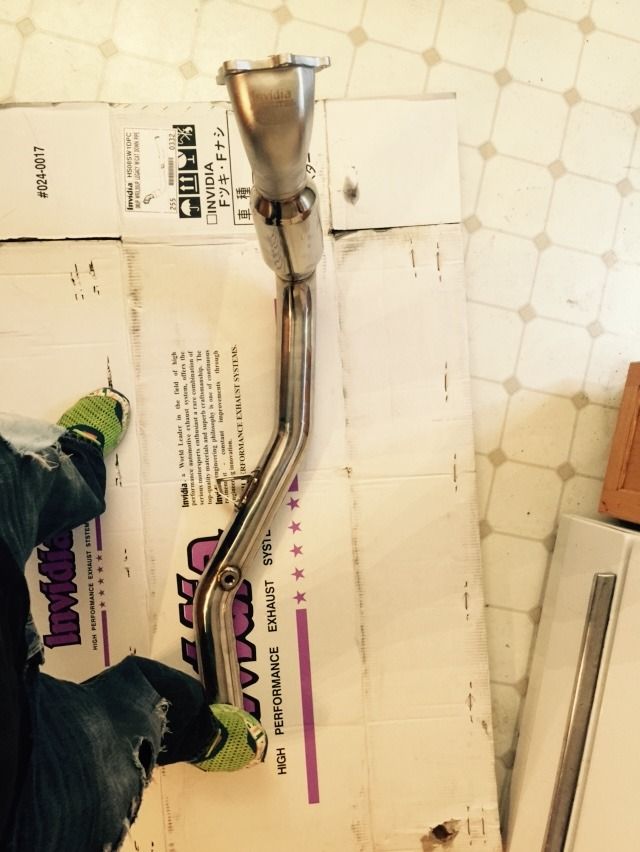 Stock exhaust.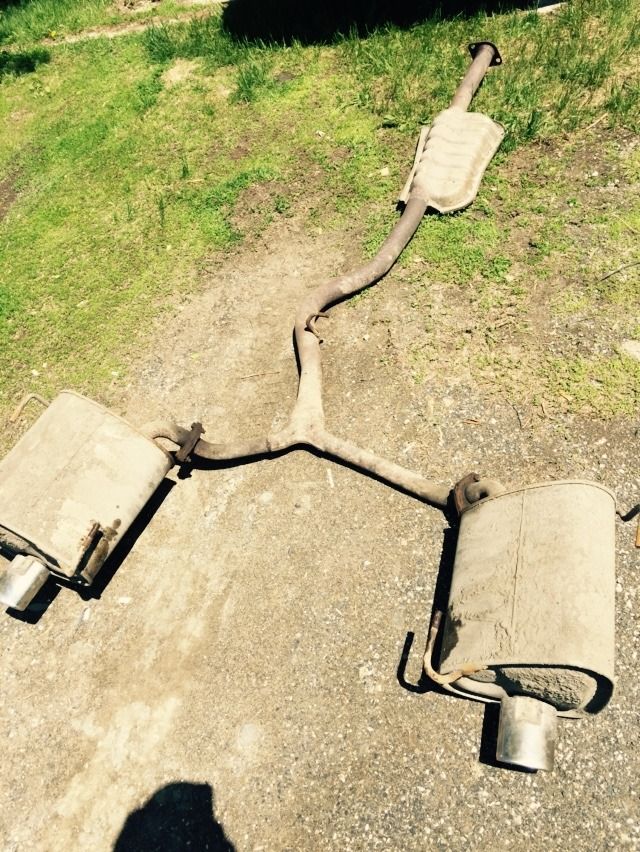 That is a sad sight to see after looking at those shiny new exhaust pipes.
Rusted on the axleback flanges, and I had to break the downpipe to exhaust bolts to get them off. Not that I needed them anyway.
What a pain to remove. I forgot about the middle hanger, and couldn't figure out why it would not come off. White lithium grease, with the spray tube makes this 500% easier.
My stock grommets looked great, so I reused them. Fitment with them was a little close, but not bad.
Oops!!! That was not supposed to happen. DIY beware, this could happen to you! It was essentially fused to the flange. About 7 welded nuts, tons of penetrating oil, some heat-cool cycles and finally, it came out. Cost me $50 and 3 hours of my time and my local mechanics to get this stupid bolt out.
Luckily, the intercooler mount bolt is the same size and everything, so I put that in there and got a new bolt for the intercooler mount.
Lets see that stock downpipe!
I guess its version 3?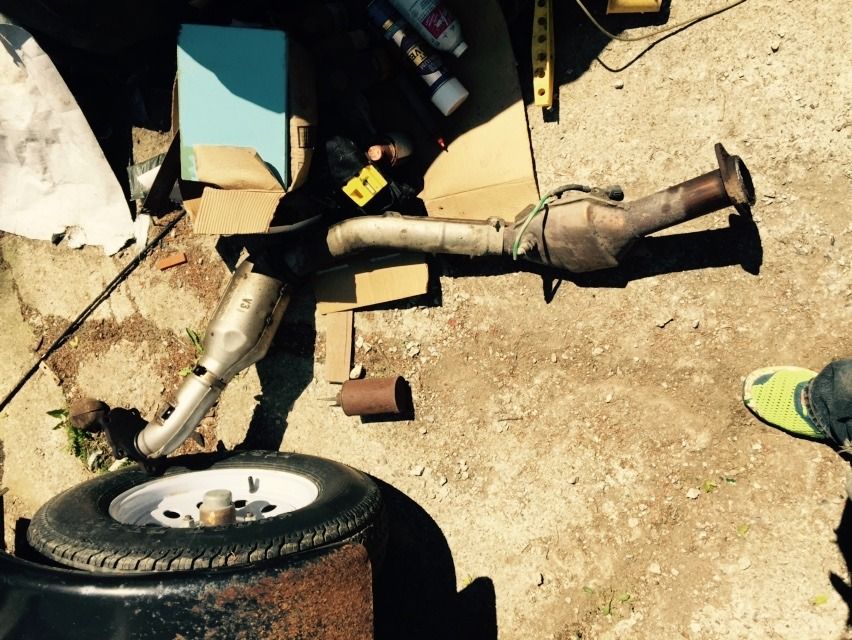 Look at that shiny downpipe installed.
The ac drain tube or whatever it is does not appear to touch or be close to the downpipe at all, you can see it on the left. Maybe I missed another tube.
I still need to cut the stock heatshield and remount it, but overall, it seems to be okay without it for now.
I bent the lower headshield down a but to hopefully direct some of the heat away from the axel boots.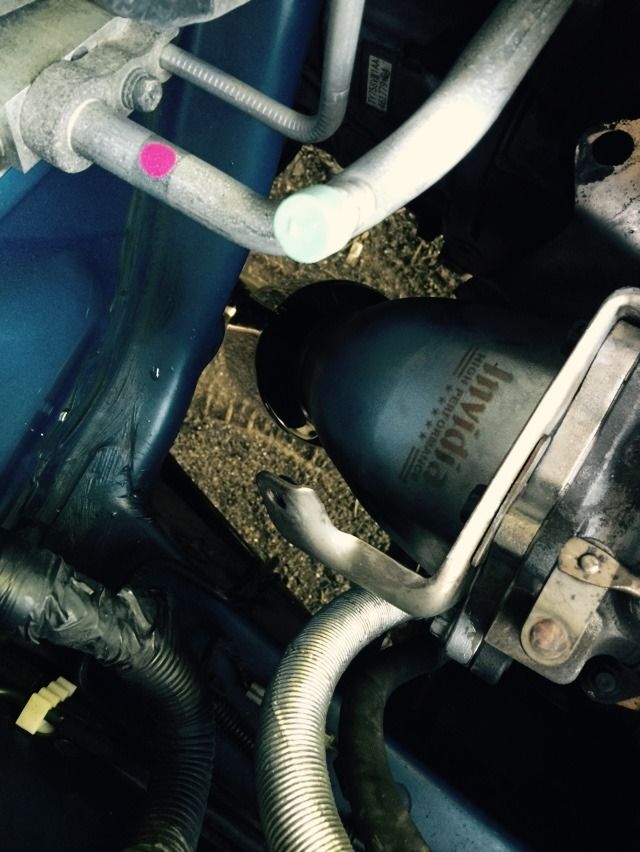 Installed.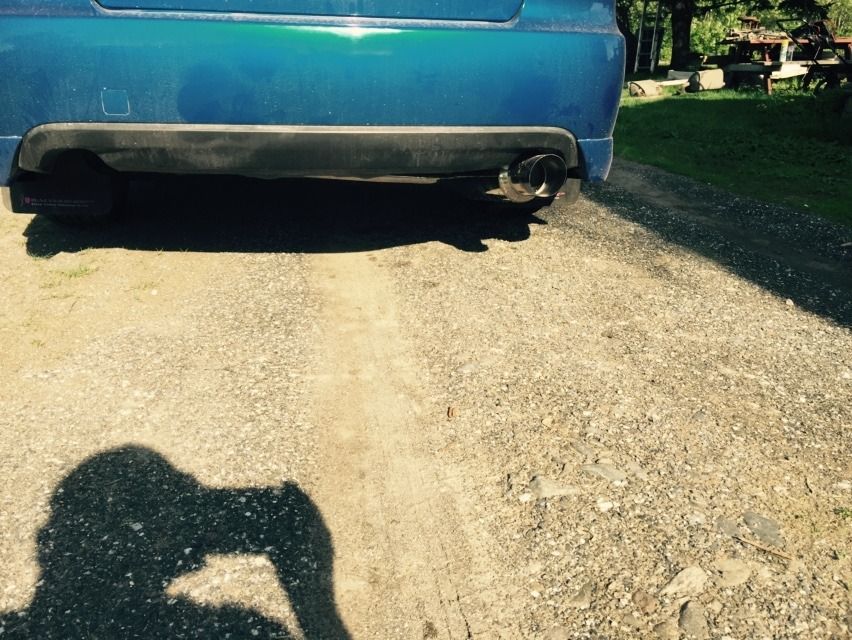 Side view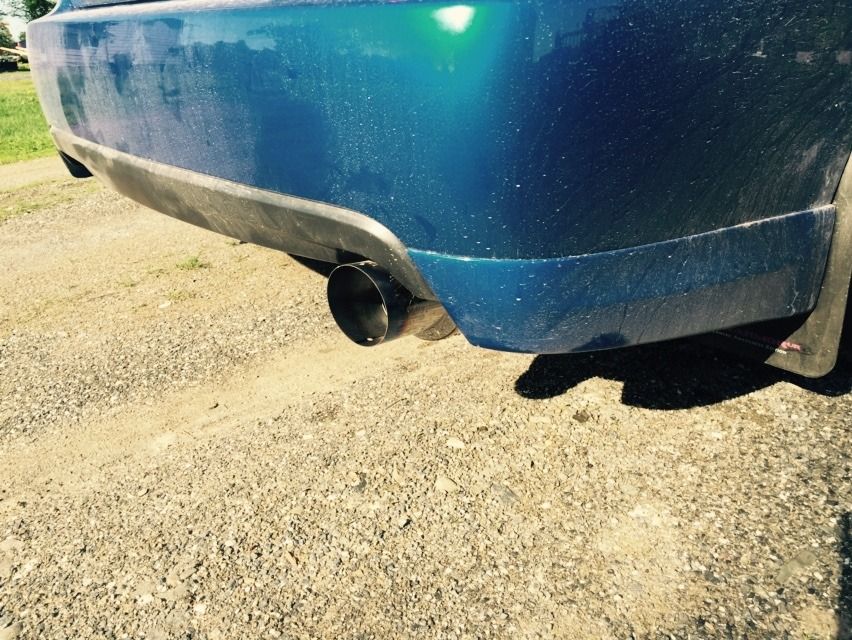 I am now stage 2. After getting the seized bolt out, and getting the intercooler sealed back up to the turbo, it is like a brand new car. Everything is so smooth. It just goes... effortlessly. I am not seeing as much boost going up hills or the engine needing to work as hard to get going. It is like a little rocket. I could not imagine the car any faster then this. It is like it has been given a set of new lungs!
I have not gotten it pro-tuned yet, so I am sure there is yet more power to be had.
The sound is incredible. If you are on the edge of this or the race, I would say get this. It is very deep. The rumble is amazing. You have no idea. Videos on youtube cannot do this justice. The fitment, with a little work and lining everything up was amazing. I could have had it done sooner, had I been on a lift or something but overall, I do'nt see anyone taking more then 3 hours for this for your first time if you have read the how-tos and acquired the proper tools.
I would recommend treading caution for the intercooler to flange bolt. I had only 62k on my car and the bolt snapped right off after sitting overnight with PB blaster.
I would also highly recommend spraying all the bolts you can get too the night before when it is hot from a nice drive, and doing so before working on it. If possible, try to tackle the downpipe bolts when they are hot. They were rusted beyond belief but came out like butter, when they were warm and covered in PB blaster.
The ones that go cold were the ones that took the most effort.
Overall, this is a bigger pain in the balls then the spark plugs if you do not have a lift, but well worth it.
Now, time to wash her up and go riding around listening to that sweet subi roar.