The short story (for long story, refer to bottom of post) is that my Phase II RS motor got some bad knock and is now shot. Now I've got a set of Phase II RS SOHC heads and some options for the block, but need to figure some things out first with some help on these questions. Most refer to NA 2.5 and 2.2T or NA 2.2:
Are EJ short blocks the same width deck to deck?
Is there a formula for how much headgasket thickness effects cam timing, or is this effect negligable?
Are 2.2 Turbo blocks and 2.2 NA blocks the same architecturally (as in closed deck, bore, stroke, oil passages, etc. ignoring that turbo blocks have different forging and metal properties than the NA counterparts)?
Are 2.2 NA blocks all the same from 90 on to present? (junkyards include models up through at least 1998 in searches for 1994 blocks)
Are crank timing cogs interchangable between EJ cranks?
Are 2.5 NA heads flat milled (not intended to add quench volume) or bore milled (adds extra quench volume)?
Example of flat milled, as in 7M
Bore milled head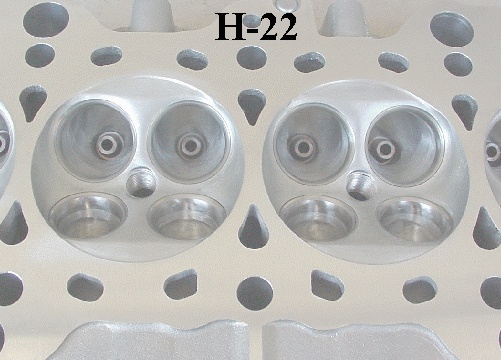 Is the 96.9mm bore of a 2.2 block and the 99mm bore of a 2.5 SOHC head far enough off that I'd have to worry about hot spotting at the top of the cylinder wall when using a 2.5 head on a 2.2 block?
I've done plenty of WRX and STi short block swaps and even had a EJ22T with Phase II heads with a 16G ages and ages ago, but this is fairly new territory for me. Any input would be appreciated!
Background, for those who care:
If all signs point to yes, I plan on cryo-treating one of the plethora of available 2.2 NA blocks and running a TD04HL from a 3000GT on wastegate pressure (~8 psi) through 2.5 SOHC heads. I am hoping to utilize the RS head gaskets for a 9:1 compression ratio, but if I need to, I may use the WRX head gaskets for a more moderate 8.3:1 CR. The build would also include the ITBs that I had planned on using on the NA Phase II and, if I can get the management for it, some sort of anti-lag... If there's a deal-killer, it looks like I'll be back to using another Phase II block, although the mega-short piston skirts and tendency to crack pistons sort of puts me off to this route.
Disclaimer: Mods, please feel free to move this thread wherever is most appropriate. I have searched but haven't been able to come up with the specific answers I'm looking for, so hopefully I've just overlooked a "bible thread".
Thanks!