Scooby Guru
Member#: 73805
Join Date: Nov 2004
Location: NEPA
Vehicle:
2017 911 Turbo
Miami Blue
Italian CNG Exec Charges Honda with "Mafia-like" Conduct over Fuelmaker as Sale Nears
---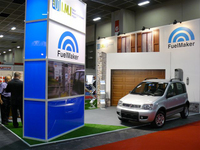 This continuing coverage of America's oil crisis arises from the The Plan: How to Save America When the Oil Stops—or the Day Before
Quote:
It is a very bad situation. I am not good. I am desperate," declared Haimo Staffler, president of IMI, the exclusive Italian distributor of home and office compressed natural gas (CNG) refueling devices manufactured by Honda Fuelmaker. The devices include the Phill unit designed to be the home refueler for the much touted restricted-production Honda Civic GX. The GX runs exclusively on CNG and holds the promise of untethering its owners from oil use and gas stations. Fuelmaker devices refuel not just Honda vehicles but any compatible CNG vehicle from forklifts to Fiats.

Staffler's experience with Honda executives and their conduct in the Fuelmaker case has left him shocked and angry, accusing them of extreme misconduct. "These people from Honda," he asserts, "they are driving me crazy. What they have done is terrible."

Specifically, Staffler accuses Honda of extreme misconduct in the recent sudden bankruptcy the Japanese carmaker forced on Fuelmaker. Overnight, that engineered bankruptcy has vaporized IMI's distribution agreements and product launches for Fuelmaker in Italy.

Staffler says at all times during more than a half-decade of partnering with Fuelmaker, he understood that the Canadian company was actually controlled by Honda and functioned as a Honda subsidiary.



Edwin Black

Investigation has revealed that the famed Japanese car company indeed controlled the Toronto-based Fuelmaker directly through stock ownership and through a secretive wholly-owned nameless Canadian numbered corporation known only as "2045951 Ontario." Designed to mask ownership, the numbered corporation 2045951 is nonetheless referred to in page after page of corporate financial filings, obtained by this reporter, under the moniker "HondaSub."

By way of background, Fuelmaker's shutdown was orchestrated by American Honda and its alter-ego numbered corporation between March 31 and April 3 in a series of stealthy legal moves. The abrupt halt in operations and termination without severance of all staff stunned loyal employees, strategic partners, customers, suppliers and alt-fuel advocates of Fuelmaker and the CNG home and office refueling devices it manufactured and serviced. At the same time, the strategic liquidation allowed Honda to sell the company to another buyer minus the pre-existing obligations, debts and contractual duties—hence making it cheaper and more attractive.

Details of the Honda-Fuelmaker forced bankruptcy debacle were broken exclusively by this reporter in The Cutting Edge News. A plan by Honda to undermine its own CNG vehicle production and refueling program was first reported last fall in the book The Plan. In the aftermath of the revelations, loyal Honda customers have been shaken, and the company, once the darling of alt-fuel activists, has suffered a damaging public relations fall from grace.

• SEE ALSO: How do Italian carmakers view CNG as an engine fuel? CLICK HERE to find out what Fiat's position is.
The latest charge against crest-fallen Honda begins some six years ago, when Staffler saw the sleek and compact Phill refueling unit standing atop a short L-shaped tabletop display in Portugal. Staffler says he immediately saw the Phill device "not as 'the solution,' but certainly one of several solutions to oil addiction in Italy." Shortly thereafter, he met in Toronto with then-Fuelmaker president John Lyon and other company engineers. "They were all very nice people. But immediately, I knew I was dealing with Honda. I remember, for example, we wanted to test the compressors. But he says, 'We are Honda. What is there to test?"

With the Honda imprint, Staffler fell in love with the whole idea of CNG and Phill. Home and office refueling, he thought, would accelerate efforts by Italy and the wider world to kick the oil addiction. Italy is one of the oldest and most developed natural gas markets in Europe, dating from WWII when Mussolini was unable to obtain oil supplies. The dictator ordered fuel switched to CNG. Staffler agrees. "CNG is an old story in Italy," he affirms. "It is now a big market. Fiat has a fantastic bifuel vehicle using CNG. Last year, Fiat sold about 80,000 of them for fleet and individual use in Italy. There are now more than 400,000 CNG vehicles of all kinds in Italy."

What made Phill right for Italy, he says, was the abundance of CNG vehicles and the lack of refueling stations. Of an estimated 22,000 Italian fueling stations, CNG authorities indicate only about 600 offer CNG fuel.

Staffler says he tested the Phill units on his own CNG Mercedes and on other vehicles throughout Italy. "The units worked. They were excellent," he says.

In 2006, recounts Staffler, IMI obtained Italian and European certifications for quality control and a mass installation program. "Without certification, we could not go to the Italian government for assistance. With it, we made the Phill like a home appliance, like a TV or a stove. But it took from 2003 working with Fuelmaker to make this happen."
By October 2006, Staffler recounts, IMI was ready to buy units. "But Fuelmaker says to us, 'Look, we are Honda. You are Italians. So you must pay first.' You know, it was a joke, but I took this as a sort of unspoken negative against Italians. Like we are Mafia—but now we see who is the real Mafia, and who cannot be trusted. It is Honda, not us."

"So we agreed to pay in advance," he continues. "We gave them something like $500,000 and we never had a guarantee, because of course they are Honda. We knew that and they told us that. We trusted Honda people."

In September 2007 in Cairo, at an international natural gas vehicle convention, IMI and Fuelmaker signed an exclusive dealership agreement for Italy. The happy event was advertised on the Fuelmaker website. "Then," recounts Staffler IMI goes to show after show all across Italy, we make TV presentations, videos—all to introduce Italians to the idea of refueling at home. We overcome all the arguments, especially the argument that home refueling is dangerous. By now, we had millions of Euros invested. Plus, we had participation from big public natural gas companies. We offered to install Phills like cell phones--1000 installations in 2009 but 10,000 in 2010.

We projected by 2010, by next year, we would be turning a profit." In Italy, IMI's Phill would sell for 4000 EU. With public sector help for installations, including government assistance, half that cost would be subsidized making the consumer expense a mere $2000, or about as expensive as a big TV, according to IMI.

By late 2008, IMI executives were more than excited. "We were sure the latest Phill model was perfect, with all prior technical problems overcome," asserts Staffler. "Fuelmaker is almost like a research university—always making it better. But now in late 2008 we need the production numbers. How many can we really get? We wanted plenty."

IMI was so enthused about Fuelmaker, it tried to purchase the company to ensure a steady stream of refuelers and to make the idea a success everywhere. "We signed an NDA to negotiate for the company," says Staffler "But we did not agree to buy the company because we did not agree on the value of the intellectual property."

IMI then concentrated on becoming an enthusiastic booster and distributor of Fuelmaker devices assured of its Italian exclusive. By early 2009, Staffler recounts, "We had new companies set up throughout Italy, in Sicily, in Naples, in Milan and Rome and Turin. We lined up the important Fiat car dealers." With a promising launch in the offing, Staffler says he again visited Toronto, this time in February 2009, where he met again with company executives. "Fuelmaker staffers are all good people, working hard at a difficult job," he emphasizes.

With six years of his life and millions of IMI's Euros invested, Staffler's excitement was unbridled in the closing days of March 2009. Within weeks, he was prepared to make his dream a reality.

Then on April 6, he received a called from a colleague with the news: "Fuelmaker has declared bankruptcy." A stunned Staffler called Fuelmaker in Canada immediately, "but all I got was voice mail." He adds, "Then I went on the Internet and read the details in The Cutting Edge News and said this cannot be possible!" Italian officials in Canada also referred him the same story. Eventually, IMI attorneys confirmed that Fuelmaker was thrown into bankruptcy by Honda executives working behind the scenes through a nameless numbered corporation.

"I spent millions, six years of my life, and no one calls me," stated an exasperated Staffler. "I have to read it on the Internet!"

Days after learning of the company's shutdown, he recounts, "I am talking to Alan Hutchens from the receiver Alvarez and Marsal and he gives me confirmation." Hutchens is listed as a senior director of the firm. Staffler continues, "Then Hutchens tells me that they have exclusive agreement from November 2008 to try to sell Fuelmaker to another Italian company. Hutchins said that if discussions with that other Italian company do not succeed, we will talk to you. I said to Hutchens," continues Staffler, "Is this a joke or what? We are the exclusive distributor here. How can you be talking to another company? We don't do this in Italy. You say to me YOU are Italians, like Mafia, but look what you do. "

Stunned, Staffler concludes, "Now I know why Honda put Fuelmaker in bankruptcy. It is obvious they bankrupted the whole company because Fuelmaker is not a good company to sell by the numbers, but only with their intellectual property." Most industry sources agree the core of Fuelmaker's value is not its physical refueling devices as much as the proprietary engineering that makes the devices work.

Shortly after their conversation, Staffler faxed Hutchens an indignant letter stating: "I was not aware of the fact that negotiations with the Italian company apparently go on since November 2008. So I guess that you understand my concern…You confirmed me 2 days ago that you were in negotiation with the same Italian company already before Honda declared Fuelmaker bankruptcy, and that you go on with the exclusive negotiation in this new, very different situation with the same company."

Staffler's fax continues, "Before April 2nd, Honda was the owner of 100% of Fuelmaker…Obviously less interesting appeared the state of the company concerning employment obligations, including the President of Toronto-based Fuelmaker, and all the commercial contracts (like the exclusive agreement with IMI). Now I am learning that the same company negotiates with you to buy the same 'product' but without 'problems.' I hope you understand that I am not willing to accept this non-transparent way of "negotiations" and ask you to stop immediately the exclusive negotiation and open it also to our company. Such a transparent method could, at the end, be much more useful for all the parties involved." This reporter has obtained a copy of IMI's fax and transmission confirmation.
Bankruptcies and court-ordered liquidations are traditionally conducted in a transparent fashion which does not favor one company over another.

Hutchens did not return phones calls for comment, nor did several other executives from Alvarez and Marsal working on the Fuelmaker liquidation. One man did call this reporter, identifying himself as one of the Alvarez and Marsal receivers but refused to give his name when asked and then hung up.

This reporter could not independently confirm Staffler's account or any details about a Honda negotiation with an Italian company as far back as 2008. But an April 20, 2009 Fuelmaker bankruptcy report obtained by this reporter confirms that after the much-heralded potential sale of the company to Clean Energy, controlled by T. Boone Pickens, failed, Honda executives, working through their alter-ego numbered corporation, "approached a second [bidding] party…to see if it remained interested in acquiring Fuelmaker assets." The document adds, "Negotiations with the party are currently on-going."

Numerous sources among Honda Fuelmaker partners speculated that Fuel Systems Solutions is the unnamed buyer in negotiation. Fuel Systems Solutions of Santa Ana California operates a primarily Italian company called BRC, as well as its primarily American business named IMPCO.

The firm specializes in alternative fuel systems, especially in the realm of CNG. The firm's net income was $23.3 million on revenue of approximately $382.7 million in 2008 as compared to net income of $5.9 million on revenue of approximately $265.3 million in 2007, according to company documents obtained by this reporter. Fuel Systems Solutions senior corporate executives could not be reached, but other company sources contacted declined to "comment on rumors." One source added, "Just wait for the press release." A stockholder of the firm involved with the CNG movement suggested any announcement might be issued on May 7 when quarterly earnings were released.

Retired Honda vice president Dan Bonawitz has been tapped to spearhead the Fuelmaker sale. Bonawitz and other Honda executives have been mum on their intentions. But this reporter has learned that on April 21st around 2 p.m. Pacific time, Bonawitz reportedly had a brief conversation with a colleague in which he said a potential Chinese buyer was no longer active but prospects were good for an Italian company, according to a source who made notes about the conversation. Bonawitz added, according to the source, that a leading point was the significant amount owed to French Gaz d' France. Bankruptcy filings indicate Gaz d' France is owed $6.2 million, presumably deposits on future equipment and service.

Bonawitz did not return calls, nor did Honda corporate spokesperson Alicia Jones. The company is circulating an apparently misleading statement that it merely controls a "minority share" of Fuelmaker. On April 8, responding to growing outrage in the CNG community over its tactics, the company stated, "American Honda Motor Co., Inc. (Honda) has a minority interest in FuelMaker Corporation and has provided substantial financial assistance to FuelMaker for a number of years." No mention was made of its controlling interest via about $24 million in funding or Fuelmaker preferred stock issued to Honda's alter-ego numbered corporation.

Fuelmaker records obtained by this reporter state: "2045951 Ontario Inc. ("Ontario Inc. "), a wholly-owned subsidiary of American Honda, held 80% of the issued and outstanding preferred shares of FuelMaker; and American Honda held the other 20% of the issued and outstanding preferred shares." From August 23, 2008, Honda allowed Fuelmaker to continue functioning on a "discretionary day-today" basis by virtue of a special "Forbearance Agreement" executed June 3, 2008, all based on Honda's ability to demand immediate repayment of its note and throw the company out of business. Despite knowing Fuelmaker could be forced into bankruptcy or insolvency any day, Honda continued to advertise Fuelmaker side by side with its Civic GX as viable technology being offered by a viable company. By suddenly demanding payment in late March 2009, Honda was able to suddenly kill the company, with court approval, triggering the current state of affairs.

Preferred stock, while essentially a loan, is a long-established auto industry device for quietly controlling another company to do its bidding. Decades ago, General Motors, Mack Track, Firestone Tires, Standard Oil and Philips Petroleum used preferred stock to secretly fund National City Lines. They then directed NCL to purchase electric trolley lines across America, destroy them and replace them with oil-burning motor buses. All five companies and their executives were convicted in a federal court for subverting mass transit. The convictions were upheld by the U.S. Supreme Court.

Angry Fuelmaker and Honda GX customers are now suggesting the company has acted as duplicitously as GM. Some are calling for class action lawsuits or prosecution.
On the CNGChat, an online community that debates the topic, one poster declared, "I spoke with a person from American Honda early today….At first she denied that Honda had any ownership in FM, but after I rattled off a couple of points (like the fact they point to the Phill in the GX brochure) she backed off a bit. She ended up telling me that she could neither confirm or deny. Like listening to the govt. I told her that FM had gotten about $4600 of my money about 3 weeks ago and as far as I was concerned, Honda cheated me."

A second poster echoed that feeling with a one-liner: "Where do we get our money back from Honda? They cheated me!"
A third poster named Dave Fox, whose identity was confirmed by this reporter, declared: "Honda had 100% control of the preferred stock, and had a note for about 24 million. Some simple typing at Yahoo "Honda FuelMaker" produced some really disturbing articles dated back to when I ordered my car [in ] June 08, and my pump in Nov 08. I have about $60,000 worth of Honda Civics in my driveway and they will be leaving shortly. To say that Honda has known about this for 8 months is a misstatement on my part. I think they have been planning this for about 3 years."

Fox added, "I am printing all the press I can on this and organizing it. Next week I will convert it to a PDF file and get it ready to e-mail to each and every elected State official in Congress. All 500 and change of them. It will be followed up by a filing for fraud, false advertising, and breach of warranty at the least. I am also going to request that Honda be forced out of the U.S."

Fox also posted a comment: "Honestly cannot believe a word they say. They have zero credibility as they just tossed us all under the bus. Responsible companies do not do that.

Bottom line, Honda has an image problem, a customer service problem, and a bunch of people looking to throttle them. It is quite honestly firing time for the Execs here in America at the least and the CEO in Japan can go right along with them. Do not bring your self serving attitude to my door. I purchased the car in good faith, paid $10,000 cash for the pump in good faith, and this is how I got treated. Shut it down and go back to Japan."

"The Fuelmaker question is not just curious--it is incredible," rails IMI's Staffler. "For me, the people from Honda are crazy or very bad people. Honda is one of the biggest names in the world. How can they do this? Whenever I talk with Fuelmaker they tell me and I know it is Honda, it is Honda, it is Honda. How could they do this? The Honda guys have decided all this. It is not possible for them to take these incredible actions. Our only recourse is to make the situation public. You cannot imagine the unhappiness of Fuelmaker workers and everyone else involved in this."