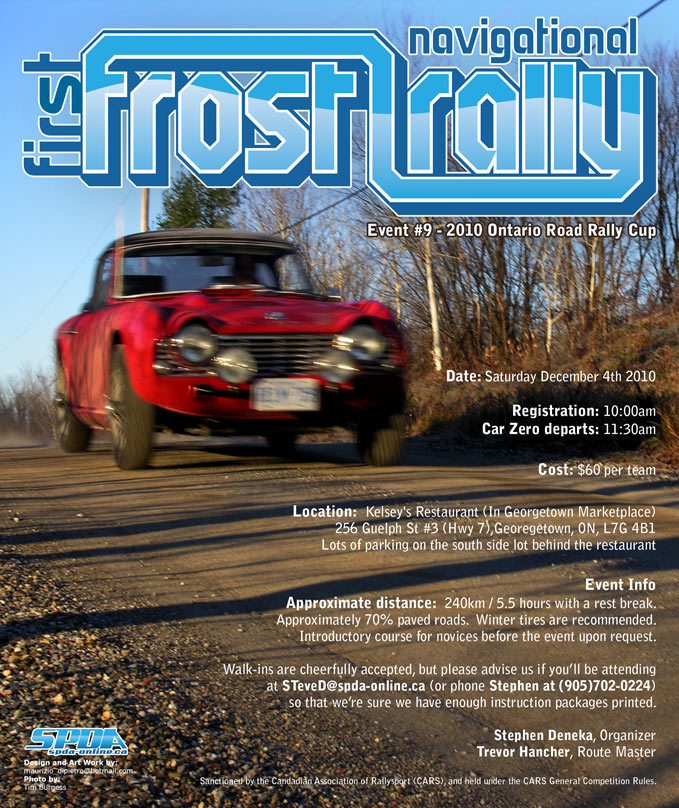 Saturday Dec. 4th, 2010 - Georgetown Ontario Event #9 of the 2010 Ontario Road Rally Cup hosted by SPDA-online.ca
Description:
A beginner friendly navigational rally event on fun roads in scenic Halton Hills, Ontario. A driver and navigator enter together in one car. The navigator interprets the route for the driver, who tries to maintain target speeds that are set 5% to 10% below the speed limit. This is not a race, it is about staying on route and maintaining precise timing. Arrive at registration by 10:00am to receive a beginner course at 10:45am.
This Introduction File
describes how a navigational rally unfolds. The types of instructions that we will be using are described
here
in the novice/beginner section.
Start Location:
Kelsey's Restaurant (In Georgetown Marketplace)
256 Guelph St #3 (Hwy 7)
Georegetown, ON, L7G 4B1
Restaurant Tel: 905-877-7150
Lots of parking on the south side lot behind the restaurant
Map Zoomed In
,
Map Zoomed Out
Schedule:
Registration Opens: 10:00am
Registration Closes: 11:00am
Car 0 Departs: 11:30am
Car 0 Rest Stop: 2:30pm
Car 0 Finishes: 5:00pm
Results during Dinner: 6:00pm
Cost:
$60 per team. Registration includes a $20 dinner/drink coupon for after the rally. Cash preferred or cheque accepted at the event. You can send a Paypal transfer to Treasurer [at] spda-online [dot] ca in advance with your registration form.
Please fill out and submit
this registration form
.
Approximate Distance:
240km / 5.5 hours with a rest break. Approximately 70% paved roads.
Inquiries and Registration:
Walk-ins are cheerfully accepted, but please advise us if you'll be attending so that we're sure we have enough route books for everyone! Email your registration form to STeveD [at] spda-online [dot] ca or phone Steve at (905)702-0224 with any questions you may have.
We look forward to seeing you on Saturday December 4th!
Sanctioned by RallySport Ontario and the Canadian Association of RallySport, and held under the CARS General Competition Rules.