This happens about once a week.
Customer: "How much better does the STI intercooler work than the regular WRX intercooler?"
Me: "Um, I...better. A little better. Not a LOT better. But some better."
I figure if I get a few of THESE babies out on the streets, I'll have more info to go on, and I won't have to be so vague.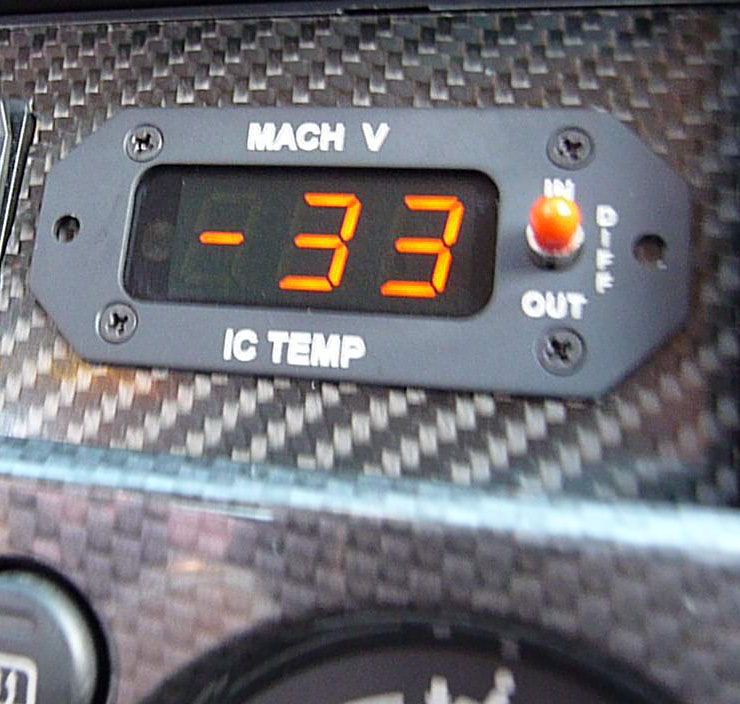 It's an aircraft-style intercooler temp gauge, with TWO (count 'em, two!) temp sensors. One for BEFORE the intercooler, one for AFTER. You can select reading the before sensor, the after sensor, or the differential, as shown. It has an ambient light sensor, too, so it automatically dims and brightens for night/day operation.
It's very, very cool to watch this gauge and learn about what your intercooler does, and how it responds to changes in road speed, engine load, and ambient temperature.
Here's a vid we took of the gauge in action:
It comes with everything -- the gauge, the temperature senders, wiring, mounting hardware, and even the special tap for threading the sender holes. (For those of you with plastic end tanks, like 05+ LGT and 08+ WRX, you're going to have to find another way to mount the sender...) We'll also have a complete set of online instructions for fool-proof installation. Those will be ready shortly.
Our first order of production units will be here in about two weeks. You can order now if you like -- your credit card will not be charged until your order ships. (If you use PayPal, it doesn't work the same way. Sorry.)
I know some of you are going to say, "Wha...! Too expensive!" That's fine. This is not a cheapo gauge. It's aircraft-spec stuff, and it's kind of expensive. It doesn't fit in your average gauge pod anyway, so this isn't gonna be for everyone. I know that.
But someday soon, I'll get that intercooler question again, and I'll be able to answer: "The STi intercooler is approximately 12% more effective at 70 degrees ambient compared to the WRX intercooler." (Or something equally informative.) Hard data! I love it!
Mach V Intercooler Temperature Gauge -- Click Me!
Click the link for pricing and ordering.
--Dan
Mach V
FastWRX.com