Ok, it's warming up in NC so I started using my A/C today. Well, turns out I'm having some issues.
The Problem
With air conditioning turned on, the vehicle chirps and loses power for a split second. This concerned me, so today after work, I took pictures and video to see if anyone could help me figure out what's going on.
At first I thought it was because my belts were lose. Since I had just replaced my worn belts with new Gates A/C and Alternator belts.
This video shows the belt with lots of vibration. Is that too loose? Should the belt not vibrate that much?
But then, as I was watching the belt, I noticed something. The part with the red arrow stops spinning, as if it gets stuck.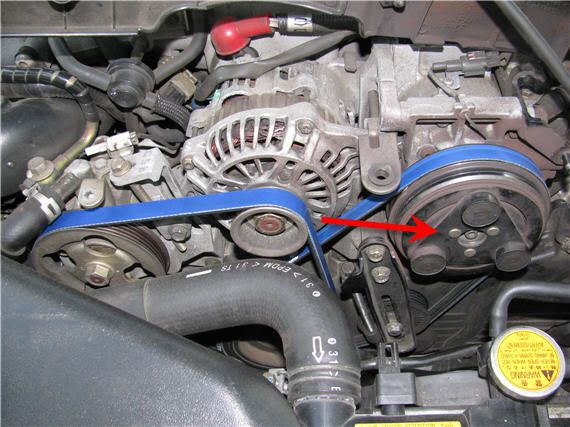 Here's a video of that part stopping (I think it's the A/C Compressor):
Is this bad? Is it something I can fix myself?
---------------------------
UPDATE
I'm a doofus. The compressor stops normally. LOL.
But, I did find out what was wrong. My A/C slider bolt bracket was broken. Thus, nothing was left to keep tension on the belt but the pulley. Need to buy a new bracket.
Part #24 in this picture... anyone know where to get it?