Background: I'm taking a manufacturing/design program at school and am in my final year. Part of this year is a design/manufacturing project that encompasses the principles taught in the course. This can be anything from CNC machining, welding, tool design, composites, plant layout.... Very wide open.
My project is a carbon fiber intake manifold for the SVX. I may accompany this with a new cold air intake (also CF, of course). I've been doing some research, but by no means am I an expert in engine design, so I'm looking for advice and help with this project. I've got the basic dimensions down and am currently working on my design in CATIA.
In case anyone's wondering why carbon fiber? Lightweight for one, the OEM manifold is quite hefty. I should be able to trim it down to just a handful of pounds. Heat transfer is the second big thing though. I'll have to see what happens once it's installed, but I'm hoping that the CF will keep intake temperatures lower. It may heat soak faster due to the low mass, but once air is moving through it it should cool rapidly.
My questions at the moment:
1. The SVX has a dual throttle body with two 60mm valves. In the stock manifold the plenum is divided but has a large valve that opens at certain RPM ranges, but it's going to be too complicated for me to incorporate into my design given my time and ability constraints. So, do I want a fully divided plenum, with each side of the throttle body feeding half the engine, or do I want a larger combined plenum?
My throttle body: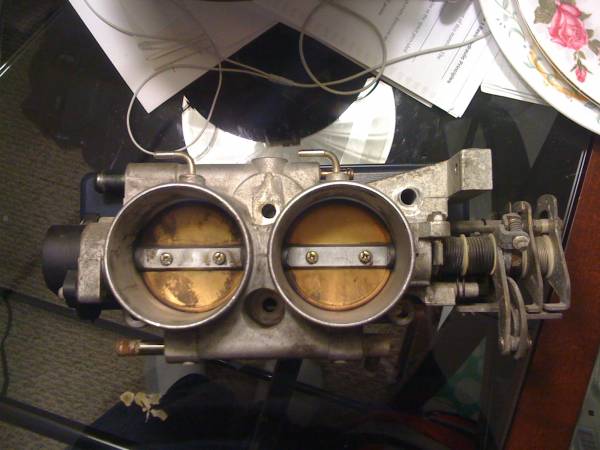 2. Plenum volume? Most of the articles I've found relate to forced induction manifolds and suggest plenum volume be 1.5-2 times the engine displacement, but not many have anything to suggest volume for N/A engines. 0.75 times displacement?
3. Runner length? I'll be keeping the diameter to ~45mm I.D. and will be using raised velocity stacks/trumpets inside the plenum. I'd like to target ~6000 RPM for peak power to combat the EG33's tendency to fall off in the upper rev range. From what I've found so far I should be aiming for ~10" runners above the injector stacks.
Any other thoughts or comments are welcomed, this is going to be a challenging project but also a lot of fun.
Some of the references I've been reading:
http://www.amsperformance.com/pdfs/intakemani.pdf
http://www.velocity-of-sound.com/vel...alculator2.htm
http://horsepowercalculators.net/int...anifold-design