Here is my review of the bushings. Overall, very happy with the product and would recommend to others.
Review of the MSI/TiC front control arm bushings
Initial Inspection
I have been looking at TiC and MSI parts for years now, building up this image of what their parts should be in terms of overall quality (fitment, performance, usability, and durability). I am happy to say that they did not disappoint.
After a quick visual inspection of the parts, there was no signs of burrs, edges, or imperfections visible. After scrutinizing the parts with a micrometer everything seemed consistent relative to the OEM bushings.
Installation
Full installation write up at the bottom of the post.
This is an easy to intermediate level install. Took roughly an hour to do and runs a low risk of failure (broken bolts, ect...). Just be mindful of what you're doing (cross threading those 19mm bolts) and you'll have no problems.
Car setup for reference
99 Impreza TS sedan
Front:
caster - 2.93*
Camber - -2.65*
toe - 0.0"
Rear:
Camber - -0.45*
toe - 0.0"
-sti struts, springs, top mounts with the front struts slotted for more camber
-whiteline 22mm front swaybar w/ stock endlinks
-perrin 22mm rear swaybar on weakest setting w/ perrin mounts and endlinks
-whiteline steering rack bushings
-GD sedan width control arms, lateral links, and axles
-2.5rs brakes with hawk HPS pads
-DD tire is dunlop all season on 16x7 5-spoke wheels
-Kumho v710 r-compound tires in 225/50/16 on 16x7 5-spoke wheels
-
TiC/MSI front control arm bushings
First drive
First cruise around the block kind of surprised me. I actually didn't notice anything. Which is good, as it shows that they are relatively low change in NVH. I unfortunately had to remove my Com-C strut tops at the same time as the install as one was discovered to be broken. I replaced with stock sti mounts. With both of these changes, the car had reduced NVH compared to stock bushings with the Com-C's.
The only time it was noticeable, was when I hit abrupt bumps (pot holes, centerline markers, or rumble strips on the side of the highway). I actually didn't mind this as it gives a rather satisfying thump (not uncomfortable) increasing the feel of the car.
Spirited driving revealed the true improvements that these bushing make. Turn in is more instant and predictable. While cornering, imperfections in the road required less steering change to maintain the desired direction. Most notable was under braking. The car remained much more stable with less dive. This was less noticeable under acceleration but that is mostly due to the lackluster launches of the n/a motor.
At the AutoX
The event on sunday was very wet with lots of standing water so I opted to not use the r-compound tires. My car was very tail happy and my times were slow. Reviewing my car setup shows that I do not have enough rear camber and my limited tire choice for the weather was not ideal. This over-steering properties are not a result of the TiC/MSI bushings.
But the benefits of the bushings were still obvious. Better turn-in and braking were the two major improvements that I found. Being legal in the class that I am running in (DSP) makes these a very good option.
Conclusion
These bushing are a worthwhile improvement to the front suspension system. Increased steering response with turn in and better braking with only a slight increase in noticeable NVH.
Definitely a good option given the cost compared to an ALK while maintaining stock alignment (and therefor autoX legal) while maintaining streetability.
Installation guide
Installation is fairly straight forward. For a GC/GM/GF chassis you will need:
-22mm wrench
-19mm socket w/ rachet/breaker bar
-17mm socket and wrench (optional)
-White lithium grease
-Torque wrench
-Jack and stands
-Press
Optional method tools:
In the event of a broken press (mine) or a lack of a press all together, this method worked for me.
-drill or some other method for removing the rubber core
-die grinder/dremel with small deburring tool
-hammer and cold chisel
Procedure:
1. Jack up the front of your car. Be sure to loosen your wheel nuts if you don't have an impact gun. Also get it up high. It's easier if your tools are not colliding with the ground constantly.
2. Remove your wheels and locate the two 19mm bolts going through the bushing housing. Also locate the rear 22mm nut at the end of the control arm.
3. Using your 22mm wrench, loosen the large nut 22mm nut. You may need to double up your wrenches for more leverage or use some foot power. (keep in mind, foot power only works on the driver's side.)
Make sure you loosen that 22mm nut first. It's a pain if you take out the 19mm's first as the control arm will flop around on you. Not impossible, just irritating.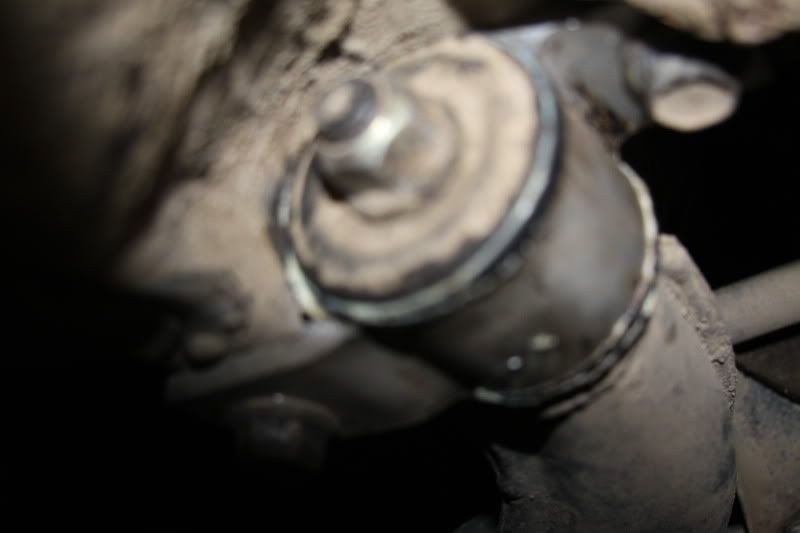 4. Loosen the 19mm nuts. These puppies can be tight. Long breaker bar or cheater bar is in order. After removed, slide off the bushing. If you're having issues with doing so, use your 17mm socket and wrench to loosen and PARTIALLY remove the forward control arm bolt. Just take it out half way so you can pivot the control arm down slightly. Removing it entirely just makes more work for you. Bushing should slide out no problem after that.
5a. Press out the old bushings. If you have a press, I'm assuming you know how to use it safely.
5b. If your press is broken, this method works. Keep in mind this method will ruin your stock bushings.
You first need to press out the center section of the bushing. You can either drill a bunch of holes in the rubber until it comes out, or you can use a ball joint press like it did. (note the ball joint press doesn't go big enough to actually remove the entire bushing. I tried...)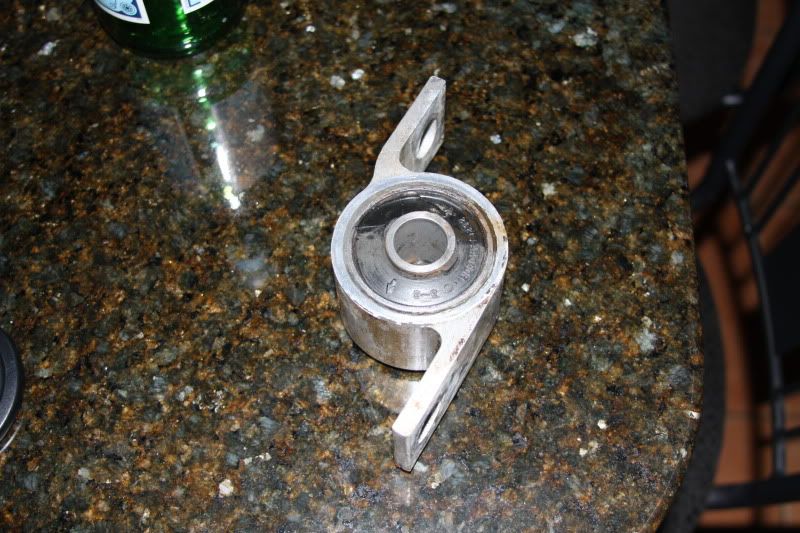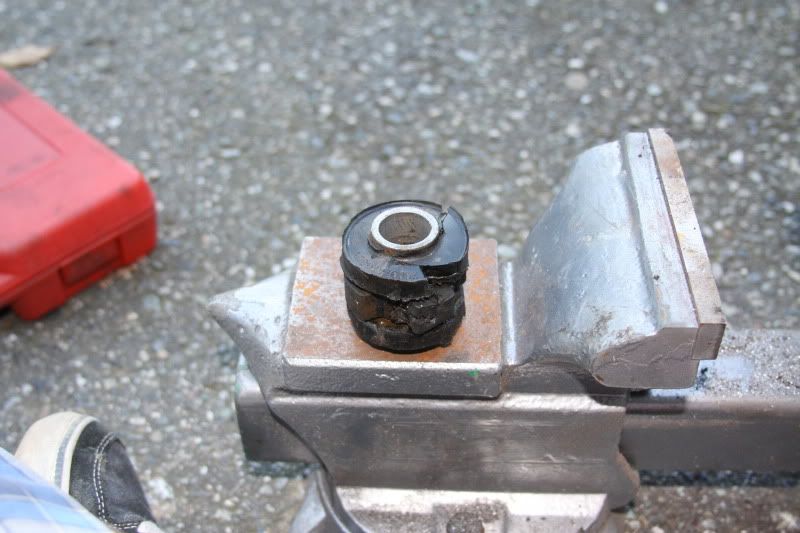 Then you will find that the stock bushing is made up of multiple components. There are two metal rings at either end of the bushing then the housing running the entire length. Use a die grinder with deburring tool or similar to remove the two rings, then the steel housing after.
Take special care to not go to deep as to gouge the aluminium housing. Take light passes along the entire length of the housing.
The steel sleeve will just slide right out with the tap of a hammer.
6. Assemble the new bushings being liberal with applying the white lithium grease or similar. I also cleaned my housings as their was rust and other contaminants from the stock bushings. Take note that you don't put the crush tube in backwards or anything.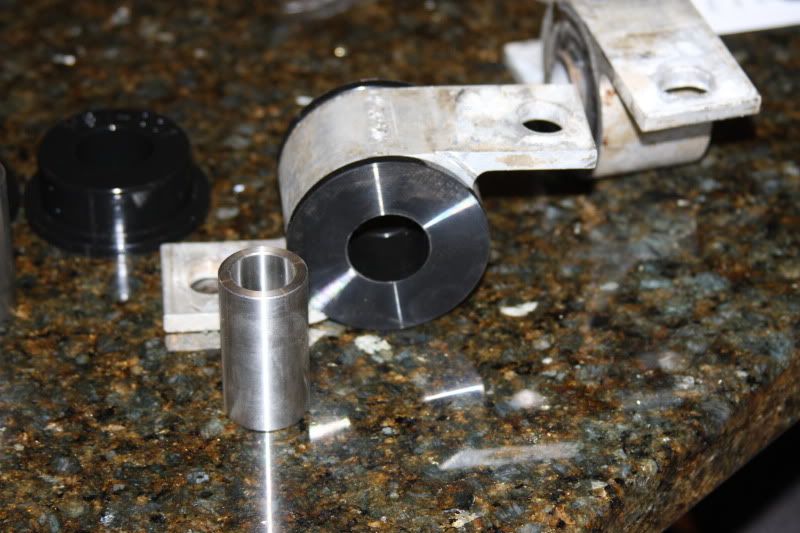 7.Grease the Faces of the bushings before re installing into the car. Remember to keep the big flat washers.
8. Slide the bushing onto the control arm (clean the control arm first) and put the 19mm bolts in first. If you tighten the 22mm nut first, it could be awkward to line up the 19mm bolts. Anti-seize on all hardware would be beneficial.
9. Tighten the 19mm to 180 ft-lbs (i think...?) and tighten the 22mm as much as you can with the wrench. Don't forget to put the forward control arm bolt back in.
Put the wheels back on and lower the car down. ENJOY!