I feel like this may be overdue, but I hesitated to start a journal before I could actually make substantial progress. Given the events over the past few weeks, I think it finally merits having something pretty typed up.
My name is Drew, and I'm a 28 y/o single father of two boys. With that said, this project may slow down at times, so please be patient with my progress. I suppose I'll start with a bit of a back story.
This project has been brewing for the past 5 years now. Back in 2007, I traded in my gas sucking Durango for an 05' Impreza RS. I drive 50-60 miles to work each day and I instantly fell in love with the car, regardless of how "slow" and "mushy" it really was. I had always wanted an STi, but decided that I would not ever make payments on a "toy" again. Since I didn't have 20-40k sitting in my bank account, it remained a dream. I started saving as much as I could with the hopes of one day having my own STi.
Fast forward to 2010, after reading about so many swaps on various forums, I decided this would probably be the best way for me to accomplish what I wanted to do. I didn't want the stress of having a project car that I relied on for daily transportation, and no debt for a toy. I have always loved the GC chassis so it seemed like a good place to start, especially since you can find them relatively cheap.
In March 2010, I found a nice looking 2000 RS (auto) located in Deleware. It looked really clean, and the price was right so I jumped on it and sent a payment to hold the car until the weekend. I woke up that Friday at 6am and went to work. When I got out at 5pm, I drove to my mother's house and picked her up for a surprise road trip from northern Michigan to Deleware and back. I drove straight through the night and made it to the dealer around 8:30am on Saturday. Once the dealer opened up at 9, I paid for the vehicle, then we immediately started heading back to Michigan with mom piloting my 05, and me driving the GC (with a very loud wheel bearing). In what seemed like the longest road trip ever, we made it back around 6:30am on Sunday. Mom was quite the trooper, and I can't thank her enough for helping me bring the car back.
Picking up the car in DE
So now I had a project car sitting in the garage, something that I did not need to rely on for transportation. Funds were fairly tight after the purchase so I held off on doing anything major to the car, and instead just kept researching. I fixed all the miscellaneous things and after about 6 months I was itching to do more. I figured I would just do some exterior things to make the car feel more like my own until I had enough saved for a swap. I knew this would chew up some funds that could go towards the swap, but it helped me stay interested and focused on the project.
I started my search for various P1 bits mixed with JDM pieces to make it more unique. It took from 2010 until the end of 2011, but I finally had an exterior that I was happy with.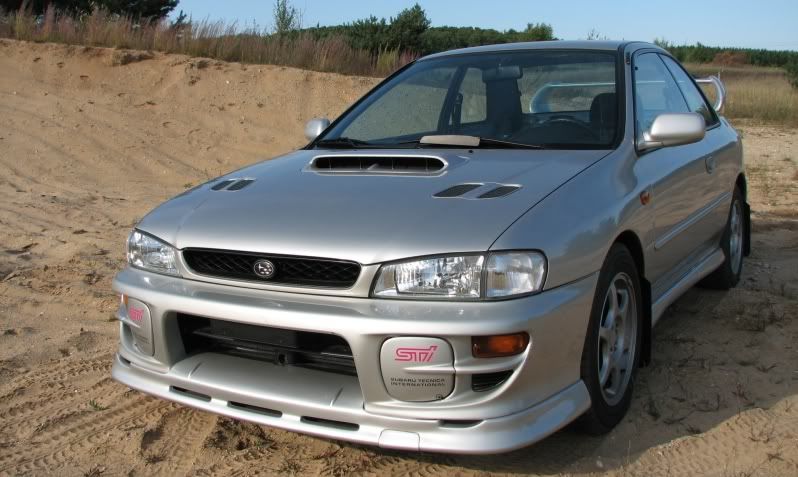 Now it's 2012, and I had no idea what direction I want to go with the car. Do I want to keep it N/A and build it for Rally, or swap it and have a track car that I can eventually run at the One Lap of America? By this time, I had saved up more than enough to swap the car and still have a decent cash buffer so I started looking more closely at Salvage STi's at insurance auction. I bid on a couple but never acquired one, so my direction was still up in the air.
At the end of February 2012, I found a Salvage 06 STi for auction in NY. I bid on it not thinking I would get it, considering how much I had offered. To my complete surprise, I ended up getting the car! Crap, now what?!
After a very stressful fiasco getting the vehicle shipped to my original destination, I ended up only being able to get the car to Detroit, MI. Time for yet another surprise road trip, this time with a friend in his 2000 Tahoe. We drove down on March 14th to pickup the car and I was suddenly reminded of the poor fuel economy of a 12 y/o SUV while pulling 5000lbs.
Here she is, home at last!
It had no battery, and the previous owner also decided to remove his SPT intake and MAF sensor. Extremely anxious to see what condition the engine was in, I borrowed a battery from my 05 and hooked it up. While expecting the worst but hoping for the best, it fired right up!
So the plan now is to do a full swap into the "GC". I want to get some track time in this year, and hopefully run it at the 2013 One Lap of America. I've spent a couple hours the past two nights stripping the interior and pulling/labeling the wiring, trying to get as much done as I can before it goes into a friends garage for the engine/tranny/sub frames/gas tank/etc. I have also since acquired a new intake and MAF.
Before I rolled the cars into the shop, I wanted to address what suspension the car was going to sit on. Not wanting to mess with any of the chassis mounting points of the GC, I ordered up a set of RCE Tarmac 2's, paired with Vorshlag Camber plates front and rear from Paul @ Racecomp Engineering. These guys were great to deal with, and I will definetly do business with them again as soon as my wallet recovers
That brings everything up to date. Hopefully some more dismanteling of the STi this evening. Thanks for reading!