So i bought my car used in February with about 8,000 miles on it. It has an aftermarket in-dash navigation unit (p.o.s. Pioneer). I want to install my Kenwood that i had in my old car. So i finally got some time to do it and when I pulled the old one out, I was shocked that anyone could f*** an install job up this bad. What i found was a collection of wires that were not connected, were split into two, spliced two or three times, harness plug not even plugged in, and a few wires by-passed. I have speaker wires from the deck not even connected.
Who ever installed this thing was clearly mentally disabled. Why wouldnt you just buy the harness adaptor instead of creating this s*** f*** mess i see before me? I am not what you would call an "expert" but i have installed many stereos, amps and subs before and had always made sure that connections were properply installed and never took any shortcuts to make something work. But, this is a little beyond me and I could definently use some help.
The funny thing is, the system works great, sounds amazing. I have a solo-baric 10" in a custom box for the trunk. Im pretty sure there are two amps because there are two sets of rca's. One amp is under the seat and im pretty sure that the other one is monunted on the back side of the sub box. I need to pull it out to find out for sure.
So I guess what I am saying is, is there anyone that could give me some advice on how to fix this mess or would actually be willing to help me with it?Anything would be great.
Here you can see the red power wire gets split into two. One goes to harness, other goes somewhere into the dash. Same goes for the ground wire (black)
This one you can see that there is the white harness plug that is not connected to anything and never was. Any ideas on what this is?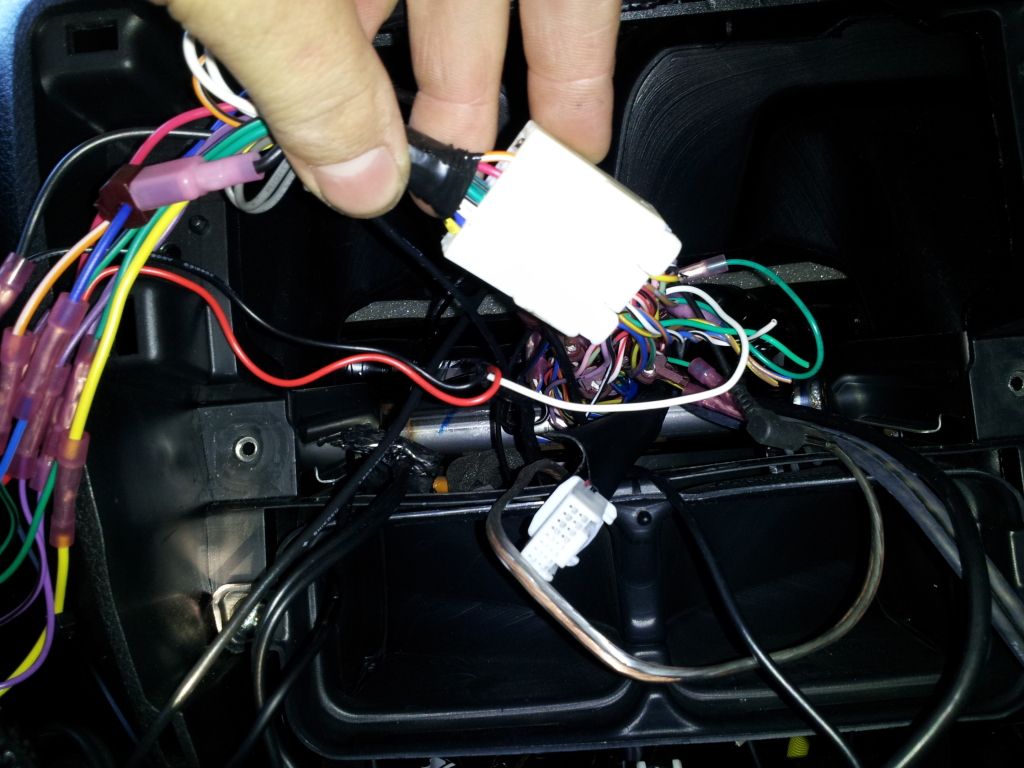 Notice the yellow and green wire that are attached to speaker wire, also bottom right of this picture is the plug that goes into the head unit. Note gray and white speaker wires not hoked up