*Thread copied over here from 3gwrx.com. I usually just kinda lurk around on NASIOC not posting just reading, but I figured I'd get this up here for more people to be able read
Since moving to Tennessee from California, I have been slowly adding more goodies to my 08 WRX. Of course as we all know most mods worth adding require a tune of some sort! Well in California, its really easy to find a laundry list of reputable tuners -- not everyone can be an Eric Mineheart or a Shawn Church, but pretty much anywhere in Cali you can find somebody who you can trust to make sure your car is running smoothly. Boy, is it a whole different story down here in Tennessee!! As far as I've been able to tell in the whole state there are only 2! AWD dynos, and one of them (as far as I've been able to ascertain) doesn't have anybody to tune for it, and the other is in Memphis (yuck lol sorry for anyone in Memphis, but I really don't like it there!) and I was unable to find any reliable reviews. Maybe it was a little bit of a lack of trying to look for good tuners in Tennessee, because as soon as I started looking in this general region, one name kept coming up: Topspeed. NASIOC, iWSTi, and ClubWRX all have reviews, with most of them being great.
There were some negative reviews, particularly on NASIOC, but from oh about 2006 on, I was unable to find any negative reviews, at all. From what I've read, there was a change of management and Topspeed ended up getting one Doug Wilks to come on board with them, and ever since its been kicking ass and taking names. All the hype certainly made me feel comfortable, but I was also a little skeptical. What the hell though, looks like the only other reputable shops were either in Chicago or North Carolina somewhere, and as much as I love my car, the cost and time involved in traveling 600 miles kind of ruled them out (if I couldnt find Topspeed I probably would have taken the trip, but since I did, it didn't seem worth it). So....
I gave Topspeed a call about a week and a half or two weeks ago and setup an appointment for Friday April 4th at 1230. I have been fairly confident that I had a small boost leak at my BPV which was just not wanting to fit right for me (Godspeed FMIC FTL), so I've been biding my time and not beating on the car too hard until I got the chance to make it somewhere to let the professionals get my car back to tip top shape. I also recently got my new DW 750s installed as well as my Grimmspeed EBCS, so I was definitely due for a tune up. I requested a limp mode map from them so I could slowly chug my way along the 250 mile trip. They got a list of my mods and told me to sit tight for a bit. A smidge more than a day later I got an email from their tuner Doug Wilks with a limp mode map. He requested I update my AP load it up and report back with the long term fuel trims after letting her idle in place for a good five-ten minutes. I did as he requested and shot him an email back withe the fuel trims, he let me know I would be good to go, but of course to stay out of boost and dont rev her out.
My girlfriend and I both took the day off work since we live in Nashville and its a good four hour drive down to Alphareta GA, plus with going from CST to EST timezones, we lost even more time on the way there. Since I'm always paranoid about being late for everything, we ended up getting there a good 45 minutes early. I checked in with the receptionist and she pointed us in the direction of a little customer lounge. Cable TV an XBox and a pretty comfy little couch -- not a bad way to pass time waiting for the tune!
Doug came in a few minutes after my scheduled time and introduced himself briefly. He said he was glad we made the trip safely (raining pretty good throughout TN and GA) and that he was running a little over on the car he was currently working on. No big deal, sit back down on the comfy couch
Eventually Doug wrapped up his work on the previous car and came in and snagged my keys and pulled the car into the shop. About 5 minutes later he came in and told me he was hearing an exhaust leak. Uhoh haha. I figured if anything he'd come in and confirm my suspicions of a boost leak! Apparently the slip joints on my Perrin ELH were leaking pretty bad Well, I came all this way so I asked Doug if they would be able to weld them up. His response pretty much epitomized the whole experience for me: "absolutely, if were going to do it, were going to do it right." While I was certainly not looking forward to the extra charge for labour, I was really happy to know that I was in good hands. I am always paranoid after every mod I do that I mucked something up (even silly stuff like strut tower bar haha how I could muck that up I'm not sure, but you get the picture) and I was glad to be getting everything patched up.
About an hour and some change later, Doug came back in, let me know that he had gotten everything welded up and replaced the gaskets too. Sweet, car is strapped on the dyno and we are ready to rock! They have a nice little setup with a monitor with the RPMs, temperature, humidity, and pressure and a couple chairs setup so you can hang out and watch the progress. The first pulls made me cringe a bit since it was still in limp map mode and he was just getting things ready, but the numbers steadily went up and up on the second and third pulls. The graph was a bit scary looking though, very rough, not a nice smooth curve like you'd want to see. Looks like my front 02 sensor was acting up Well another few minutes, thats taken care of. Another pull. A little better but still really rough curve. Yup, now my suspicions confirmed -- boost leak at the BPV. Cicio (who I presume is the owner, or at least manager -- never did get an official title) came out to check on things and asked me how Doug was doing and joked around with me for a little. Cicios friend was also in town visiting from out of state -- he and I hung out and talked about cars and motorcycles while Doug kept chugging away at my ride which was a nice way to pass the time while Doug was doing his thing.
I swear you would think this guy was in a trance. 02 sensor, fixed in like one second, leak fixed in no time at all, back to the drivers seat and tweaking things. The graphs just kept going up and up. Things started low like you'd expect. 235awhp/290awtq, five to ten minutes later, 243awhp/303awtq... at this point I'm getting excited, breaking 300ft/lbs is awesome!! Cicios friend Travis seems just as excited as me haha! With the leak fixed everything is smoothing out more and more with every pull, climbing all the while. Doug kept on like a machine. I think we ended up getting 14 pulls in, and each one an improvement on the previous. Doug didn't stop for a good four hours (including the exhaust leak, the bpv, the 02 sensor, the tune) he just kept going and going. Until.... The final numbers......
*drumroll please*
260hp @ 4200rpm and 355tq @ 3100rpm!
As he was pulling the straps off the car he said, "she was a fighter, but we got a lot out of her!" haha needless to say this put a big **** eating grin on my face, well that and 355ft/lbs!!! He said that this might be the most hes been able to pull out of the little TD04, which also made me grin haha!! Good to know that my supporting mods are doing their job!! (now I just need that DOM3.0xtr I want!!)
Doug pulled her out and took her for a quick spin to make sure she was smooth on the road as well as the dyno. As he walked back into the shop I think he was pretty damn proud because all he could say was, "Wow, that turbo comes up instantly!" I shook his hand and thanked him for his hard work and told him I'd see him again once I get my new turbo haha. After wrapping up payment and such, Cicio told me as I walked out the door, "not to have too much fun now." Yeah, right haha like thats possible!!
Driving Impressions.
I took her out of the Topspeed parking lot real nice and easy, wanted to ease myself into the new tune and not get too crazy with it too fast! I also wasn't familiar with the area so I didn't want to get on it and find myself in a school zone or in front of a sheriffs office haha. It was around 430ish and there was a fair amount of traffic on the mostly one lane (each way dur!) roads, so I was in no position to start opening her up to see what she was made of.
Even without dropping the hammer, I could tell the car was very very different from when I got there earlier in the day. Shifting through the gears in traffic, staying out of boost, the car was very smooth. Even at very low RPMs the car felt ready to put me back in my seat. At only 2200 RPMs the car is ready to deliver 200 ft/lbs to the wheels. The previous tune was pretty torquey too, but not like this. It feels like you could just take the turbo off and shift at 4000 RPMs and still have an extremely quick car.
I was able to get brief glimpses of the cars potential by sagging back and giving myself some room to give it a little bit of gas. Cruising at about 40mph in 4th gear and giving it about 80% throttle the boost gauge quickly jumps up above 15psi and all the sudden your doing 60mph. Time to slow back down as the car in front is coming up very quickly.
Finally, a nice long on ramp onto I75 North. 20mph, 2nd gear. Jump on it, back into your seat you go!! Spinning almost all the way through second (it was a little wet out from earlier rain. TC was still on) as it picks up to 20psi and slowly tapers down. Into third at about 65, and your dropped right back into the power band. There isn't quite the same amount of torque as coming up from low revs, but it drops right down into the power right away. Not quite the same kick, but instead its a smooth transition into third. A little bit of wheelspin as the throttle comes on after the shift (doesnt feel like it would spin third if it was dry, but its still an impressive showing for the little TD04!!) and it grips and the boost very very smoothly comes on and holds 20psi up to just under 5000 RPMs as it tapers down so very smoothly. Whoops at about 90mph time to slow it down a bit!
My girlfriend in the passenger seat looked a little scared haha (and shes used to riding on my R6!). She said that it felt smooth and deceptively fast, she thought we were doing maybe 75 or so. She was not wrong I'll tell you that. It feels effortless. Easy. I can only imagine a turbo that could produce the same amount of torque as the TD04 but hold boost longer and higher. Whatever I do I don't want to loose that torque!
Up to cruising speed on the highway, cruise control at about 75 or so. Nice and easy. Time to pass? Leave it in fifth gear and give her only a little bit of juice and the boost jumps up, give her a lota bit of juice and poof your at 20psi and doing 90 mph again!
This tune isn't just fast, its smooth, and its efficient. I stopped to fill up and reset one of the trips. 30 miles down the road toward home, I was 30 mpg. Before cruising at 75-80, I was glad to get 26 mpg. All 200 more miles home, playing at every ramp onto a new highway just to feel that little turbo chug toward redline, still over 30 mpg.
I don't know what else to say really, just that I feel like I've got a brand new car, and I'm LOVING it!!
----------------------------------------------------------------------------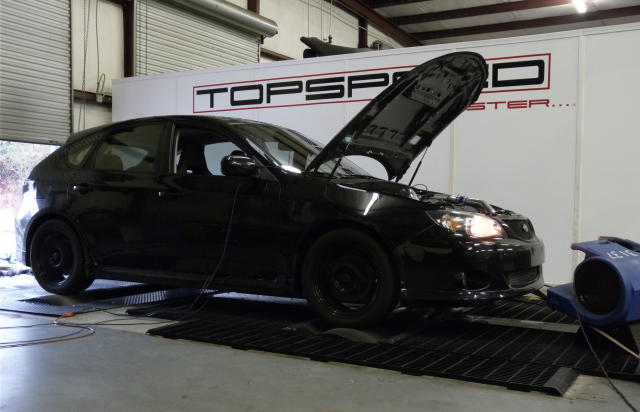 Alrighty, just got my official dyno sheet back, hopefully its better than the picture I've got up here.
Car: 2008 WRX
Tuner: Doug Wilks
Dyno Info: Dynojet
Target Boost: 20psi on meth map, 17psi without
Target AFR at WOT: 11.2
Fuel: 93 octane (I've been fillin up at BPs if that matters at all)
Power Mods: Stock TD04, 3"catless TBE, KSTech 73mm intake, AEM Meth kit 50/50 mix. PERRIN ELH, Godspeed FMIC, Deatchwerks 750s, Walboro 255, Grimmspeed EBCS
Temperature in shop: 55ish
Humidity: 25%
Elevation: ~1000ft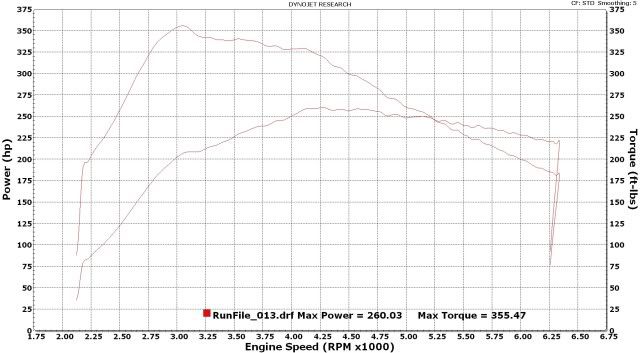 Carl