This thread's purpose is to show how the combustion chamber is reworked and measured. It is also meant to show the end user how to do it themselves, if the need presents itself. This thread is NOT meant to discuss the right or wrong way to build an engine or, "you HAVE to do this on all hybrid builds." That will just dirty up this thread rather quickly.
First you will have to know where you want your compression ratio to be. Everything including piston ring placement, re-decking, spark plugs and lapped valves will affect CR. This thread would literally be 4 pages long if I were to get into how to measure for CR so I will skip that for now and leave you with some facts borrowed from Maxwell's thread LOL. link here
http://forums.nasioc.com/forums/show....php?t=1667168
and here
http://forums.nasioc.com/forums/show....php?t=2393037
06wrx heads (D25 casting): 50cc
04-07 STi (B25/V25 casting): 55.5cc (used for calculations, but they're actually 56)
02-05wrx (S20 casting): 49 cc
Factory compressed HG thickness .0236"
EJ257 block on B/V25 STi head: 8.28:1
EJ257 block on D25 WRX head: 8.78:1
EJ257 block on S20 WRX head: 8.88:1
EJ255 block on B/V25 STi head: 8.11:1
EJ255 block on D25 WRX head: 8.55:1
EJ255 block on S20 WRX head: 8.68:1
Tools needed
- Head cc'ing kit which is basically a Graduated cylinder that measures in CC or ML. "1cc = 1ml" and Plexiglass plate to cover combustion chamber
- Tube of grease
- 4 valves
- 1 spark plug when measuring cc use the spark plug you'll be running
- die grinder with porting bits
- water or Alcohol "not the drinking kind"
- liquid food coloring
- masking tape
- Vernier calipers
- ej25 head gasket or better yet a piston installation tool. I use both
- dykem marker or sharpie
- green scotch brite
My customer gave me a set of EJ2.0 S20 cylinder heads that are going to be paired to an EJ255 short block. I was specifically told to try to get as close as I can to stock STi CR while removing the head overlap. My first order of business was to measure what the cylinder head currently was.
I measured twice and I was getting about 49.8cc with valves that were previously re-lapped. These heads still needed a re-deck and valve job. I also needed to take into consideration that the short block was re-decked. We came to the conclusion that we needed to remove at least 4cc's totaling to 54cc to be able to remove the overlap and bring the compression down to STI spec which is lower than that of the WRX.
Let's get started. I first use an OEM head gasket as a template. The OEM head gasket measured out to about 101mm, too big to use on stock bore 99.5mm. I put a piston installation tool on top, used to install 99.75mm pistons and traced it to give me a better idea of how much material I would need to remove.
Once everything is traced out, I find my end point then radius into the quench pad, making sure that my outline does not go over 99.5mm or the combustion chamber will be bigger than the actual bore. At this point it would be a great idea to tape up every coolant passage along with the head surface to reduce scratches and to avoid any metal from getting into places it does not belong.
Now we get to the fun part! Install a used spark plug and the valves into the cylinder you are going to be working on. Grab your die grinder with single cut or double cut carbide bit, (use what your more comfortable with) and start grinding from the center of the combustion chamber working your way slowly towards the valves. Start at a 45 degree angle and try to remove the overlap first. Leave about 1mm of material when you are using the carbide bits and you can finish porting the rest using your sanding bits.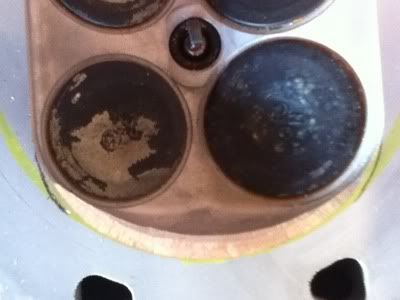 I stopped after I was done with my first cut of the overlap, making sure I was not going to go over 4cc's of material. Notice that I am working at a 45 degree angle trying to remove the least amount of material while also removing the overlap.
Before CC'ing, install the valves with a little bit of grease on the seats to prevent any liquid from seeping out. Install the spark plug you'll be running and torque it down. Next you will need to install your CC'ing plate with a little bit of grease around the combustion chamber to seal in the liquid. Press down around the edges so you can get a good seal and to eliminate false readings. For this next step I added 60cc's of liquid into my graduated cylinder with a drop of blue food coloring. Pour in the liquid SLOWLY, (some graduated cylinders have a valve you can adjust flow) make sure that you do not have any air bubbles trapped inside of the combustion chamber. If you do give it a few taps and they'll usually come out.
This head measured out to 52CC's, 60cc-8cc remaining. Remember to measure twice.
So now I'm left with having to remove 2 more CC's. At this point I finished porting the remaining edges around the valves, blending the combustion chamber into the quench pads and tapering out the overlap. Once all the cuttings done, I move onto my heavy sanding bits and smooth out the grinding marks left by the carbide bits and finish porting the rest of the overlap.
Measure again double checking you are not going over.
Just about 54cc's, a little bit of elbow grease and polishing will get these right on the money. You can move on to the rest of the combustion chambers at this point or finish the fine polishing to get the heads right. I usually use some green Scotch brite to do the finishing which removes little amounts of material while leaving a nice polish