I realize there are brake duct options out there and the cheapest option for WRXs is the "Quantum Motorsports (now Lambert Automotive Performance).
These are relatively cheap and not a bad option BUTTT, when installed, the outter tie-rod end and lower ball joint do not have heat protection. In my opinion, if you are generating enough heat in the braking system to need brake ducts, I would think that the ball joints will need protection from the heat.
RCE engineering does have a design out for newer STIs but I'm pretty certain the hub layouts are different. Also this being said I found ducting mounts for the spindle on Ebay as well that are the same style as the Quantum Motorsports ones but they are for 5x114.3 hubs only.
I used both of these ideas to make my own. Also i referenced Porsche air guide duct designs at the same time.
Here is my Production!
Parts needed:
1.
x2 18" x 20" 18 gauge sheets of steel (sold at home depot and probably lowes. 20-22 gauge will work as well)
2.
8-12" of 3" steel exhaust pipe. (or any steel 3" pipe. Note: thinner the wall the better)
3.
x6 8 x 20mm 1.25 thread bolts (hardware store, lowes, home depot)
4.
x24 washers that fit the bolts. (hardware store, lowes, home depot)
5.
door trim protection strip (usually sold at autozone/advance auto.
6.
12' of brake ducting (local speed shop or online, use google)
7.
OEM foglight surrounds
8.
4" to 3" ventilation duct adapters for microwave/range hood vents (home depot, lowes)
9.
x6 3 1/2" hose calmps for ducting (lowes, homedepot)
10.
3m or other reputable named epoxy (lowes, home depot, hardware store)
11.
x12 steel 12-15mm rivets (larger the better)(lowes, home depot, hardware store)
12
. x24 washers that fit rivet diameter perfectly (lowes, home depot, hardware store)
13.
cotter pin variety pack (lowes, home depot, hardware store)
14.
thin cardboard
15.
x2 10 x 12 x 1.50 bolts and nuts

Tools Needed:
1.
scissors
2.
black sharpee
3.
jack (2-ton minimum recommended)
4.
x2 jack stands (2-ton minimum recommended)
5.
razor blades (drywall knife works well)
6.
jigsaw with metal blades
7.
heat gun
8.
flat head screw driver
9.
6mm alan/hex bit (3/8" socket recommended)
10.
sockets :12mm, 13mm, 14mm, 17mm, 19mm,
11.
tin snips
12.
protractor
13.
dikes tool
14.
multiple pone books
15.
white crayon
16.
drill bit variety pack
17.
drill
18.
tape measure (recommend 6ft minimum)
19.
wrenches: 13mm, 14mm, 16mm, 17mm, 19mm
20.
braker bar
21.
torque wrench
Lets begin!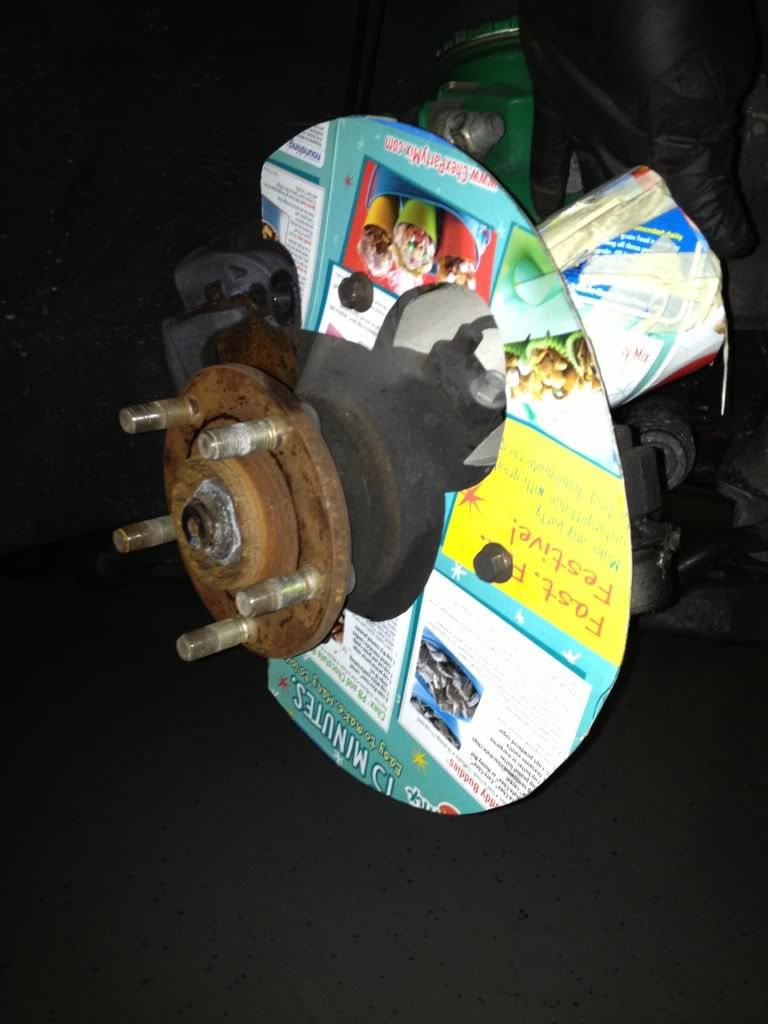 If your cars ride height is high enough to fit a jack under the engine all the way back to the subframe, good. If your vehicles ride height is too low, I suggest getting 2x4 pieces of wood to drive the front wheels up onto.
Once the vehicle is at a suitable right height, stick jack under oil pan all the way back to the square piece of steel that is held to the subframe with 4 bolts. It is safe to jack the vehicle up from this point. Aim the jack pad to where when jacking up the pad will securing be seated on this panel.
Prior to lifting the vehicle, use braker bar and 19mm socket or tool needed for different lug nuts and brake loose lug nuts.
(DO NOT FULLY REMOVE OR LOOSEN ENOUGH TO BE TURNED BY FINGERS WHILE VEHICLE IS STILL ON GROUND)(ALWAYS ENGAGE PARKING BRAKE AS HARD AS YOU CAN PRIOR TO LIFTING FRONT OF VEHICLE)(NEVER GET UNDER VEHICLE UNTIL JACK STANDS HAVE BEEN SECURELY PLACED AT FACTORY LIFT POINTS OF VEHICLE)
Lift the vehicle up high enough to place the jack stands under the factory lift points by the rocker moldings on each side of the vehicle behind the front wheels. Finish loosing front wheel lug nuts and remove wheels.
Now that the wheels are off and vehicle is secured on the jack stands having the front of the vehicle in the air only; insert ignition key into ignition and turn on then off. Leave the key in the ignition because the spindles will need to be turned many times.
To remove calipers, take braker bar and 17mm socket and brake caliper bracket bolts loose and remove. I would suggest using long zip ties to suspend calipers in the air so the brake line is not strained from hanging. Ziptie the calipers to the springs on the struts, no need to tighten ziptie all the way just enough to relieve tension on the brake line.
Now that the calipers are off the rotors should come right off without issue. Mark the rotor backing plates of which side is which. Remove brake rotor backing plates using a 12mm socket and ratchet.
Now that you have the backing plates of take thing cardboard sheet and black sharpee and draw outline of backing plates and holes. Use scissors to cut out drawn template and drawn holes. Test fit template to spindle using factory bolts to ensure bolt pattern alignment and be sure to assign each backing plate template the proper side. If holes line up without issues great, If not, remake templates with more cardboard.
Due to the level changes in the factory backing plates the cardboard cutouts will not fit flush against the spindle, do not worry.
With the cardboard template bolted to spindle, look from back side of template (side closest to ball joints) and draw outline of spindle onto cardboard using black sharpee. Leave section marked because this will be referenced later.
Take a rather long piece of cardboard and bend and fold to fit against towing mounts on subframe and against lower control arm.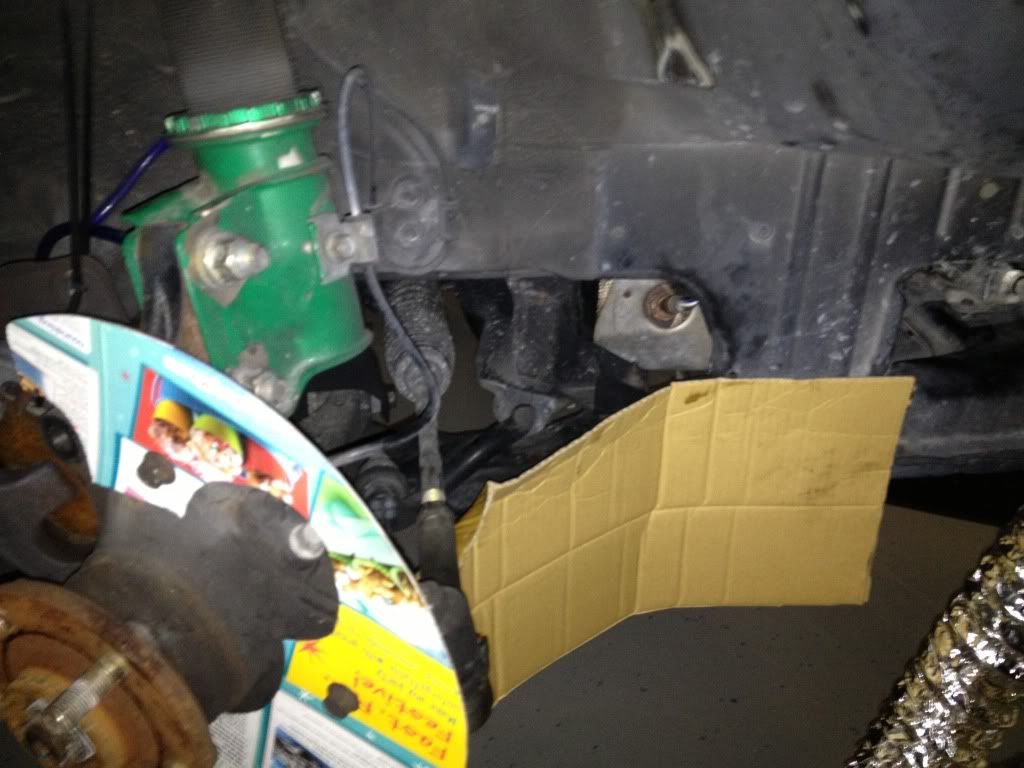 This is to make templates for Porsche style Guide ducts. I did not list material for this due to the many options that can be used to make these. I used a material called kydex which is more durable then lexan and easily moldable.
For those of you interested in doing both the next steps are coming. For those who are interested only in the rotor backing plate ducts please skip forward a few steps and continue on. Thank you
When a piece of cardboard has been measured and bent to a ideal angle (keeping wheel width and travel during turns in mind). Drawn carboard outline onto chosen material to be guide duct. Use jigsaw to cutout material.
(DO NOT PLACE HANDS OR FINGERS IN FRONT OF JIGSAW WHEN CUTTING. NEVER PLACE MATERIAL NEAR ANY PART OF BODY DURING CUTTING. OBEY ALL JIGSAW MANUFACTURER SAFETY RULES)


If using kydex, use heat gun to imitate bend made in cardboard to get proper bend to match from towing mount to lower control arm. Trim off excess closest to spindle.
Hold guide duct at desired level to not drag on ground, use white crayon to mark a line at top of nut for lower ball joint on bottom side of lower control arm. Also mark both sides of tow mount. You may leave this project alone for a few and let material cool down from being heated.
BACK TO BACKING PLATES. Now that the cardboard template has been made, take the steel sheets and draw outline of cardboard template to steel sheet. (Note: If sheet is covered with oil, standard rubbing alcohol and a rag will clean of the oil residue to allow marker to transfer ink to metal)