Bought my darlin' a couple years ago, became a proud Subaru owner. A month or so after I bought her, she spun two rod bearings. Engine was rebuilt as a stroker with 2.5L crank, bored, forged Crower rods, Arias custom pistons @ 8.4:1 compression, oversized valves, stage II cams, everything balanced, ARP head studs, Cometic gaskets, catless uppipe, VF43 turbo, STI injectors. I was new to Subaru when it was rebuilt so pretty much stopped there.
ran good for a long time till it stopped making boost, Cats had melted and clogged the exhaust. Soo time for TXS turbo back, perrin style inlet and a cobb air filter. Shortly after this I had it tuned again at PRE in portland, put down 247.9 whp with a stock wrx intercooler making 16psi, I was pretty happy with that considering she's my daily.
Got bored one day and yanked off the throttle body, PnPed the throttle body and the IC pipes. It made the power transition pretty smooth so I was happy!
About a week passed and I noticed it kept running hot (it's winter) and I couldn't find a leak. Pulled it in the shop to look for leaks and a huge gulp squirted out of the bottom of the radiator :/
Time for something new! I had been taking a huge intrest in V-mounts, mostly for the unique-ness and the obvious short IC piping. Haven't seen anyone in the PNW with one yet.
So I ordered a 27x13x2.75 inch 2 row aluminum radiator from a local shop, and a backdoor intercooler from ETS. The radiator required some interesting routing of the lower hose, but it's installed and works wonderfully with the custom shroud I made for it.
I'm working on mounting the intercooler now, and I picked up some intercooler piping from a used FMIC for 20 bucks. Time to cut and weld everything into place! I'm excited to have it finished, miss my car!
Here are some pics, Ill post more soon.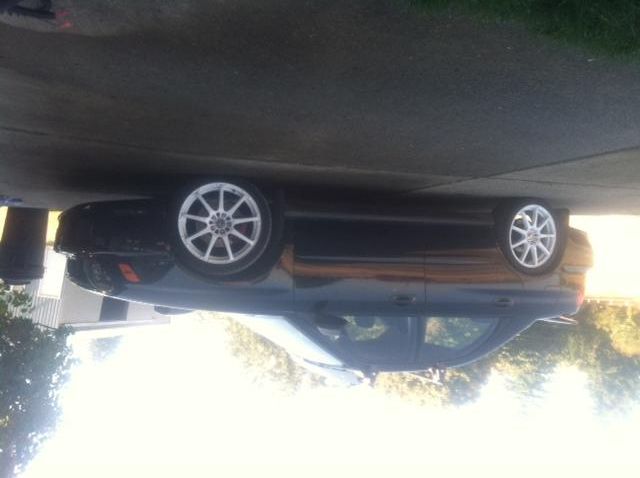 Got some cleaning up to do on those welds on the crash support.
Cheers!