A little background info
So I got married this summer and since we paid for the wedding out of pocket, we couldn't afford to go on honeymoon right away but in Fall we ended up planing the perfect trip. We would fly to Puerto Vallarta on Wed. March 6th, jump into a rental car... drive 6 1/2 hours (according to google) to Leon, spend 4 days at the Rally, drive back on Sunday the 10th and spend 3 days in Puerto Vallarta relaxing before flying back home.
Wednesday, March 6th
So we grab our flight from Montreal via Toronto to Puerto Vallarta at 8am and landed at 3pm. Now you might have heard of all the nasty things going on in Mexico since 2006 concerning the cartels and the drug trade with some dozens of thousands having been killed, the lawless driving style of the Mexicans as well as the horrid road conditions in that country so you can imagine the we were kinda anxious to get in the rental car ASAP to get to the Hotel in Silao, near Leon, especially since we would be driving quite a bit at night.
So we get of the flight and there it is... our chariot awaits... A 5 speed 1.2L 76hp Chevrolet Aveo...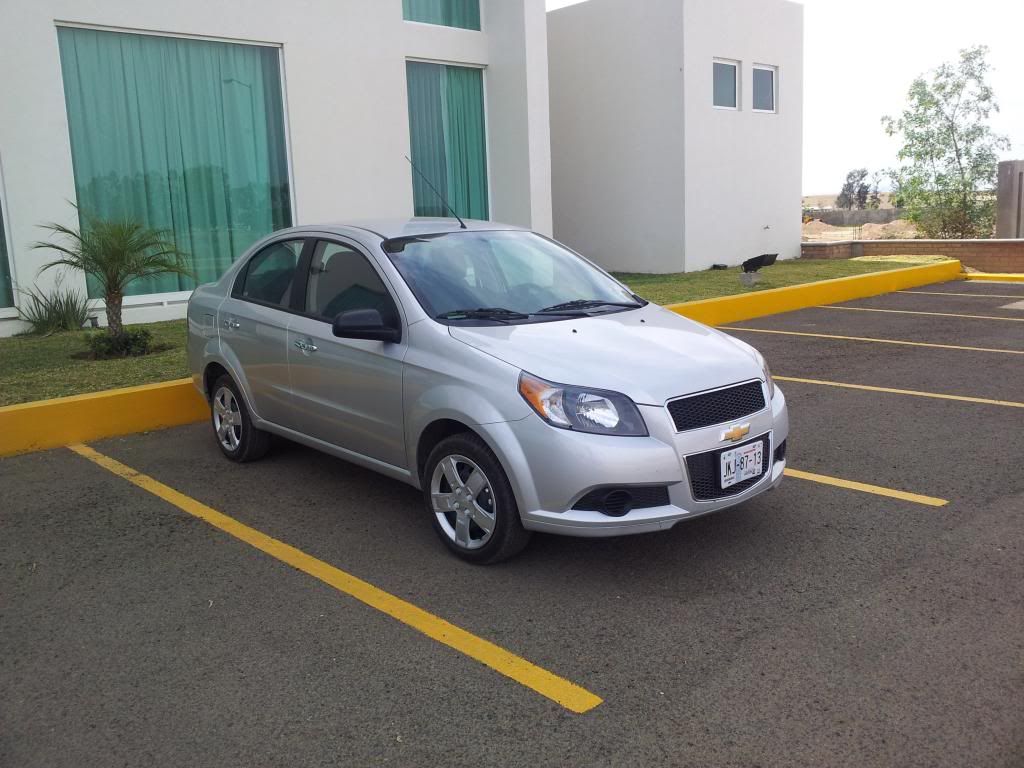 Anyways, we jump in and hit the road at 4pm! The road along the coast starts off slow and is peppered with speed bumps. That's the thing, in Mexico, there are very few transit police and normal cops have other priorities I imagine so they put speed bumps absolutely everywhere to force traffic to slow. After only a few KM, the speed limit rises but the road turns into a double lane (single lane in each direction) and gets twister which was a sign of things to come. The roads were quickly engorged with lorries and semi-trucks which obviously slows traffic to a crawl and with the roads being as twisty, there were few places to pass. Long story short, the first 150km took us 2 1/2 hours... Fortunately, the roads cleared up a few km before Las Varas and to my surprise the road to Compostela was one of the best parts of the trip, it was a perfect driving road hidden in plain sight! It made driving that piece of ***** Aveo a blast!
After Compostela, the carretera cuato (toll road) starts and I have to say... It might be expensive (costs about 60$ CDN each way) but, contrary to popular belief, it puts our Canadian roads to shame! Not only is the road itself a beautiful and smooth 4 lane highway but there is literally no police presence so with practically only commercial traffic (lorries and semis) and Audis going 200km/h, it was like driving on the Autobahn.
Finally, it was smooth sailing from now on... or so we thought...
The only real obstacle left was going through Guadalajara, a city of 5 million, which seemed simple enough but here we got accounted with Mexico's biggest road problem from a Canadians point of view, the F*ck*ng lack of indications... I'm a semi-professional rally co-pilote and twice Canadian production champion and I can't remember ever getting lost but when we got near Guadalajara, road indications became very sporadic and we ended up becoming totally lost and in the middle of a bad looking neighborhood. We did not have a GPS, only crappy road maps and to make things worst there are NO street signs anywhere in Mexico... So I turned my cellphone on and grabbed Bell's 8$/MB Mexico service (I had my phone unlocked and was planning on getting a local simcard first thing Thursday morning... in hindsight, we should have done this before leaving PV) to get its GPS and map working to get us back on the highway.
Thankfully, after this hick-up, things picked up and at a steady 130km/h in my little Aveo, we finally arrived at the airport hotel in Silao at 1am... after 9 hours of non-stop driving. I felt beat to ****! Did I mention the car was standard and my wife doesn't drive stick... So I did all the driving on this trip.
By the way, the rally HQ might be in Leon but the rally is spread out across three cities with Silao being in the middle and the one nearest the mountain stages and the third one, Guanajuato, being a UNESCO World Heritage site had the ceremonial start!