Vehicle- 2002
Subaru Impreza WRX
Current system- Pioneer head unit, pioneer speakers, 5 channel Amp (Don't remember what brand, but it's 10+ years old), Rockford Fosgate 10" sub
Installer- Myself
Installer experience- I've done 3 complete audio set ups in my car, a gti, and a integra.
Budget- Irrelevant to this problem.
Future Goals- Fix this before I go insane.
So, since I installed this audio system in my car 5 years ago it has played music great. I did change out the two front speakers in June 2012. No issues.
I washed my car and this happened. WTF! The noise only comes from the passenger side front speaker, and does not change with speed while driving. I have checked the wiring to this speaker only. It looks fine. What could cause this?
*
Turn your speakers down, it's very high pitched and annoying
*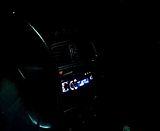 Any help would be appreciated. I am ripping the interior apart and re-wiring the audio system with all new wiring next week. But, it would be helpful to know if this was a head unit or speaker blown.
Thanks,
Theo
*Sorry, I can't figure out how to embed the video.