Hello all. I've been lurking the threads for over a year now. I finally went ahead and bought my dream car since I was 17--a 2002 WRX wagon in WRB.
The backstory is that I was on vacation in San Antonio/Austin TX. I was watching a "stock" WRX WRB wagon on eBay. It ended while I was at a concert. I won the car. Flew home, a week later, flew to Houston for PPI and payment. Here are a couple photos I shot along the way:
There's a long story I may delve into in another thread, but I bought it in March and I still can't complain. I knew it needed a timing belt. So I went with the OEM spec Gates kit. It was my first timing belt but she still runs like a champ. Other than that, I put the Subaru rubber floor mats in (they don't fit very well).
I'm not a fan of the side skirts or rear bumper. I plan to make it more of a sleeper, with purpose-built suspension and someday make it to at least a stage 2. I am remodeling two houses right now, so discretionary spending is getting very thin.
My other car is a 1973 Datsun 240z with a new L29 and triple SK carbs. Just finished 500 miles of break-in.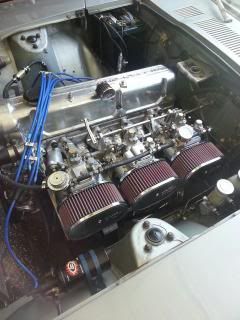 I hope to learn a lot here. This is my first turbo car. The current items on the list are install a new double din stereo, and used 12" sub in a truck box with amp. It also needs a rear brake job and I need to install the factory turbo heat shield I got from Chaplins Subaru.