O-ring = yes...the kind is trans/PS fluid friendly. I just used the size that was a fit in comparison to the one on the rack from my big O-ring kit. That bit about the lathe business is not correct since its a O-ring fitting not a compression/flare fitting.
The first time I did it I took my rack to a local high pressure hose supply place and they figure out the rack thread patterns and I got the fittings through them.
RACK FITTING = male -6 AN to female 14mm x 1.5 O-ring
http://www.summitracing.com/parts/ea...herl/overview/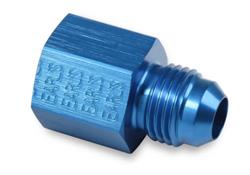 14mm banjo
many will come with a bolt but use the stock PS bolt as I believe its a 14x1.25 not the more common 14x1.5 thread
Any
female ended -6an
high pressure ( 1000psi+ ) braided line. I used a NOS line for my PS setup.
In the end your looking at like $70ish with shipping for everything....?