Here's how I added an LED strip to my 3rd brake lamp and got rid of those dingy old 921 bulbs. I did this in about 20 minutes on my 02 OBS- this ought to work on all GG's.
I started with a 3rd brake lamp from a 2010-ish Outback- the customer got a new one because of a water leak, so the lights worked just fine. (I would recommend sourcing from the junkyard- no point in spending money on a brand new light that will just get mutilated.)
First, cut the red lens off to expose the LED strip. (No photo)
Then, unscrew the strip from the housing and throw it away. You'll be left with this: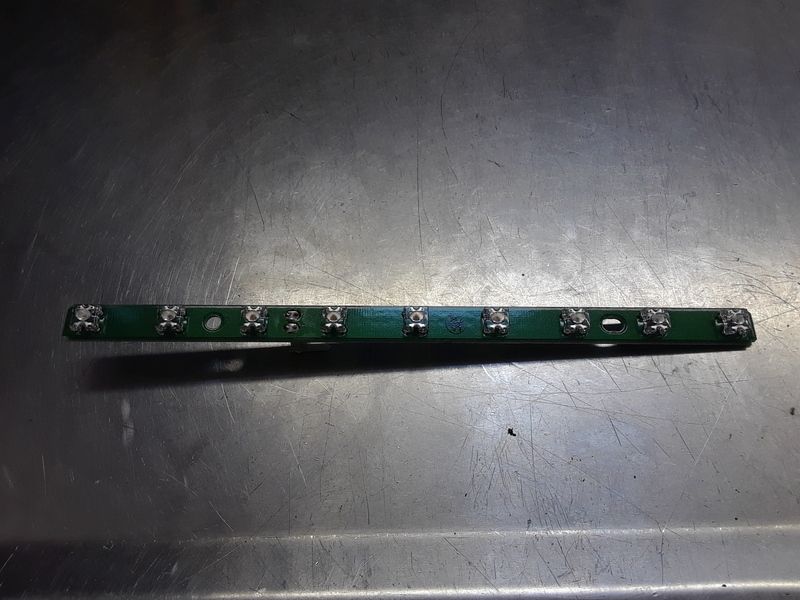 Next, dismantle the 3rd brake lamp from the car- it all simply unscrews:
Cut a generous portion of the pigtail from the bulb wiring- I suggest leaving an inch on the old bulb harness so in case you need to undo this, you'll have room to re-solder the wires. Remove the 4 bulbs, but leave the bulb wiring in place, it doesn't need to come out.
Place the LED strip on the backing to see how it will sit:
I used zip ties to secure the strip to the backing, using the 2 screw holes in the strip. I located a good spot to drill through the backing:
I drilled through that circle and ran the zip tie through the new hole and out the slot that's already there:
Then secure the LED strip with zip ties:
This is the tricky part, unless you're good at soldering. Route the pigtail through all necessary holes before soldering. (I ran it first through the hole in the housing, then the slot in the backing closest to the pins.) Since LED's are diodes, they only work one way. Solder the green wire to the base of the pin marked with the "+". Then solder the black wire to the base of the remaining pin:
Screw the backing back into the housing, screw the housing back into the car, plug it in and test to see if it works: