Never started my own journal before, so I guess Ill just start one even though its a few years late.
*Current mod list* 5/5/13
Power:
-SPT catback exhaust
-Catless bellmouth 3inch downpipe
-Maddad UEL header
-IAG up-pipe w/38MM Tial wastegate externally dumped
-GS boost solenoid
-Perrin intake
-Cobb AP v2/Dave brown tuned
-NGK 1 step colder plugs
-KillerB oil pick up tube
Suspension:
-4 way adjustable Pink struts(originally with STi pink springs as well)
-RCE Yellow springs
-RCE V2 lowering front camber plates
-Adjustable rear camber bolts
-Perrin Front/Rear 22mm adj. sway bars w/kartboy endlinks
-Hawk HPS pads front and rear
-ATE super blue brake fluid
-Titanium STi front strut bar
-GTworks trunk cage(only partially installed, just using the strut bar for now)
Wheels/tires:
Summer:
-18x8.5 Volk TE37 +50 offset
-245/40/18 Dunlop Direzza Z1 star specs
Winter:
-Stock BBS goldies
-225/45/17 Conti DWS
Body/misc:
-Blacked out headlight housing
-Bluebat overlays on rear taillights
-04-05 Tail lights
-JDM rain gaurds
-Rally Armor UR mudflaps
-Knock off V-limited front lip
-Wingless trunk w/Limited STI lip spoiler
-30% tint
-Carbon craft rear plate CF bracket
Interior:
-Hardwired Valentine V1
-Pioneer AVH-P3200
-Cobb knob
-JPM coachworks alacantara shift boot/ebrake boot with red stitching
-Nardi Deep Corn 350mm suede wheel w/red stitching
-Works bell steering wheel hub(standard length)
-Black STI floor mats
-Weather tech mats(winter time only)
My car was traded in at my dealership(not mine, one I work at) on a Porsche Cayman. The second I caught wind of the deal I knew immediately that I wanted the car, one owner, decent miles, technician owned blah blah. I brought the car home without any warning to family, friends, or girlfriend(she was none to pleased, but tough titties)
Here is the car the night I brought it home, stock aside from factory optional SPT catback exhaust, Pink springs/pink 4-way adjustable struts.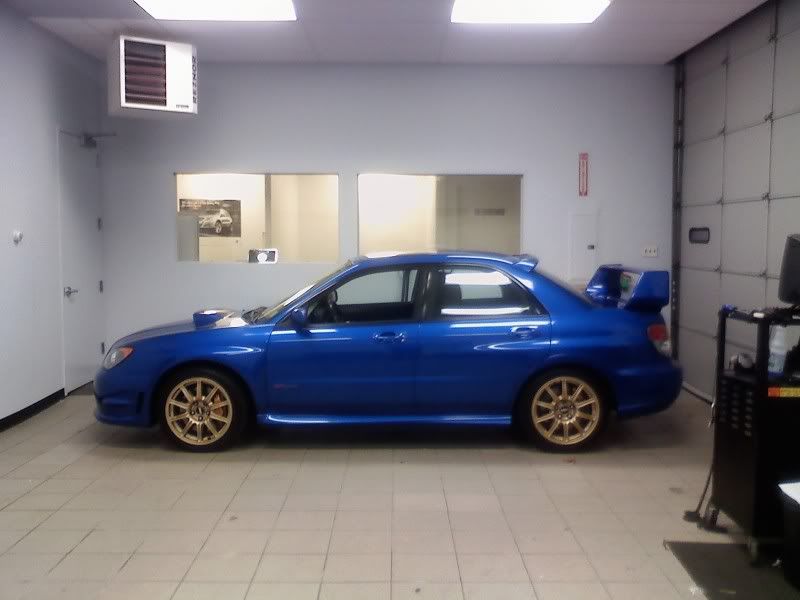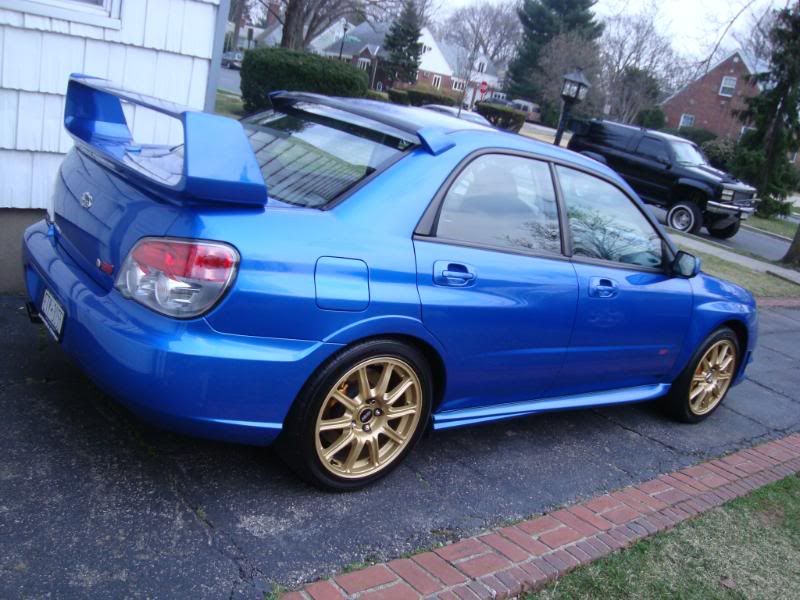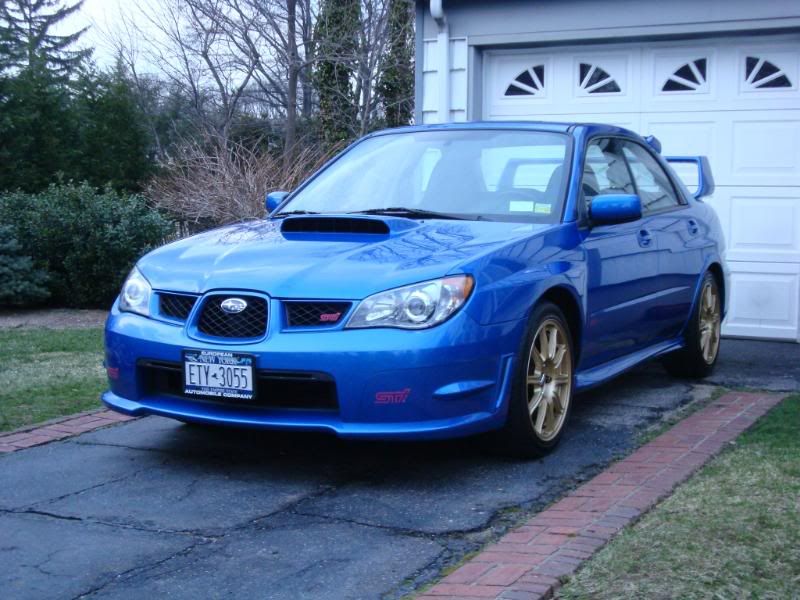 Didnt last too long, changed the tail lights and put a Vlimited replica lip it and of course started autocrossing as soon as I could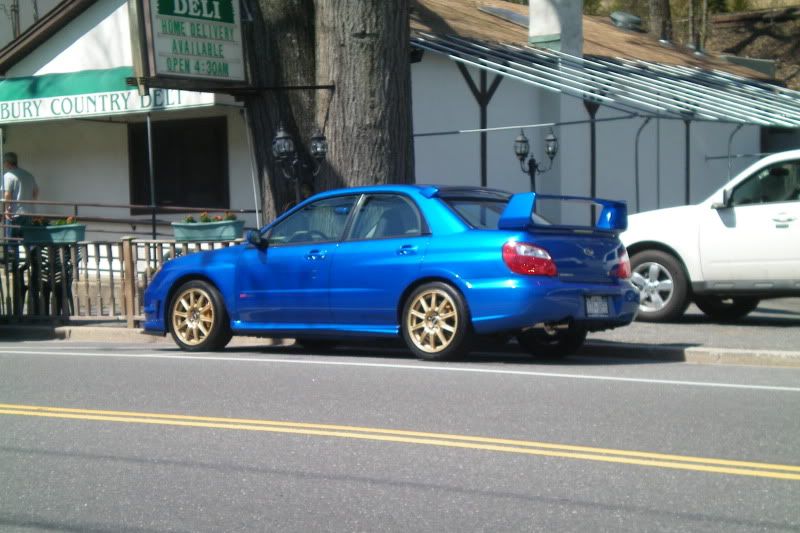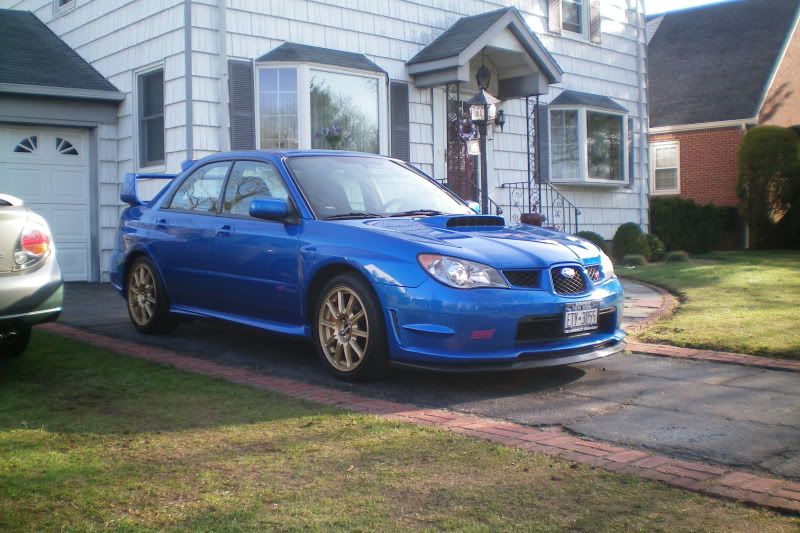 Not too long after those pictures my wheel whore bug came back to bite, picked up a set of RP03's that looked awesome, but of course rubbed like a son of a bitch. At the same time I was collecting suspension parts to install:
RCE yellow springs, RCE camber plates V2 lowering, sway bars, rear camber bolts, and some strut bars
Test fit before suspension: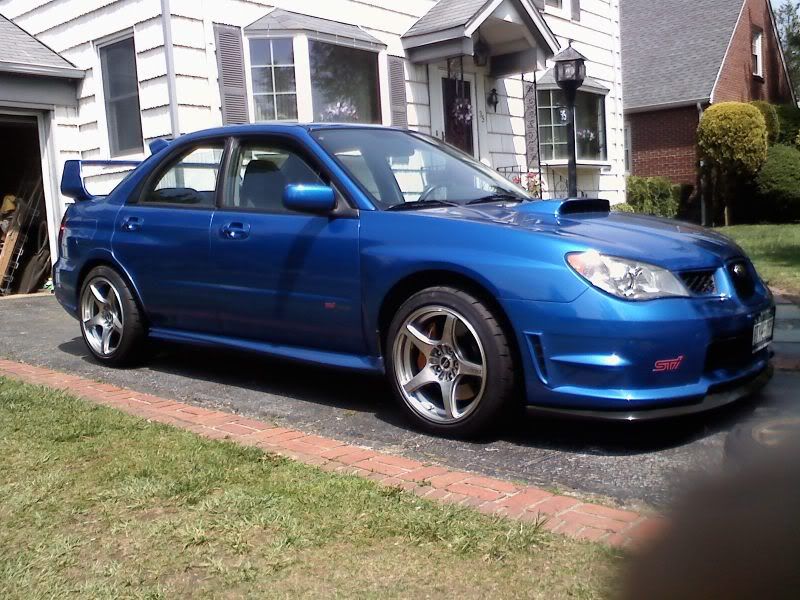 some install pictures