Now that everyone knows how to change the color of the lights of everything from the gauge cluster to hvac and even the "Auto" light on the window switch, the only thing that is left is the clock.
Sticking out like a sore thumb it taunts us all with its green glow while everything else is nice and matching.
Here is a QUICK (read: 10-15 minutes) tutorial on how to change the color of the clock from green to white. I did not have enough time to try and change it to other colors but feel free to experiment and please post your results!
Supplies Needed:
- flathead screwdriver
- clear scotch tape
- red cellophane paper (found at your local party or arts & crafts store)
- thats it for now
Step 1: Remove the clock from the car
pry up the pod with a flathead screw driver and tug the part closer to the windshield first then pull the part closer to the AC vents next.
after you loosen it from the brackets unplug the clock and take it on indoors.
Step 2: Remove the clock from the pod
take a flathead screwdriver and pry it on both sides of the clock to remove it from the pod.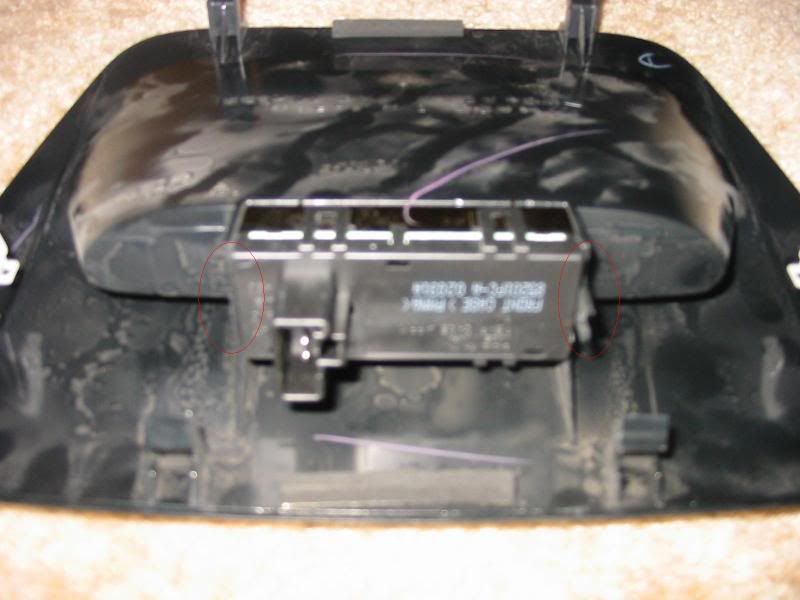 Step 3: Remove cover from the clock
take your flathead and pry the clips on the top and bottom of the clock to take off the cover of the clock, be careful as the minute/hour/set buttons are loose and will fall out.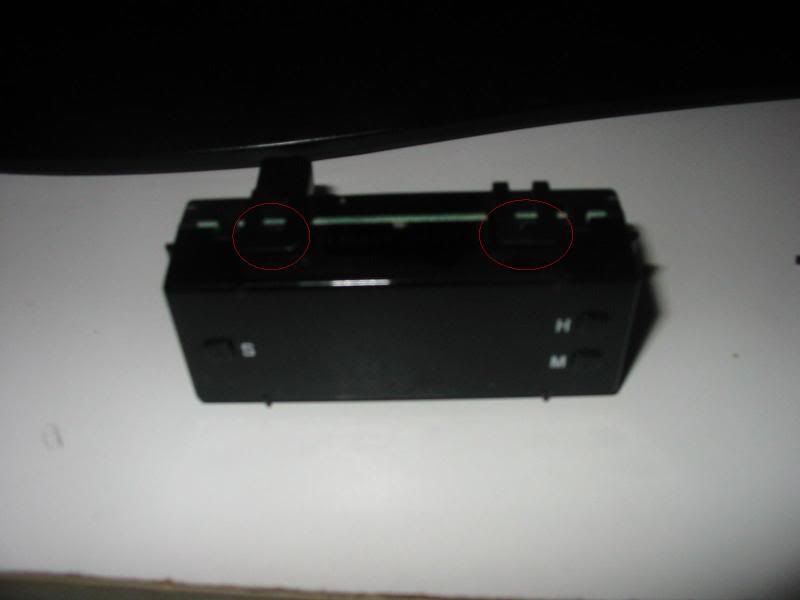 after you take the cover off, the clock will look like this...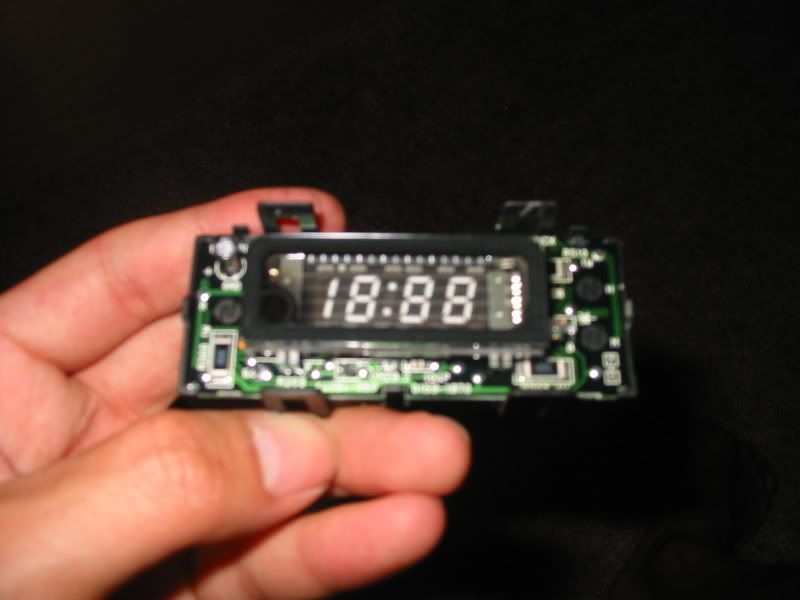 Step 4: Apply cellophane paper to clock
take your sheet of cellophane paper and cut it to match the screen of the clock. Then using clear tape, tape it onto the screen as tight as possible meaning try not to leave any gap inbetween the cellophane and the screen.
Note: please be careful and do not apply too much pressure when taping. The metal pins suspending the screen are very weak and will bend under pressure.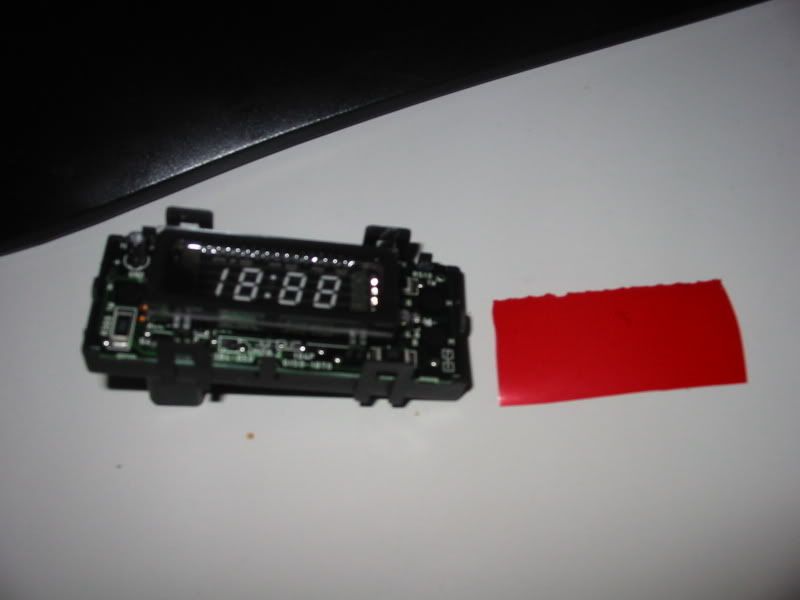 your finished product should look like this...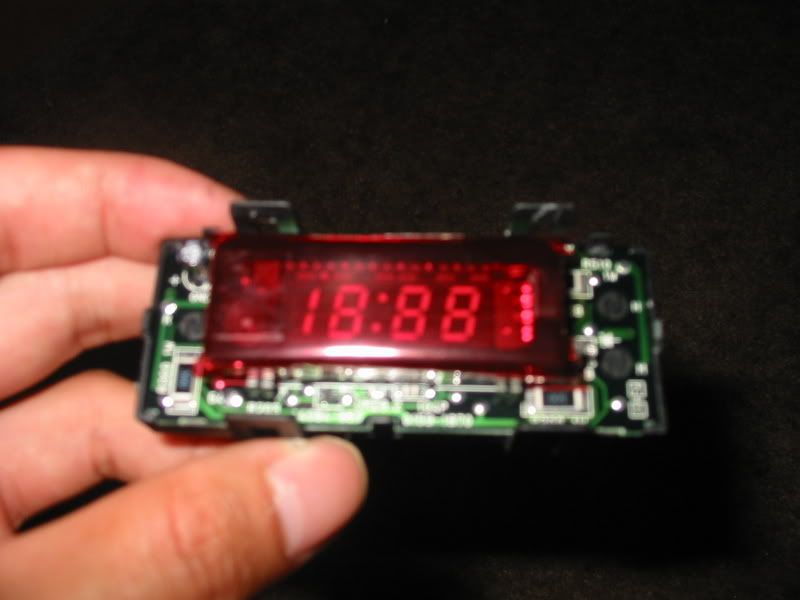 Step 5: Reassembly
Reassemble everything back starting with the cover (make sure the buttons are all in place) then put the clock back in the pod, plug it back in and reinstall the pod back in the car.
here are the resulting pictures...
Before: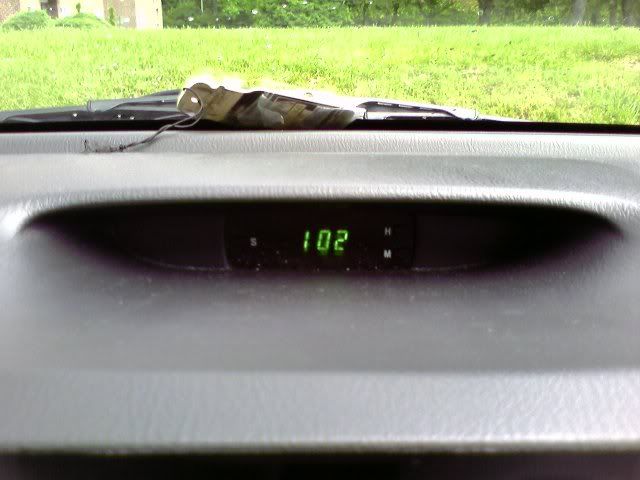 After: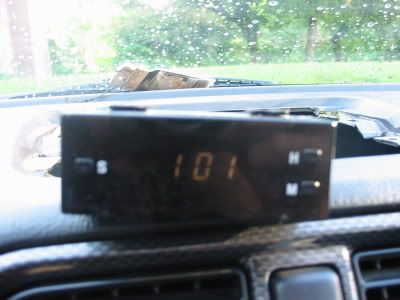 I will try to get some night time pictures up soon.
This exact proceedure is to get the clock from green to white only...to change it to a different color i.e. blue, just add a piece of blue cellophane paper on top of the red one. Remember the more layers added the darker the color but also the darker the clock so decide carefully.
As with all other DIY projects...
This is to be done AT YOUR OWN RISK, I do not assume any responsiblity for any damage done to your car/parts.
Good luck!