**** SINCE MY ORIGINAL POST WAS DELETED FOR NOT POSTING FROM VENDOR ACCOUNT ****
Event: Track Fun / dyno
Location: Atco raceway
Ambient Temp: 82
Elevation: 1122 feet
Weather: Sunny/hot
Car: 2006 STI
Tuner:
[email protected]
Dyno Info: Mustang Dyno @ PrimeMotoring
Transmission: STOCK USDM 2007 STI TRANS
Gear: 4th
Target Boost: 50psi
Target AFR:
Fuel: Pump E85
Power: 1030whp /780ftlbs ( about 950whp used for these track passes )
https://www.youtube.com/watch?v=ca7n...ature=youtu.be
We took CJs ( AKA CJFROMTHEINTERNET/V8BAIT )2006 STI to the track yesterday in hopes of getting it ready for some events coming up.
Prime Motoring and IAG teamed up to make sure this car was 100% ready for action for the upcoming fun. Unfortunately CJ is in his busiest season of the year so he entrusted me with the driving of the car.
First pass off the trailer car went
[email protected]
with some heavy misfires in 2nd and 3rd. A roll of tape made its way under the accelerator and didnt let me fully floor the car in those gears lolol
Sadly I was not allowed to make anymore 1/4 mile hits for the day because of no safety equipment. So I had to keep it to the 60ft and 1/8ths. We further improved upon the 1/8th of the 8.90 and agree we def have a solid
[email protected]
car on our hands as it sits and a .50s car @170 with more power put into it. I had 2 more 5.7 1/8ths and as well as 3.8 330s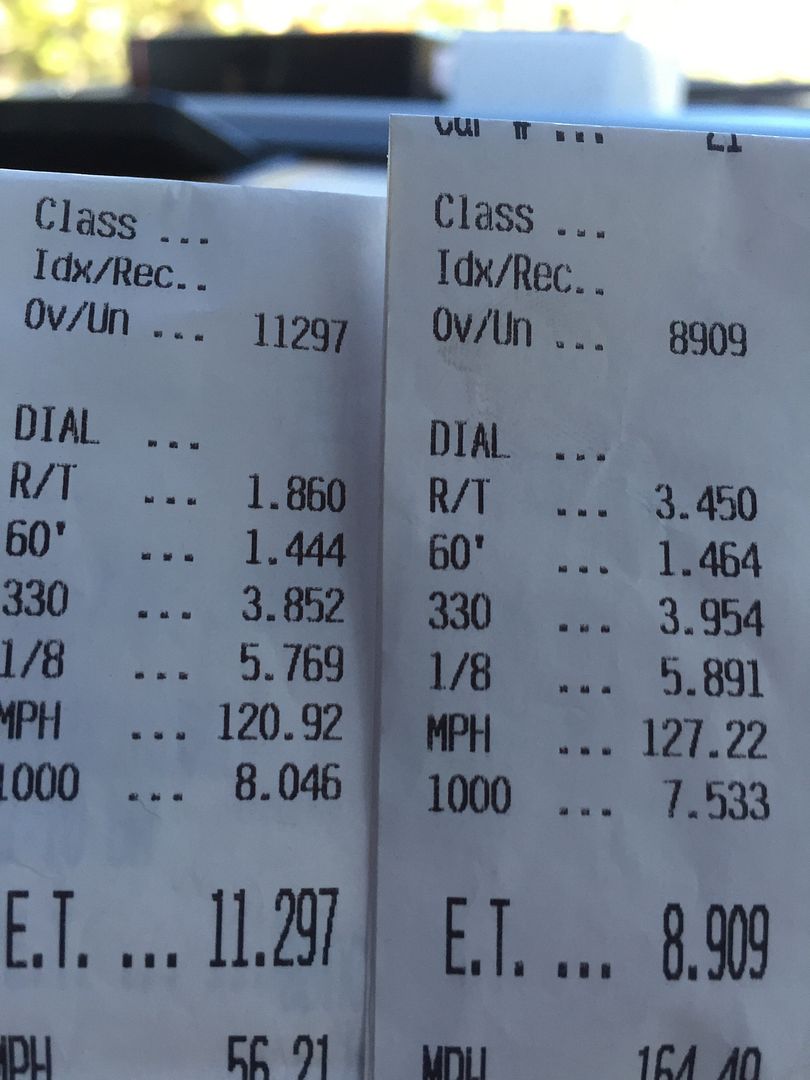 The build on this car was a collaboration between PrimeMotoring and IAG. It could not have turned out any better for us. Truly shows that between my 12 STI that went
[email protected]
, my 15 STI and its official
[email protected]
(
[email protected]
without slip) and CJs
[email protected]
MPH that the formula has been found to really build a serious street car.
Mods
IAG Closed Deck Block w Manley Crank/rods and IAGs Custom Manley pistons
IAG CNC Race Heads with BC 280s ( LOLOLOL ), Manley Valves Train
IAG TGVD - Rails - Lines and AOS
KillerB Pan - Pickup - Tray
OTL SurgeTank with MagnaFuel big pump
ID2000s
BeanFab Fwd Face Tkit and FMIC with 3" IC pipes
Fp Super99 Turbo kit
CompClutch P&L Triple Disk
P&L Front and Rear Drag brakes
DSS Front and Rear Level 5s
27" DOT Drag Radials
COBB AP v3 with COBB EBCS and COBB MAP adapter with AEM 5bar
Jrtuned on SD
Jr Driven lol
STOCK INTAKE MANIFOLD
STOCK TB
STOCK 6SPD
STOCK REAR
STOCK SUSPENSION with STI Pink Springs
Only interior removed and will be going back in was the rear seats, all 5lbs of them lol
Stock Interior, carpets, radio, abs etc.. AC and PS deleted because of the Tkit.

[email protected]
=)