Following an
incident with a deer
last November what is left of my 2004 WRX Wagon is going to be up for grabs.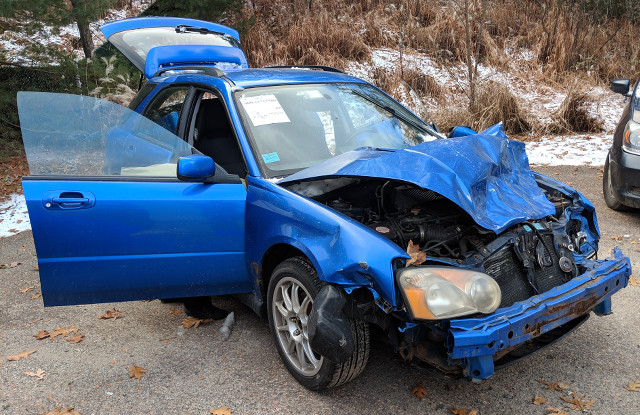 This might be a bit of an odd one, but I'd like to see parts end up in deserving hands so posting here as a kind of public service more than anything else, I don't expect to make much, if any, money out of this.
The
car
wreck will be being
auctioned by IAA Auctions near Burlington VT
and to make things even more complicated this location
does not hold public auctions
, so you will need to persuade them you are trade or find someone who is to purchase this from them. IAA do have online bidding facilities so you do not need to be present at time of auction but you do need an account that you need to pay for to bid - I'm presuming an interested buyer here would know someone who has an account, or a trader that is willing to buy to part out or something...? A lot of assumptions but if you know someone in upstate VT that parts out Subarus then they probably will have the means - please pass on the word if you don't think they check in here that regularly. I'm not on FB or any other Impreza forums so any useful spreading of the word and link to auction site appreciated
Auction details including pictures of what can be bid on can be found here
.
Information that could be interesting:
Shell has done 152,039 miles - some rust but not terrible, probably still not worth repairing as deer was hit pretty hard and drivers pillar has kink at bottom.
Engine had short block and turbo replaced under warranty by Subaru @ 58K, had timing belt (water pump, etc) done last year at 146,804.
I've been pretty religious with service and my guess is that it should come out virtually unscathed from this mess.
New oil pan less than 1000 miles old, radiator was new then too but that is toast. Grimmspeed turbo heat shield.
Wheels are 17" Prodrive P1s with 225/45R17 Hankook Venta V12s.
Rims are straight and free of gouges and scuffs but paint has seen better days and center caps missing.
Tires are in good condition with plenty of miles left on them.
Exhaust is Grimmspeed catless uppipe and divorced downpipe, after that is 3" stainless by Lou's, with resonator where cat was and straight through muffler at rear - loud but not obnoxious.
Interior is OK no rips but this was my daily driver for 10+ years so far from immaculate.
Subaru guagepack and auto-dim mirror with compass; original factory options.
Roll up parcel shelf is in hatch as are rear headrests, both almost unused as have been in garage not on car.
Suspension stock but with new rear struts less than 1000 miles old.
Brakes stock other than braided hoses but had new rotors and calipers all round less than 1200 miles ago.
ECU has a conservative open source tune just to deal with divorced down pipe, it was running beautifully and I was re-falling in love with this car as it had moved from being my daily driver to being semi-retired and getting some work done to
fix her up
as she moved into her twilight years
I'm over 3 hours away from where the vehicle sits and retrieving to part out myself, or even visiting again, makes little uneconomic sense hence why I'm letting the Insurance companies auction yard sell even though I bought it back from them ($600). Because of this I'm not really in a position to find out any more exact details of the car I don't already have, or take any more pictures, but will try and answer as many questions as people have about this car here or via PM. I also have a folder of all receipts and other details about the car that can be passed on, or scanned, to anyone who is interested.
To be 100% clear the car is to be
auctioned by IAA on Thursday, February

21st

28th
and at this point
cannot be bought directly from me
! I just want to see its usable parts get to good homes.
I do have an unused car cover for this in the Lakes Region of NH that probably won't cost a fortune to ship if anyone can use and wants to make me an offer that isn't too insulting.
Cheers
/dan