Hi, everyone this is Bryan from Racer X engineering and I proud to introduce a new kit to our line of quality products. This kit is a addition to our '05-'09 LGT and '08+WRX kits that we have been selling for over a year. You can read about our great customer service and products on legacygt, 3GWRX, and Nasioc. The '08 STi fitment kit is now complete.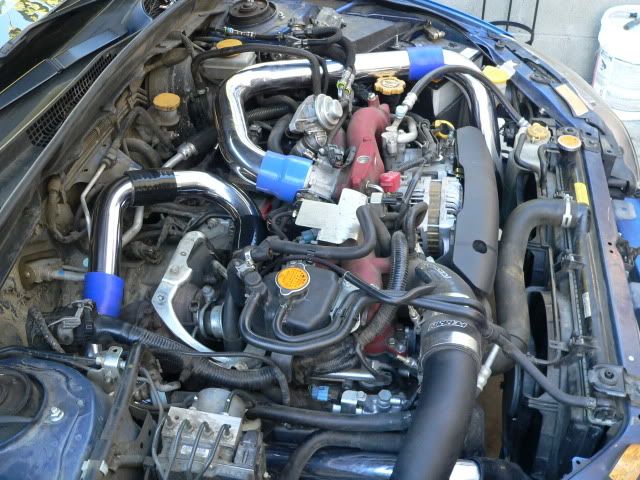 Here are some front views of the FMIC on '08+WRXs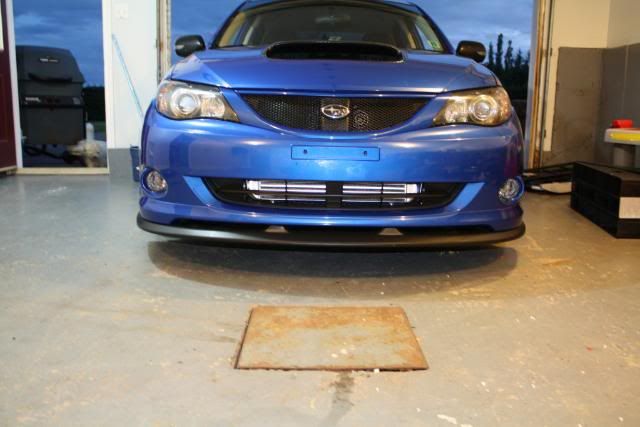 Here is the final price for the coating
$95 per intercooler
$80 per set for powder for tubing
$125 per set for ceramic for tubing
That's $175 powercoat and $220 for ceramic coating. Like I said before plus $10
for my time and gas. Below is more info on the coatings
Thermal Dispersement- This coating on a radiator or intercooler will lower the overall temperature by 18-20%. It works by eliminating the hot spots! All radiators and intercoolers have hot spots. This coating is a satin black in color and is a wet application that is baked in.
Ceramic Satin Black thermal coating- This is an air cure flat/semi satin black color. This material handles heat up to 3000 degrees. By having such a high heat factor this makes for internal temperatures to stay much cooler by keeping the hot air out of a tube. This coating is widely used in the Harley motorcycle market for there exhaust to make the outside temperatures much lower and keep the heat in the pipes.
Here are pictures of the coated kits. Here are the powder coated kit
and this is the Ceramic coated kit
With both kits you get the intercooler coated in thermo dispersant.
-The kit will come with black couplers and stock BOV flange.
-you keeps your stock crash beam
-t-clamps
-clears just about all intakes. Some have even got stock and Cobb airbox to fit with my kit.
-you don't even have to trim your bumper skin so if you ever want to go back to stock and/or trade it in you car won't be hacked up like other kits.
-I will also include flange that will let you run '05-'09LGT/'08+WRX style turbos. So you can run any turbo you want and no extra cost.
- one year warranty against defects
I'm also including the flange because I'm doing a test fit on a '05 WRX next weekend. With that flange it allows you 2L guys a cheap turbo upgrade to all of those LGT vf40 that are out there. Because some of those bigger turbo maybe too laggy for the 2 liter owners. I going to put the Vf40 on that test car and see what numbers it makes.
I will be starting a group buy on 3GWRX, Nasioc, and Legacygt. I need a minimum of 10 orders to start production with a $350 deposit. If we don't reach that number I will give everyone a full refund. It will take about month and a half for the kits to be made and be ready for shipping. The regular price will be shipped $699. But for the Group buy the price will be $600 shipped to get this started.
Let me know if you have any questions. Bryan
Paypal
[email protected]
The GB will close on 3/18/11
1.JRSRED10