Note: Since all components are plug and play, cruise control will work properly by still activating your cruise button on the left side by the fog light button. On the 2005 cruise control stalk, the only button that will not work is the side small button that usually activates the cruise control feature. All other features will work, regarding cruise control.
Parts Needed:
2005 - 07 Wrx steering wheel
2005 Wrx airbag
2005 Wrx Clockspring
2005 Wrx turn signal / headlight bracket (Mold numbers >PP-GF20< or 17D480) See image below
2005 Wrx bottom steering column cover
Tools Required:
T#30 Torx bit or screwdriver
17mm Socket with Extension (Install Torque Spec, 33.2 ft/lbs)
Breaker Bar
Torq Wrench
Phillips screw driver
Needle nose plyers (Not Needed but helped)
Rubber Malet
Small Zipties
Patients
STEP 1, FIRST BEFORE ANYTHING, disconnect the battery and pump the brakes, horn, and push some radio buttons. This will allow no power to engage the airbag when working with it. Secondly make space and set your front seat to desired distance. Here's what were working with.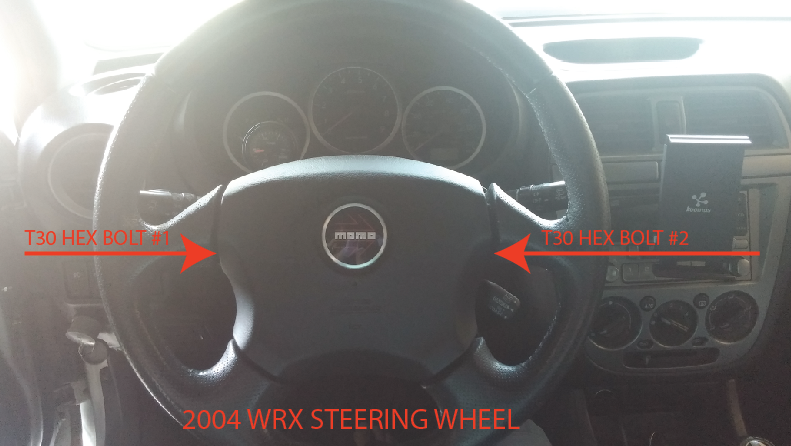 STEP 2
Start with the 2 hex bolts at the side.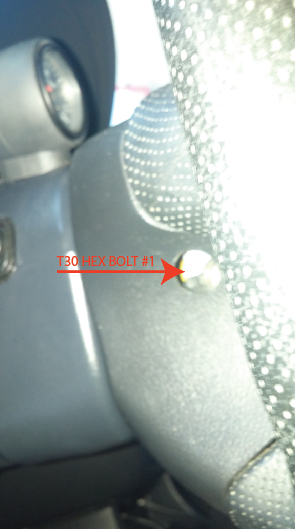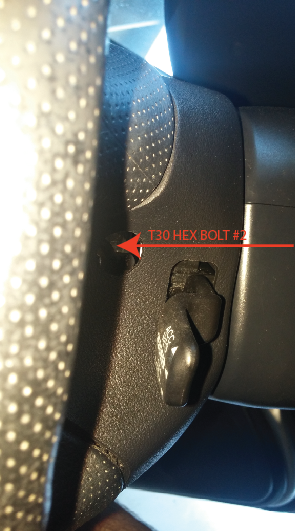 STEP 3
Gently pull the airbag toward you and then continue to disconnect the connectors. The airbag connector, has a yellow tab, pull it up gently and then pull the plug to disconnect it from the airbag and set it aside. Then disconnect the cruise control clip.
STEP 4
Steering wheel removal time. Take your breaker bar and 17mm setup. Hold the wheel with 1 hand and then loosen the nut. Unscrew the nut but leave about half of it still threaded on.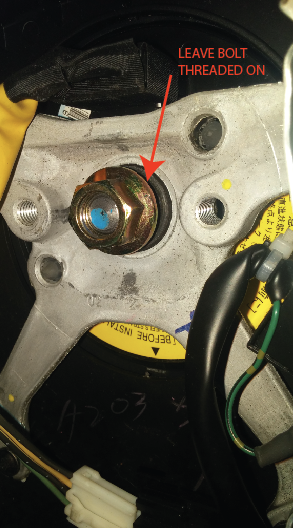 STEP 5
To remove the wheel itself, put a hand in the 12 O'clock spot, your knees behind the wheel to apply force and take the rubber mallet and hit the 17mm nut. Do this while tying to pull the wheel off. If it doesnt come off, grab the wheel and pull with both hands. Repeat the process till you pop it loose. Once loose, then unscrew the nut and put the steering wheel aside.
STEP 6
Now onto the clockspring removal: Start with the bottom steering wheel cover then remove the top cover as well.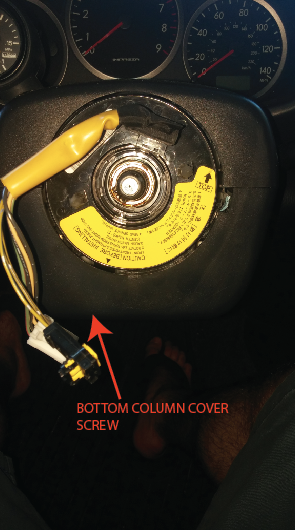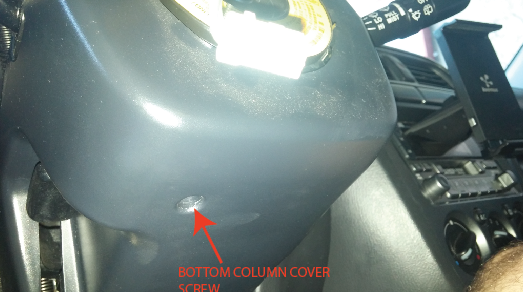 Continued onto the next post