[quote=wrenchwoman;16272759]Here's a picture of what I used. It was a bracket I had made to use on my MC to hold my MP3 player, but it just happened to work out perfectly for this, too.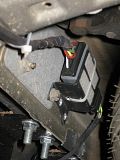 [/QUOTE
I guess that this must be a common deal then - I just thought it was me that got shortchanged. Wonder why the instructions say it's included when apparently it must be yet another "special" order deal.....
Ah, well, I will get to making something up once the rain stops! Thanks muchly, WW!