As far as I know, this thread only applies to
02-07 Impreza Sedans
Ok, so i have spent the last two months trying to fix my trunk leak, and it's still not even fully fixed. But, I did search on here to try and find answers, and there was NO information that helped. So, I wanted to make a thread that will pop up when people search and hopefully help those who are in the same situation as me.
Throughout my journey, I have figured out that there our trunks have 3 main sources for water leaks.
Diagnosis:
First of all, it's important to figure out where the water is coming in, so have someone get in the trunk, close it, and turn the hose on. You can also use other proven methods, but this is helpful to figure out which of the three main causes it is.
1. Trunk Seal (Weather Stripping)
This is the NUMBER ONE most common cause for Impreza trunk leaks.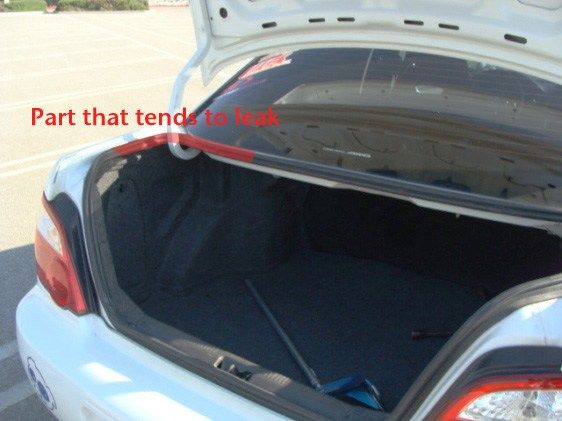 The seal compresses over time and eventually lets some water between the underside of the trunk and itself. If this is happening, it's time for a new seal.
Another possibility, which ended up being my problem, is that water is making it
under
the seal, in which case it needs to be removed, cleaned, rubber sealant applied where the old stuff used to be, and replaced. I'm in the process of doing this right now. So far, it seems to be fixing the problem
2. Tail lights
If there is water in either of the rear corners of the car, and nothing is visibly coming in when you squirt water on the trunk, it's possible that the tail light seals are leaking. If they are, you will be able to see/feel the moisture in the foam (which is accessed by removing the trunk carpet guarding the rear quarter panels). It will also be fairly obvious as there would be water right at the base of the tail lights. To fix this, remove the tail lights, add some sealant, and replace. I did this as a precaution and it's really easy.
3. Wing Holes
Ok, no brainer, I know..but you would be so surprised how much water can get in through those holes, even with all the screws on tight. One of the nuts holding my wing on was a little loose, and it was like a faucet when I put the hose near the wing. This one's fairly easy to diagnose and fix, but i thought i would include it anyways, since it has happened to me more than once!
Other possibilities:
-Rear glass seal (can be ruptured by subs or other hard vibrations) [not sure how this water would make it into the trunk, but i was told this buy an auto-glass shop]
-Plugged drain holes for Pressure regulation flap in fender (can be covered with dirt and stuff causing water to build up inside the rear quarter panel)
Hope all of this has helped and if anyone has anymore useful info, please don't hesitate to add to what I have said!