Quote:
Originally Posted by 2slofouru
Does anyone have part number for the gasket of the metal coolant expansion tank that bolts to the intake manifold?
タンク アセンブリ、ウォータ 21132AA040
Water tank assembly.
Quote:
Originally Posted by Gagne26
Do you have the three parts number so I can see if they have them in stock just in case?
Sorry, very late... but here they are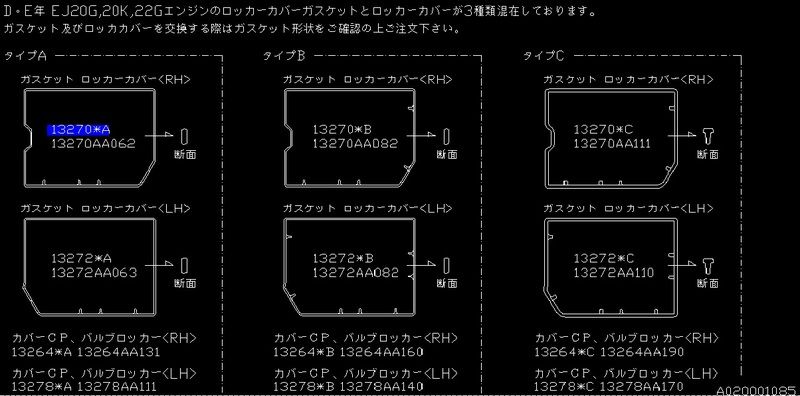 Translation:
Version D/E models with EJ20G, 20K or 22G engines have 3 types of gasket available.
At the time of changing the gaskets, check the type of the gasket and then order.
Type A
RH 13270AA062 (gasket), 13264AA131 (cover)
LH 13272AA063 (gasket), 13278AA111 (cover)
Type B
RH 13270AA082 (gasket), 13264AA160 (cover)
LH 13272AA082 (gasket), 13278AA140 (cover)
Type C
RH 13270AA111 (gasket), 13264AA190 (cover)
LH 13272AA110 (gasket), 13278AA170 (cover)
----------------------------------------------------------
Sadly, I don't remember which one was mine; not that that would of helped you last year.
edit** Looking at my pictures from my rebuild, I see that mine were Type A.