Shop: Motion Lab Tuning
Dyno Type: DynoCom FX5000-AWD
Temp: 58F
Boost: 21psi
Fuel: 93OCT
Target AFR: 11:1
SAE Corrections: Default Corrections
Peak HP at RPM: 250whp @ 5250 RPMs
Peak Torque at RPM: 275wtq @ 4000 RPMs
Transmission: Stock 5speed
Gear: 3rd
Engine Management: Opensource tuning
Engine/Power Modifications:
Invidia Catless bellmouth downpipe
Invidia Q300 catback exhaust system
Cobb Tuning 2" up-pipe
DW 255LPH fuel pump
This is a car we finished up about a month ago, and just now getting around to posting up the info. We have a lot of back logged dyno plots you'll be seeing on here soon actually, haha. This was a real clean WRX wagon that drove about 2hrs from the NC mountains to pay us a visit. We did a basic stage2 set-up with the addition of a Cobb tuning up-pipe and a DW fuel pump. We also did a ACT clutch kit at the time. Between all the upgrades the car was totally new when it left out of here. It went from stock with a slipping clutch up to 250whp/275ftlbs of torque and a nice performance clutch kit from ACT. He was thrilled with the results and couldn't be happier with his wagon.
The black lines shows where he came back recently and had us check over some things in the colder weather. You can see the black lines show an improvement with the denser air.
Final HP/TQ Graph: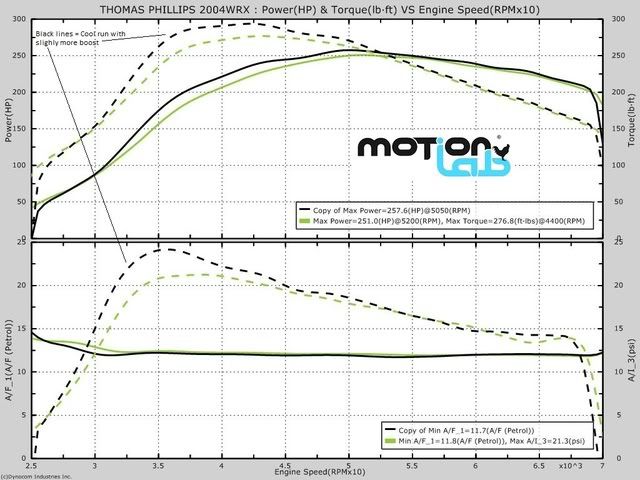 Follow whats going on at the shop on our Facebook page
Motion Lab Tuning - Automotive - Charlotte, NC | Facebook
Thanks for looking!
Alex Goodwin
[email protected]
MotionLabTuning.com - Engineering Performance