Helloooo PNW NASIOC community...
So below is an in depth intro to my acquisition of my current Subaru, a clean titled 67k mile 5spd manual 05' WRX Wagon in PSM.
I've been a Subaru enthusiast since I was young, sitting in some of the first USDM STi's in 2003 in California and knowing I'd one day own one of them and that these were the cars for me.
I bought my first Subaru in 2009 when living in Seattle, Washington. I traded in a minty 1991 E30 318is for an 02' Outback Sport and enjoyed the car thoroughly, though the turbo always tempted me.
I finally began making enough money in 2012 to afford the upgrade and bought an 03' WRX wagon, which I owned for about 4.5 years. I sold the car summer 2017 and spent months looking for the right replacement.
I ended up overpaying to buy a lightly built PSM 02' WRX sedan, though the car was/is pretty rare for what it is. 97k on the dash when bought in late 2017, forged internal EJ205 built and tuned by Horizontal Motorsports, VF39, Walbro 255lph, STi TMIC, etc. The car put down about 260awhp and was a lot of fun.
Soon after, I came across a good deal on the dream car, a 2004 STi in Java Black Pearl with only 126k original miles and a clean title, completely stock aside from a tune from FTW Tuning in Eugene and some suspension upgrades. I purchased it from it's owner in the Bay Area and brought it home, to make my stable 3 deep alongside the bugeye and a 2000 Chevy 1500 Suburban.
Despite this amazing set up, I just wasn't happy not having a wagon, in large part because I'm a dog owner and was constantly having to throw down towels to avoid my seats getting destroyed. I loved the STi's transmission and agility and the power and looks of the bugeye, but knew I needed to get back to the wagon to truly be happy.
So, goodbye dream STi, goodbye HMS built bugeye, hello new project wagon. The goal is to bring the best of both worlds together.
After about a month of searching, I found the one. Freshly traded in by an older gentleman outside of Seattle, was a solid 9/10, almost completely stock 2005 WRX Wagon in PSM with only 64k on the dash. Only aftermarket parts upon purchase were a Cobb catted downpipe and Prodrive WR Sport exhaust.
I brought it home to Portland from the dealership in Seattle after a quick inspection and test drive. With my experience with Subarus being 02/03/04, this is my first bout with the updated interior. I honestly like the older one more, the small space below the ash tray was perfectly phone, cards, change, lighter sized and now I have to leave my phone in one of the cup holders in the 05'. No biggie though, it's "sleeker" and overall still functional enough for my liking.
I got to work right away, throwing down to take the car away from stock and make it my own.
My first purchases: Invidia N1 Street turboback, red Rally Armor flaps, Swift wagon specific lowering springs,
an ISC 6-pot big brake Kit, OEM 04' STi forged wheels, and 35% tints all around with ceramic film for heat resistance.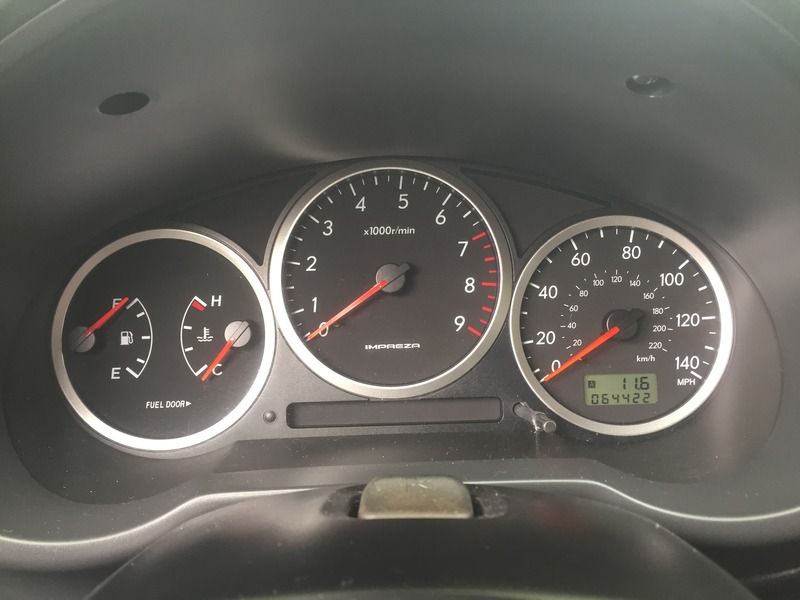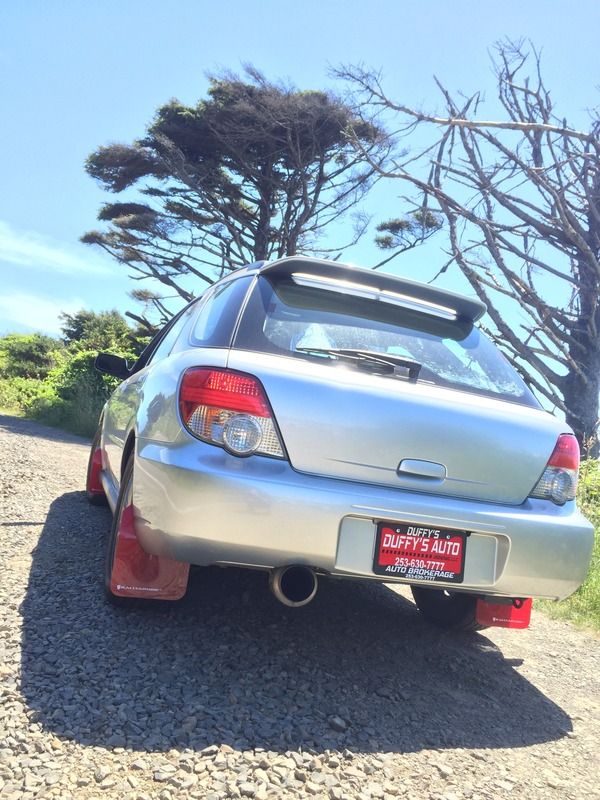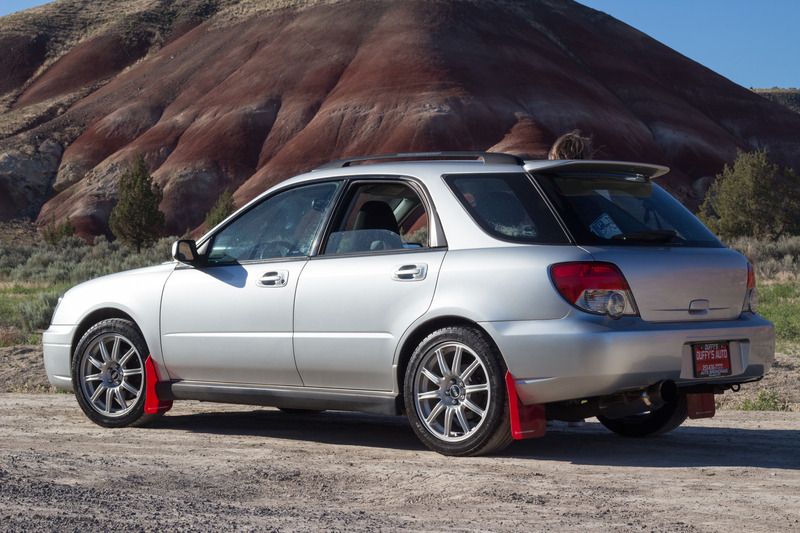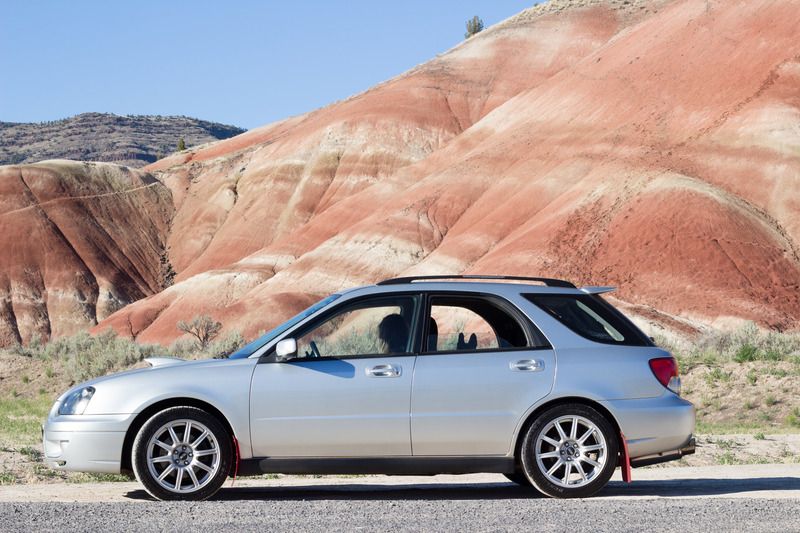 I then went to buy a set of OEM STi HID headlights of a pretty well known tuner in the area, Jarrad at PDX Tuning, who happened to be parting out an 04' STi... w/ a perfectly good 6 speed and relatively low mileage.... Naturally I had to inquire. The price was too right, and he had a customer looking for a replacement 5 speed for a WRX, so BAM, just like that, 6 weeks into ownership, I've got the 6 speed STi trans is on it's way in!
I've put together a bunch of other parts that will go in relatively soon after the transmission swap is finished to boost the power of the car.
From everything I've read, the EJ205 is good for up to about 340-350hp before you risk blowing up the stock internals. So, my goal is for a safely tuned OEM+ style 320awhp daily driven power s'wagon!
Parts waiting to go in are
- Grimmspeed TMIC
- Grimmspeed Intercooler Splitter
- Grimmspeed 3 port EBC
- Grimmspeed 3 bolt EWG Up-Pipe
- Tial 38mm EWG
- Tomei UEL Header
- Walbro 255lph
- Injector Dynamics ID-1050x
- FP Green Turbo
- OEM PSM STi Fenders
- OEM PSM STi Hood Scoop
I still need a handful of parts before the build can move forward, but she is getting there!
Still needed is a turbo inlet, spacers or different wheels once the fenders go on, and an STi or WRX sedan front bumper, and the tune, which will likely be done by Portland Race Engineering, who will also likely be doing the motor build. I'll probably be doing a new timing belt at the same time as the car is just overdue on it's original belt.
Stay tuned, I'll have more pictures and info as things develop. If all goes well, I'll have this car at BigNW meet at PIR early next month. I am looking forward to connecting with you all and keeping you updated as things move forward.
Cheers!