Quote:
Originally Posted by
Dwbarrett7
So, within the past 6 months I have gone through 3 front o2 sensors on my 2017 STI. I have been replacing them with the factory OEM Denso 02 sensors from my local Subaru dealer. Easy fix but this is getting kinda expensive and shouldnít be happening. As they start to go I notice them becoming sluggish as Iím monitoring AFR with a wideband 02 sensor thatís located in my rear 02 bung. I am tuned for this and have a Visconti wideband logging cable. As they become very sluggish the car during cold starts will dump so much fuel in it hiccups and canít ignite all the fuel which triggers a CEL for random cylinder misfire. Eventually it heats up and gets better but not perfect. The car has roughly 18k miles on the new build and it started this behavior around 12,000 miles in. Currently right now I have been running 93 octane since the last o2 sensor install to test if it was the E85 that was causing it and well here we are. I have got under the car and looked for exhaust leaks and it appears there are none. For an exhaust I am running a killer b ELH, Grimmspeed EWG Uppipe, Grimmspeed catted DP, and a Invidia q300 catback. The car is tuned for a target AFR of 13.5 AFR at idle which I know is kinda rich but the car is happiest here according to my tuner. Itís got fully built heads so Iím assuming the engine just flows really well. One other thought of mine was condensation was killing the sensors prematurely as I notice a lot of steam out the exhaust during cold starts but once again I went 12k previously without any problems. Any thoughts on what could be killing these 02 sensors so quickly?
My 2010 has 172,000kms (107.5K miles) and is still on the original sensors. Your rate of failure seems...er...excessive.
My feeling -- just based on your description of the mods etc -- is that it might be related to the KB headers, specifically, the orientation of the O2 sensor
in situ
.
What is the orientation of the front sensor in the car? Does it fall within the range shown here: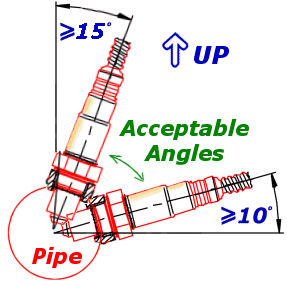 If not, any water that condenses in the exhaust during initial start and after shut-down may pool in the sensor causing damage.
I've only seen marketing photos of KBs headers but never installed on a car so this is just a guess.
Also, is the sensor involved in any exhaust wrap or is it otherwise blocked from seeing reasonable airflow? It may also be overheating.