Vote!!!
FINAL ROUND!!!
Picture for Poll reference: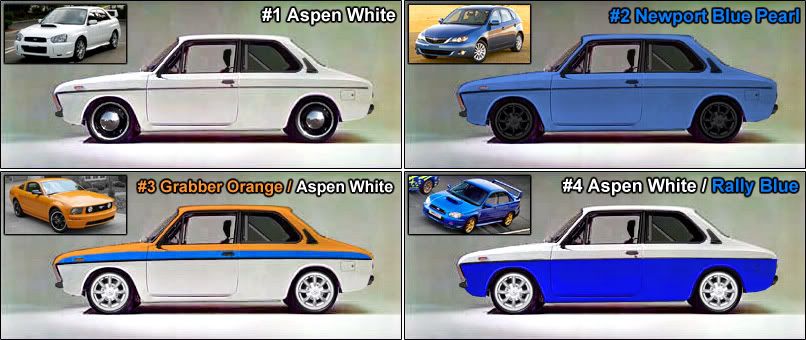 This is the FINAL ROUND!

Vote for the one you like the most!
Note: This picture DOES NOT represent what the car will ACTUALLY look like, please see the other thread for more reference: http://forums.nasioc.com/forums/show....php?t=1351744

These photos are meant for a GENERAL IDEA of what that color scheme would look like!
Here is a short list of the colors I'm referring to in this thread/poll and am considering for the project:
Whites
Aspen White - Previous Subaru white, a basic white.
Orange
Grabber Orange - Ford Mustang color from the current model year, also a classic 70's color from Ford. (An Orange that is almost a yellow, and quite bright)
Blues
Newport Blue Pearl - Subaru color as seen on several current models (dull blue, but with lots of metallic flake)
Rally Blue Pearl - Subaru's rally blue color of course!
Now for reference, this is depending on budget and the specific painter, which might vary greatly depending on what it takes to repair the metal bodywork/chassis first. The DEFAULT color for this project would be white, which would hide any imperfections and is simple and cheap to paint...
Here is a good idea of in general, how I plan the car to look (IE the details like raising the rear fenders, blacking out the window trim, etc.):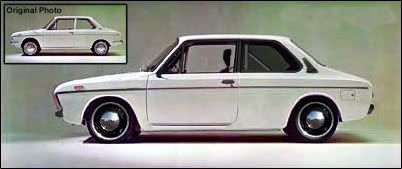 Once again, this is the LAST ROUND!
Voting ends on 8/31, Sunday!