Figured I'd write a quick review for this intake to cover one aspect that i was very disappointed about since I didn't find a ton of info on it online.
I have put intakes on my car as a first mod for my last 5 cars, so I'm pretty familiar with what to expect from an intake. The purpose of an intake is to sound great, look nice, give you a cleanable filter that is easy to access, maybe give you some power gains. It should preferably be a quick/easy install, and most importantly, it should not damage your engine.
Now, I bought this one used, so maybe there were some missing parts or something, but as far as I can tell I have everything it originally came with and more.
Install

By far the hardest intake I've ever had to install, but that is mostly Subaru's fault
,
not Mishimoto's. This isn't a problem, except if you want to uninstall it quickly to bring it to the dealer. You're probably looking at a 2h ordeal. Every other intake I've been able to remove in <5 minutes. Once again though, this is not really Mishimoto's fault.
I think the previous owner had swapped out the clamps for more robust ones, so that may have added to my annoyance because I didn't have a tool that could remove some of them (needed like a double-deep 10mm socket), but they were a real pain to adjust. Let's forget that point and assume I just had the "wrong" ones. However, intake hardware should attempt to all be the same. The MAF screws were phillips (good!) but the ones on top of the box were hex. Minor nit-pick, but there is no good reason for the switch, and it would have made life easier to be able to go out to your car and remove your MAF + Filter for cleaning with just a phillips screwdriver.
I don't know if there are normally instructions included, but the official youtube video was not very helpful and skipped over a lot of key points. Once again, I'm not sure if I was missing hardware (Don't think so) but I don't like how the box and MAF housing bolted straight up to the car frame. It will obviously scratch the paint. I put some plastic washers in there that I had handy, but something should have been provided.
Design

One thing I will point out is that there is no air straightener or bellmouth to smooth the airflow. This is not a good thing, especially because the distance from the MAF housing to the where the intake connects is insanely short. I think this is a very poor design choice, and was likely to cut cost. -1 point here. That aside, otherwise the overall design is generally good, no other complaints here. Box is a bit plain, but I think that is a good thing.
Aesthetics

I got the one that is painted wrinkle black. Looks good, except that the paint is very poorly applied and ended up inside all of the ducts.
I chose to take a wire brush to the inside (ruining what should have been a smooth finish) to get rid of all of the flakey paint. Note that the before picture is pretty much what I got from the previous owner (minus the scratches where I checked to see how loose the paint was, and all the black specs on the ground is paint that came off my brushing over it with a screwdriver). It looked like the majority of the paint flaked off into the guys engine!!! -1000 points here, that is absolutely unacceptable.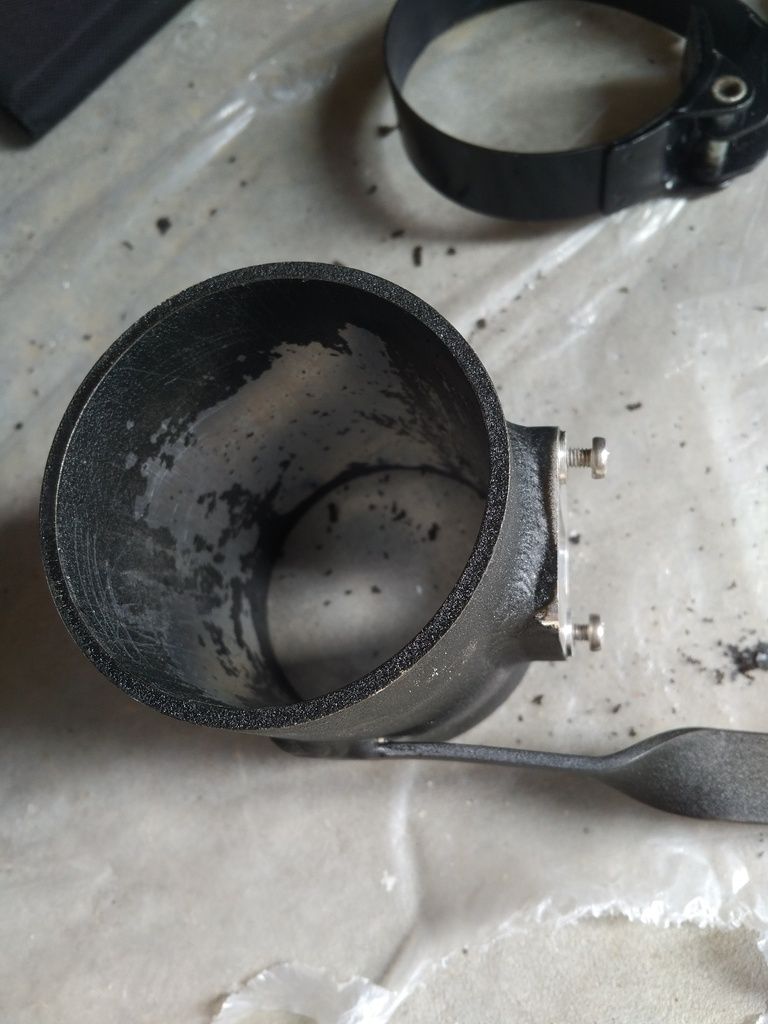 After
Performance & Sound

Against my better judgement I got a Cobb AP (which ended up being an excellent decision, but anyway). Performance wise, it feels great, butt dyno tells me I am going faster than before. Yay.
Sound is good, not much to say here. In general all intakes are going to sound the same and they are a function of the car/rest of the car more than anything else.
Conclusion

The intake is OK overall with some work, but the two major strikes against it are the paint issue (which isn't an issue if you get polished) and the lack of an air straightener or bellmouth at the filter inlet (which in my opinion is a very poor design choice). I haven't researched the other options extensively and only bought this because I was getting a good deal on it, so you may look to see if the other intakes correct either of these two issues.
My thoughts on an intake on the WRX in general - not worth it at all if you're buying a new one, low bang for your buck (whereas I would have said the exact opposite on every other car I've owned). $150 for some good sound under accel is reasonable, but $300+... no. The install is also overly complicated (if you're concerned about warranty and may have to remove/install it a few times).
Hope this helps someone