Hey guys,
Just thought I would chimp in a little on these coilovers. I recently installed the following parts altogether:
1) RCE T Zero (~6K springs)
2) RCE F+R swaybars (25.4mm hollow iirc)
3) Whiteline Front Com C Top hats
4) Whiteline Front adjustable endlinks
5) Whiteline steering rack bushings
Ride Height: ~1 finger gap between top of front tire and fender and ~1 finger gap at the back
Camber: -2 all around
Toe: 0
Caster: Within factory spec
Swaybars: hard setting front, soft setting rear
Purchased from Dale's Alignment
Installed by HK Mechanic
Background:
I was a little worried about the RCE T-zero because it offers very limited tuning ability. You can only play around with the ride height and that's it. I'm personally not THAT lazy, but given the lack of access to a workable garage space in HK, I thought it would be nice to get something that I could just set it and leave it. The car is primarily street driven with perhaps 1-2 track days max per year. So I needed a set of coilovers that rides as smooth as stock when cruising around town but offers firm cornering ability when driven hard. There are plenty of choices in Hong Kong, namely the Japanese brands. However, I was very nervous about their aggressive spring rates since the roads here are far from perfect. After more research on NASIOC and speaking to some pros, I went with RCE. As of this moment I think i can safely say that this is the only set in HK. LOL..
Pros:
Right off the bat, I noticed there was no increase harshness. There are many reviews on how these coilovers handle bumps better and I wasn't a believer. I mean the usual impression is coilovers = harsh + noise. Nope, not the case here. Everything feels just like stock cruising around. You would not notice that the car is on coilovers if I don't tell you.
When taken spiritedly, bodyroll is hugely reduced as a result of both swaybars and coilovers doing their job. The car feels very neutral and the back does not hop. I have my camber set to about -2 all around and the steering still feels stock like. I'm still testing the parts out gradually to get a feel of the car's characteristics, so I will have more updates once I push it a little more every time.
The top hats are quiet at the expense of fine tuning ability that can be found on other pillow ball camber plates. For a street driven car, I can sacrifice that. I'm happy with the amount of camber I got so these top hats serve my purpose.
The steering rack bushings did not contribute much this time. I did the same mod on my 2002 wrx and that was a night and day difference. On the STi, I didn't really feel any increase in weight when steering the car.
Cons:
Again, the lack of tuning ability on the RCE T-Zero is the only downside. If you hit the track often and want the most out of your coilovers, you need to look into something else, perhaps the RCE T2. Before getting the alignment done, there was a clunk/pop sound coming from the left front swaybar. It happened a few times at very slow speed and it sounded like the swaybar was hitting something. I brought that to the mechanic's attention and he loosen and re-tighten the endlink bolt. Now it still makes a single clunk sound once a while when I'm driving in and out of my parkade. Since I'm actually lowered quite a bit from factory height (4 finger gap to 1.5 finger gap at the front), I think it would be a good idea to get the roll center kit next. This should bring all components back to factory movement range I suppose and therefore cure the clunking sound.
Longevity
This is an important factor to me. Obviously it's too early to comment at this stage but I will pay close attention to how these coilovers will change (more noise, more harshness, etc) over time. I don't expect them to last forever, but I do expect them to last a good period of time before I need to re-service them.
Quick shot with my phone. Before I get new wheels, I'm tempted to get some 15mm Perrin spacers to flush it out.. lol.. any opinion?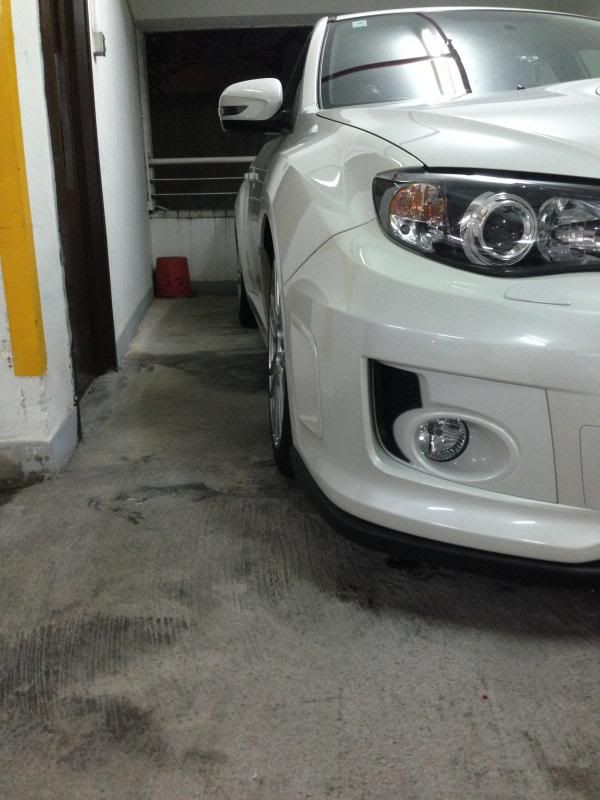 Pics and more review to come.
Cheers!