Scooby Guru
Member#: 73805
Join Date: Nov 2004
BMW M3 vs Audi RS3: 4WD sports saloons face off
---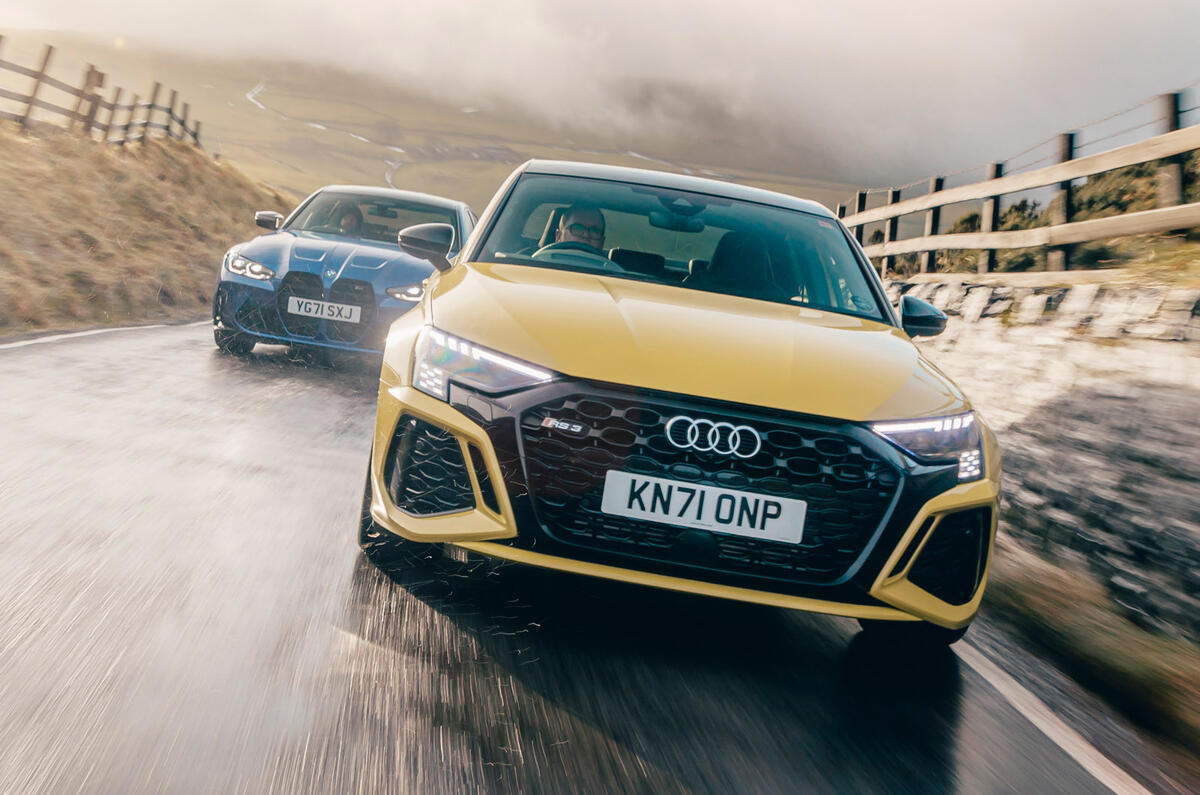 Quote:

BMW M3 vs Audi RS3: 4WD sports saloons face off

The BMW M3 is finally being offered with optional all-wheel drive. Can the latest Audi RS3, revamped for the PlayStation generation, keep it in its sights?

Thereís more than a hint of underground flavour about the new Audi RS3. Well, there is to me.

Iíve never played a Need for Speed video game nor watched more than 10 puzzling minutes of any Fast and Furious film, so Iím at risk of exposing my ignorance here, as well as my age. But this is a car that looks very much like an invitation for some neon strip lights and an extra-flatulent exhaust to warble fruitily around a cinema car park on a Friday night.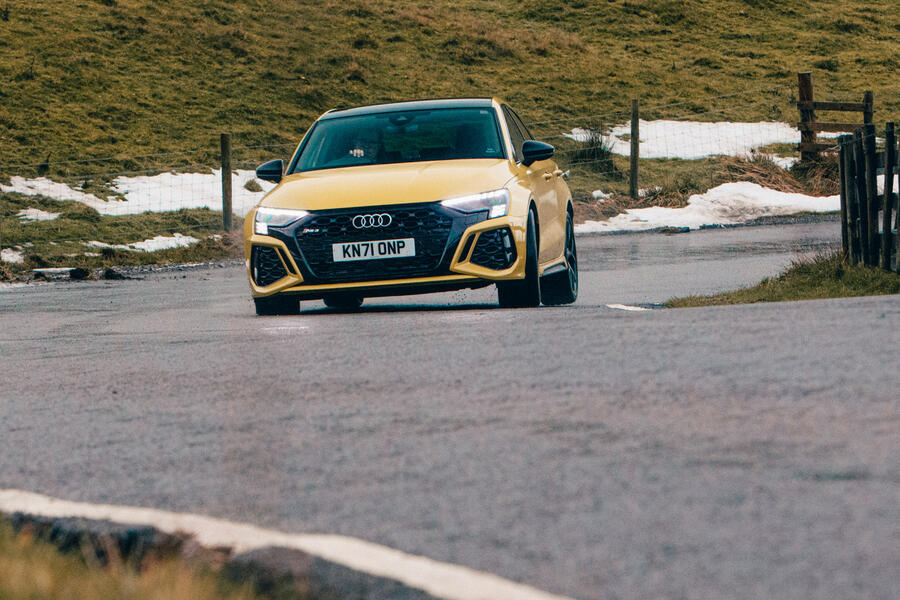 This Audi has got dark, angry features that look a little, well, Ďaftermarketí. Flashy, animated LED headlights, too, that light up with ĎRÖ SÖ 3Öí when you unlock it. It has a drift mode, of a sort. All itís missing is the ability to take video selfies of its occupants when you activate the launch control and then to automatically cut the footage into drag-race sequences for TikTok that alternatively also star Paul Walker or Vin Diesel (who will doubtless be upshifting in their rival Ďwhipsí at wholly inappropriate times).

The funny thing is I donít mean to be dismissive. This car is picking up on a cultural phenomenon far more influential than any car magazine or road tester. This is a new-era supersaloon for a new generation. Twentysomething kids just donít crave the cars their dad once owned, do they? They go their own way; they want new things of which they can claim full ownership. Itís understandable. I didnít much fancy the Austin-Healeys and MGBs my old fella used to drone on about when I was in my late teens, either.

The RS3 feels naughty, boosty and subversive. Itís very Ďnowí. In a scene in which Ďbuilt not boughtí custom cars are the celebrated ones; relatively ordinary saloons and hatchbacks are made crazy with power and boost; and noise and lack of ground clearance are the objects of communal desireÖ Well, hereís one ready-made from the factory to fit that bill exactly.

Iím not sure how many cruises we will find in Edale in the Peak District on a wintry December morning but, thankfully, weíre ready to make a very small one of our own. Thereís snow on the hills, but the peaks themselves are shrouded in cloud. The cold will tickle your toes if you stand around outside in it for too long. This is definitely four-wheel drive weather. Now is the time to find out if this newly pumped-up Audi can mix it with a properly grown-up performance saloon: the new BMW M3 Competition xDrive.

It might look like the Audi is being set up to fail here, but thatís not our intention. We just want to know if it can hold its own Ė because if nothing else, its pricing certainly suggests that it should. The BMW, now in its fourth decade and its sixth model generation, has just gained optional four-wheel drive for the first time; the Audi, barely a decade old itself, has moved up into more rarefied market territory, from where it hopes to ride the crest of the wave of its cultish following.

And the upshot? That if you want a fully loaded RS3 four-door, complete with its standard-fit new torque-vectoring rear differential but also optional carbon-ceramic brakes, adaptive sports suspension and assorted technological bells-and-whistles content, you will be paying more than £67,500. Yes, that much Ė gulp Ė for a 180mph Audi A3, albeit a very special one. But increase your budget by less than £11,000 and you can be in all-paw BMW M3 Competition territory instead.

If the Peak District was the wrong area to have gone looking for Ďyoungstersí, a National Trust car park is definitely the wrong corner of it. Still, here we are, at the foot of Mam Tor, planning our next move. The roads are quiet; wet and slippery, icy in patches, but not snowy or frozen. The temperature is five degrees centigrade. The passers-by Ė committed cyclists and well-wrapped walkers, mostly Ė take little interest in us (which is the way we like it). For the ones that do stop, itís the Audi that has lured them in. That might be the effect of the Python Yellow paint or it might be because this car appeals more widely than I realise.

Time for a quick static appraisal of cabins and driving environments. It confirms the obvious: that the smaller Audi may be comfortable enough up front and competes with the BMW in terms of digital technology, but itís not a match for four-seater practicality, for the rightness of its driving position or for the richness and performance-flavoured presentation of its interior.

In the M3, you sit low and straightlegged at the controls, in that bigwinged, carbonfibre-crotched, optional bucket seat, and so you inevitably anticipate that the experience youíre about to have will be fundamentally exciting. The controls and instruments are perfectly located in front of you: you feel couched right at the heart of the action thatís about to unfold.

In the RS3, things arenít so instantly sweet. Your backside feels as if itís three inches farther from the floor and youíre perched that little bit over the controls. Visibility out is a little better as a result and the corners of the car are easier to judge. But thereís less to draw the eye around the cabin. Other markets are offered more colourful dashboard materials in their RS3s, but in the UK we get a monotone look: black leather and grey decorative panels or carbonfibre garnish on upperlevel trims. Second-row space is a touch cramped for full-size adults (head room in particular), but itís passable for growing kids.

So the Audiís cabin isnít as usable or versatile as that of the BMW. Nowhere does the Audiís interior really approach the material quality or variety of its rival; nowhere does it entice you in quite the same way. Letís push that red starter button and see if we can find enticement elsewhere.

There it is: the Audiís fivecylinder engine fires and settles to an enigmatic audible throb of every bit as much volume and menacing presence as the BMWís straight six, and possibly even a little bit more distinctiveness. Both cars default to a fairly sociable running mode, but itís only a flick of your thumb to set their active exhausts and digital sound generators to more effusive settings and to ready their active drivelines, dampers and electronic stability controls to really entertain. Where thatís concerned, the lighter Audi has 250bhp per tonne to wield, the BMW only 33bhp per tonne more. Could this be a closer fight than the form book would have it?

The Peak Districtís B-roads offer a useful mix of surfaces, tight, winding climbs and more open, flowing stretches to help us get under the skin of these cars. If thereís a way that the Audi can outshine the BMW, we should be able to find it here.

Even though itís a cheaper performance saloon than the M3, the RS3 isnít a simpler one Ė not any more. Before you really get on terms with the car, there are the usual Audi driving modes to cycle through and try out, plus a few others (RS Torque Rear mode is the one thatís supposed to bring the most throttle-adjustable handling to the fore, but more of that in a few moments).

Pretty soon you will discover that itís best to go off-menu and combine the bits of the carís various top-level configurations that you like in your own Ďcustomí programme. But even here, the Audiís RS Individual driver modes just arenít quite as clever as the BMWís equivalents.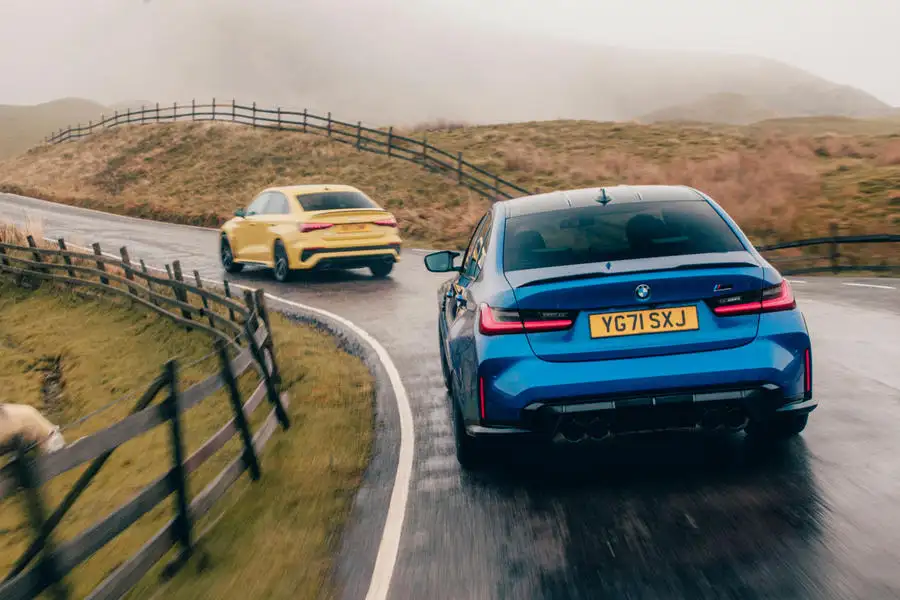 In the M3, you can calibrate your own ĎM1í and ĎM2í modes really finely. Fancy a bit more steering weight or mid-corner throttle steerable handling balance? Just help yourself. Dial up the set-up touchscreen menu, flick a slider, change one thing. If you like what youíve done, press and hold that orange toggle on the steering boss and the combination is locked in, ready to be conjured up at the flick of a digit. It couldnít be more simple.

Like this, you can dial the four-wheel drive system from a stability-centred 50:50 front-rear torque split back to fully rear-drive, if you choose, or the stability and traction controls from fully on back to fully off or anywhere in between. Over time, you can refine a couple of dynamic personas for the M3: that of the indulgent, rear-driven, opportunist powerslide specialist or the more composed and secure, high-speed ground coverer. Those personas are yours to define, and all the while the xDrive four-wheel drive system fits itself into and around them absolutely flawlessly. It makes them even more complex and interesting.




In the Audi, you can save the bigger-picture stuff in your ĎRS1í or ĎRS2í settings, granted; but if you want the electronics fully off, that will be a second press-and-hold of a different button. If you want the drivetrain in its most reardriven setting, you can use only the RS Torque Rear mode, and then thereís no customising the other systems. Itís all just a bit too fiddly and prescriptive. Furthermore, every time you change modes, you feel like youíre losing a part of the compromise youíve settled on, not improving it. That makes a huge difference to how much fun you ultimately get out of the car.

As for what there is to get: well, the Audi isnít outclassed in every way but, in the end, itís put resolutely back in its box. For outright pace, both cars are more rapid than a fast saloon really needs to be on modern roads (which, letís face it, isnít saying much). Boosting hard, the RS3 could certainly hold onto the coat-tails of a well-driven M3. The trouble is, though, that the slightly lazy fivepot engine isnít always on boost. It needs a moment to inhale at most crank speeds and wonít simply wake up and get on with it until youíve got about 3200rpm showing.

That makes the sweet-sounding Audi feel more dramatic than the BMW in a superficial way, of course, when the torque suddenly arrives. But while youíre giggling, your dadís M3 will have been on song 1000rpm sooner and on its way up the road. The BMW engineís transient response is a lot better, which makes it notably quicker in the real world.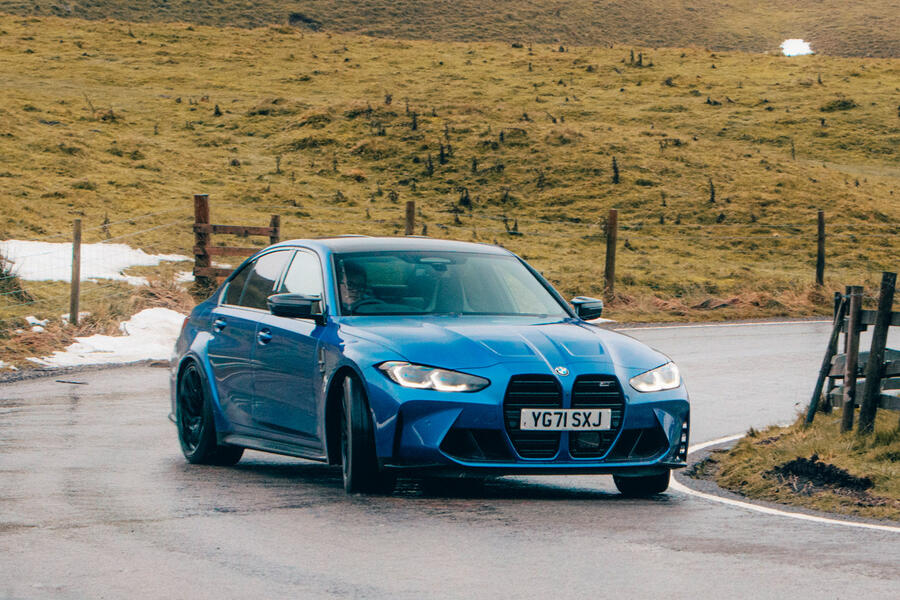 The RS3 does have the better isolation and the comfier ride, but the M3ís body control is quite a lot better: over bigger vertical inputs, the BMW has an unflusterability that the Audi canít equal. The RS3 is easily capable of going more quickly than its body control really makes sensible on rising and falling roads, and that makes it feel more dramatic.

When you find some longer, really testing bends to gauge the balance and handling poise of these cars, though, the gulf between them looms large. The natively rear-driven BMWís four-wheel drive system seems emphatically on the side of the chassis, nudging its nose towards apices and then finding as much (or as little) mid-corner traction as you want once its line is set. With the Audi, it feels like youíre always probing and pushing through the transient understeer, waiting in vain for the magic to happen, for the torque to vector and for the rear axle to come into play.

On the road, even in Audiís pseudodrift mode and on slippery asphalt, it just never quite happens. The car handles precisely and securely on a balanced throttle and generates loads of grip; it will straighten its line a smidgeon if you time your inputs just so. But it canít be driven like the M3; it canít swap from serious, composed grown-up to playful wild child and back again in the space of 200 yards and three well-sighted uphill corners taken at a fully engaged 50mph gallop just for the hell of it.

The RS3 has its calling cards. Itís lively, fast, characterful and entertaining in its way. I like it, and I can appreciate why younger folk might especially. But it needs to be kept to a broadly sensible price if itís going to make rational sense to a keen driver, young or old. At £52,000 even for the entry-level RS3 Sportback, it might already have crossed that threshold.

The M3 Competition with M xDrive, on the other hand, is a driverís car of such poise and versatility that you could make rational sense of spending £90,000, £100,000 or even more on one. Sometimes dads really do know best Ė not that anyone will listen.


1st - BMW M3 Competition xDrive: Switchable four-wheel drive only adds to the appeal of the most dynamically accomplished M3 there has ever been. Multi-talented and fully absorbing.

Price £78,425 Engine 6 cyls in line, 2993cc, twin-turbocharged, petrol Power 503bhp at 6250rpm Torque 479lb ft at 2750-5500rpm Transmission 8-speed automatic Kerb weight 1780kg 0-62mph 3.5sec Top speed 180mph (with optional M Driverís Package) Economy 28.0-28.2mpg CO2 228-230g/km Tax band 37%

2nd - Audi RS3 Saloon Launch Edition: Has character and turbo punch beyond its size but not beyond its ambitious price. Enigmatic but so much less balanced and adaptable than the M3.

Price £60,885 Engine 5 cyls in line, 2480cc, twin-turbocharged, petrol Power 394bhp at 5600-7000rpm Torque 369lb ft at 2250-5600rpm Transmission 7-speed dual-clutch automatic Kerb weight 1575kg 0-62mph 3.8sec Top speed 174mph Economy 31.7mpg CO2 203g/km Tax band 37%