2001 Outback/L.L. Bean; 3.0 Engine, 4EAT transmission, ~ 147K miles.
I am about to replace Transfer Duty solenoid. Based on the number of posts I have read, I decided to go ahead and replace the clutch plates/disks as well.
When I opened up the tranny extension case, I found everything looks really good. There are some very slight "grooves" on the inside of the reduction drive gear from the clutch plates. Hardly noticeable...especially compared to what I have seen others have had to deal with. I suspect these are from the recent issues with the Duty C and AWD lockup.
I also "found" a black rubber gasket (or grommet) loose in side transfer case cover when I removed it... ~1/2" diameter , black, round (I'll try to attach a pic to this post). What is this for and where does it go? I have looked at a number of diagrams and schematics and I am stumped. Any ideas?
[IMG]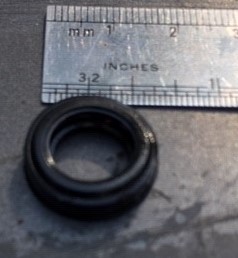 [/IMG]
The parts I ordered include:
31523AA450 Plate Set Transfer Clutch
31337AA191 Gasket Trans Case Rear
31377AA211 Ring Seal (x2)
31940AA181 Sol Ay Transfer Valve (Duty C Solenoid)
805100030 Snap Ring (for clutch plates)
806735210 Oil Seal
44011AE040 Gasket-Exhaust Pipe Front (x2)
31325KA080 Bolt
Any tips, tricks, or suggestions on anything that might be helpful is much appreciated. This is my first venture into a transmission, so I am borderline paranoid of going into FUBAR-land.