Hello I purchased a spare shortblock out of running 02 WRX with 110K miles that was pulled out just few days ago and I'm looking to rebuild it. My plan is to replace pistons rings with NPR's and put in APR head studs along with ACL race rod & main bearings. The rods, pistons, crank, oil pump, oil cooler, and oil baffle&pickup are going to be reused. This is a budget project of mine and I'm building a a replacement longblock that will eventually go to my 05 WRX that has low compression in 2 passenger cylinders and burns oil (cyl1 & cyl3 are around ~115psi while 2&4 are 150psi), power goals are around 275whp and my mods are 16G XT 41lb/min turbo with STi TMIC and 800cc decapped injectors.
I split the block yesterday I have been inspecting the insides of this EJ205 and I'm asking for some insights on cyl 2 and 4 pistons, I'm not sure if there's abnormal wear on upper sides of piston skirts or if it is still in spec: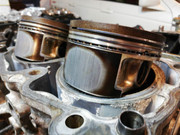 The other pistons aren't worn as much. The picture below shows pistons 1 through 4: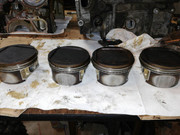 and then on the other sides: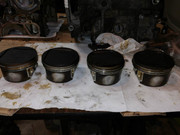 Here is an image of driver side block half where cylinders 2 and 4 are in, you can see some vertical lines where the wear on skirts was: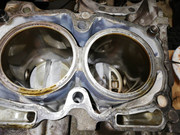 I will be honing out the cylinders, but will that be enough? I can still see some cross hatching so that's a good sign.
Other question that I had is regarding the crank, does it have to be sent to machine shop for journals to get polished? The journals look to be in good condition. My plan is to put in ACL bearings and apply plastigage, torque down the rods and check for clearances, then torque that the block halves and check for clearances on the mains.