Hi all,
Just went out for a 2nd test run on my swapped RS.. I'm having some rather rough noise on decelleration...
Car: EJ205 swapped, using an RS case, RA gears, was gone through by Oakos last gear, giving a clean bill of health (the trans) no hard driving really since, all the bolt on's including a VF22 (not that matters here really)
Background: finished installing a new SPEC 2+ on an Exedy LWFW, resurfaced properly (still over minium thickness as given by Exedy), fresh rear main seal installed.. 2 halfshafts replaced, one front, one rear..
Filled with Subaru Ultra-S (slight overfill)..
I have GN motor/trans mounts, kartboy pitchstop/front-rear shifter bushings, whiteline crossmember bushings, Perrin rear outrigger/diff bushings/lockdown ...
I ran all of this last year and the noise wasn't half as loud on decelleration..
I know not being in the car is difficult and videos aren't that much better, this stands out pretty good though...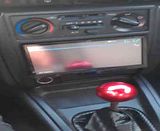 My concern, besides the noise is, could this be pilot bearing possibly? It was new, along with the TOB..
Besides this the car drives well.. shifts good, doesn't bind or anything..
Thank you,
Aaron