I'm in the middle of installing a new shortblock into my STI, but I removed the old oil pan from my original motor and found some very thin flakes of metal at the bottom.
My old engine seemed healthy from a bearing perspective - I'm not replacing it because it failed catastrophically, but I have no idea what this could be from. Any ideas? My main issue is whether this is indicative of some catastrophic failure where I need to treat it as a spun bearing and replace basically anything that touches oil, or if this is not a huge issue. That said I can't imagine any amount of metal at the bottom of an oil pan is great.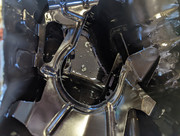 - the metal flakes when I first saw them. They're extremely thin pieces, fractions of a mm thin. It's definitely not thick chunks or anything like what you'd expect from a failed ringland or a bearing.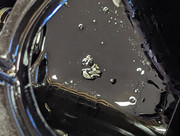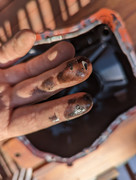 - you can see how thin and small these pieces are.
When I drained the oil initially, there was absolutely no indication of metal in what I drained. I was very specific about checking the drained oil to see if I could see any hint of anything sparkling and I didn't see anything remotely like that.
Some additional info: without any knowledge of these metal flakes being in my system, there was no indication of anything majorly wrong with my car. I was able to drive it without much issue - no smoke of any kind indicating ringlands. The reason I'm replacing the shortblock was because the heads had to get rebuilt due to a burnt valve (you can see my previous thread) and I figured I'd replace the shortblock too at the same time.
Anyway, any ideas on what this could be and suggested next steps would be much appreciated.