I'm putting my car back together and I came to the point where I realized that the OEM bypass valve on the TMIC has a nipple for a vacuum line that goes off to the passenger side. The problem is I have no idea where the other end of that hose is supposed to connect to.
Everything I've seen online just has that hose already connected on the engine side. I couldn't find a routing diagram for this in the FSM either. Really at a loss here.
It's the small hose on the BPV that points to the right then curves back towards the left: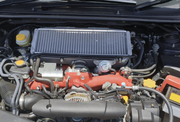 In the parts diagram, it is the hose with part number 1AB14: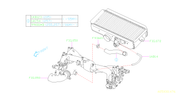 The problem is that on my car there is no nipple on the manifold like that diagram has for the vacuum hose to connect to.
Any help would be appreciated
EDIT: This is for a GR STI. I've found a bunch of resources for WRXs and other STIs that involve a tee of some sort, but mine didn't have such a thing when I removed it.